Friends. Food. Laughter. Plenty of delicious Mexican foods and drinks are on the menu every year for May 5. Cinco de Mayo! Music, smiles, pinatas, sombreros, and mariachi bands! Can't forget those margaritas and chips and salsa! Bring Gordo's to the celebration to make it a real fiesta!  Let's dive into some fun, new Cinco de Mayo Recipes with a twist!
What is Cinco de Mayo?
Cinco de Mayo does not actually celebrate Mexico's Independence, which is a common misconception in the United States, but rather a day that celebrates the Mexican Army's defeat of a French unit during the Franco-Mexican war in 1862. On May 5, a Mexican unit fought all day and defeated the French unit by the evening. This battle gave an important moral boost to their troops. Think David (Mexican troops) and Goliath (French Army)! Think "small" vs "mighty!" This all-important win gave the nation what it needed to keep going. To this day, it is a much-celebrated day in Mexico and the US celebrates right along! Come on, do we seriously NEED a reason to celebrate in this country?!
Cheese Dip For Cinco de Mayo? Check!
What better way to honor this day than with friends and Authentic Mexican Restaurant Style Cheese Dips that is Gordo's Cheese Dips?  Whether it's the main attraction or a surprise ingredient, the buttery, spicey flavors of Gordo's elevates any dish to the next level of awesomeness. Made with real cheese and wholesome ingredients. It's the perfect companion to any fiesta! What are our cheese dip options you ask? We're happy to tell you all about them!
Original: Creamy, smooth, and full of buttery flavor, our Original Cheese Dip is the queso dip just like a Mexican restaurant!
Mild: Need a kick? It has just the right amount of jalapeno peppers with the same decadent flavor we know and love.
Hot: Some like it hot!! Made with real cheese, extra jalapeno peppers, and other wholesome ingredients for the perfect blend.
Homestyle: With Tomatoes, Chiles & Jalapenos, our Homestyle Recipe is packed with flavor.
So no matter which of our cheese dips you choose, your dishes will be a battle victory remembered for years to come.
Cheesy Appetizers with a Twist
This year bringing easy appetizer-style dishes to the victory celebration of Cinco de Mayo the crowds will be saying "Viva la Flavor" all day long. Taco cups are a quick, tasty treat that can be made ahead and put together right before the celebrations begin. The great thing with taco cups – besides the ease – is that the flavor and fun are second to none! If a platter appetizer is more your style, then a Chicken Mexican Street Corn platter is a crowd-pleaser, for sure! Easy to assemble and full of flavor, this is a hot new take on the classic Mexican street corn! Finally, rounding out this trio much like it rounds out salsa and queso – Guacamole! Who doesn't love that fresh, fun flavor on chips, tacos, or even casseroles?
Taco Cups are a celebration changer bar none. Use your favorite taco meat (or faux meat if that's how you roll) and make it as taco-y as you like! Lettuce, tomato, cheese, onions, and sour cream are classic taco toppings that are always a fan favorite. By using wontons as the shell, it bakes up fast with a great crunch!

INGREDIENTS:
1 lb lean ground beef, browned and drained.
1 packet of taco seasoning
Gordo's Cheese Dip (Any Flavor)
1 (10-oz) can Ro-Tel Diced Tomatoes with Green Chiles
1 1/2 cups sharp cheddar cheese, shredded (or Mexican blend)
24 wonton wrappers
HOW TO PREPARE:
Preheat oven to 375 degrees F. Coat a standard-size muffin tin with nonstick cooking spray. Combine cooked beef, taco seasoning, shredded cheese, and tomatoes in a bowl and stir. Line each cup of muffin tin with two wonton wrappers. Add taco mixture. Bake at 375 for 11-13 minutes until cups are heated through and edges are golden. Top with 1 Tablespoon of Gordo's Cheese Dip. 
If a platter appetizer is more your style, then Mexican Street Corn Nachos is for you. This is a twist on the classic Mexican street corn (also delicious) but allows you to share with the crew as you sip margaritas!However the masses enjoy it, it is a flavor-fun dish!
INGREDIENTS:
1 large bag of tortilla chips (regular or flavored)
3 ears of corn
1/4 cup Cotija Cheese, Crumbled
1 container of Gordo's Original Cheese Dip
1/8 cup Chopped Cilantro
1/8 teaspoon Chili Powder
1 slice Lime
Prepared chicken or beef to your preference
HOW TO PREPARE:
Remove the husks and silk from the corncobs. In a large pot, bring water to a boil. Add the corn to the boiling water (be careful as it may splash!) Boil corn for roughly 5 minutes then remove from heat, allowing corn to sit in hot water for another 10 minutes. Remove the corn from the water. Allow the corn to cool for a few minutes before beginning to carve. Once cool enough to handle, stand corn up and slice the kernels off the cob using a sharp knife. Layer chips, Gordo's Cheese Dip, corn, and cojita cheese. Add your meat topping if you choose one! Top with cilantro, chili powder, and fresh lime juice.
Cheesey Guacamole? Who would've thunk it?
Cinco de Mayo wouldn't be complete without one of the oldest Mexican dishes! Guacamole! Some say guacamole dates back to the Aztecs of Mexico so for hundreds of years, people have been enjoying this delicious creation. But of course, we're adding a cheesy twist to this classic!
You can spread it, dip it, or spoon it directly on your plate! This is the perfect garnish for your Taco Cups or Street Corn Nachos. You can spice it up or keep it classic. The ripeness of the avocado plays a significant role in the flavor. You want a firm, but somewhat soft avocado – not squishy or mushy and not hard! We use a heaping amount of homemade salsa in ours. That gets the tomatoes, onions, garlic, jalapenos, and cumin in the perfect amount in it. You can add individual ingredients that you like if you prefer. The secret to this is adding the Gordo's to make a smooth, creamy texture before adding in the extras! Don't forget the squeeze of lime!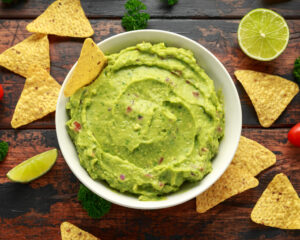 INGREDIENTS: 
3-4 Ripe (but not over-ripe) Avocados
Salsa or your favored ingredients of onions, tomatoes, jalapenos, cilantro, cumin, salt, pepper, garlic
Gordo's Cheese Dip – any flavor
HOW TO PREPARE: 
In a shallow bowl, gently scoop out the avocado, disposing of the skin and pit. Using a fork mash until smooth (or lumpy if you prefer some bigger avocado pieces left). Next scoop in the salsa or individual ingredients and stir with a spoon. Season to taste with salt and pepper and a good squeeze of lime! Lastly, add 4-5 tablespoons of Gordo's Cheese dip. Stir again to mix everything well.Use with warm chips as a dip; add to the Taco Cups or Street Corn Nachos and enjoy!
Who's ready for Cinco do Mayo?
Gordo's is always a hit at any get-together and what better one to be celebrated at than Cinco de Mayo! Head over to your local grocery store to pick up your favorite flavor of Gordo's Cheese Dip! And while Gordo's is worth every penny, that's no reason not to offer you a little savings, too! Download our coupons now to stock up for Cinco de Queso!