With July 4th on the horizon, it is never too late to plan your holiday menu. Whether you are entertaining a crowd or just a few, any of these July 4th recipes are right on track to light up your celebration like the night sky!
At Gordo's, we take taste seriously. Very seriously. That is why we have several amazing flavors of our products. They are as individual and unique as America is in her people. We have worked hard in developing our line of cheeses that represent what we hold dear to our company values. We take pride in our flavors and ingredients. We believe in being transparent and true to our calling for providing top-quality, cheese dips, and flavors. We are achievers of the American Dream and celebrate this day!
Planning a menu for the day's festivities is fun with Gordo's! Let's start with an easy, cheesy spicy dip. Great to serve in bowls or for the family just to dip! With 3 different cheeses, you are in for a treat! Next, think of sausage, potatoes, and cheese. LOTS of cheese. What about something sweet but filling? And cheesy? And savory? Get ready for these July 4th recipes! What a varied and mixed menu to have – just like the country they were born in!
July 4th Cheesy Dip
Who doesn't love a good spicy cheese dip? And not just any cheese dip. Take the amazing Gordo's Cheese Dip as your base and add to it! Cream cheese AND cheddar cheese make this one creamy, can't get enough of it dip! Using diced red onions, pickled jalapenos, regular jalapenos, cumin, and paprika this is a recipe for fireworks in your mouth! You can even add some spicey sausage to the mix and REALLY set the fireworks off.
Ingredients
16 oz of your choice Gordo's Cheese Dip
8 oz cream cheese room temperature
1 cup freshly grated cheddar cheese
½ diced red onion
7-8 sliced pickled jalapenos
1 jalapeno diced
Salt and pepper
A sprinkle of cumin and paprika
Directions
Mix first 6 ingredients then salt and pepper to preference. Pour into a backing dish. Sprinkle top with paprika and cumin. Bake at 375 until it is pipping hot and bubbly – about 20 minutes. Remove from oven and mix with a spoon and pour into a serving dish. Serve with chips. For added flavor, brown, rinse and drain your favorite hot Wampler's sausage and add to dip! Enjoy warm!
Fireworks Twice-Baked Potatoes
Potatoes and cheese. Cheese and potatoes. Cheesy potatoes. Cheesy twice-baked potatoes. Oh my! Yes, please! Bacon. Chives. Sour cream. Ranch dressing. Cheese. Cheese and more cheese. This is a dish that is easy to make ahead, freeze, then thaw and bake the day of! Get creative and make it what you like. Bake potatoes, scoop out, make them into a flavorful mashed potato, add back into the skin, and top with more cheese and bacon. Bake! Easy. Cheesy and GOOD!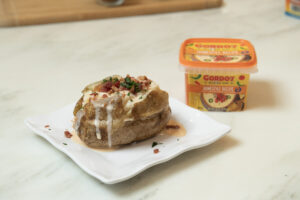 Ingredients
5-10 baking potatoes (this is dependent on how many you need. Each potato makes 2!)
Butter
1 tub Gordo's Cheese Dip
Milk
Salt and pepper to taste
½ c Ranch dressing
1 cup Sharp cheddar cheese plus enough to top
Real bacon bit topping
For dipping – sour cream, Gordos Cheese Dip, ranch dressing
Directions
Wash and dry potatoes. Brush with a light coat of olive oil and sprinkle with salt. Put directly on rack in a 400-degree oven and bake 30-40 minutes or until a fork inserted goes smoothly in. Using tongs or oven mitt, take out all potatoes and let sit about 10 minutes. DO NOT let them completely cool. Using a knife, cut length-wise – (hold with oven mitt if still to hot to hold). Scoop out middle of each potato leaving a small amount of potato lining the skin. Just enough to hold its shape. Set skins onto a baking sheet. In a bowl with the scooped-out middle, add butter, milk, and salt and pepper like making mashed potatoes. Add in Gordo's cheese dip and combine well. Add in a good squeeze of Ranch dressing, and combine
Add in cup of cheddar cheese and combine. Scoop back into skins. Add shredded cheese to the tops and the real bacon. Heat in 350 degree oven about 15 minutes until cheese is melted. If reheating from cooking ahead and freezing, thaw, then cook on 350 for about 25 minutes until cheese is bubbly and center is hot. Serve whole or cut in half crossway.
Hot Ham and Cheese Sliders
What better way to serve the masses on July 4th than with some great easy to make and even easier to serve and eat hot ham and cheese on sweet rolls. Yes! The onions, spicey mustard, Gordo's creamy cheese goodness, honey baked ham all on Hawaiian sweet rolls. You are welcome!
Ingredients
Package of Hawaiian sweet rolls
1 lb premium honey ham (or roast beef or both!)
Sliced swiss cheese
1 Tub of Gordo's Cheese Dip (any flavor)
1 thin sliced onion
Spicy mustard
Melted butter with minced garlic to brush tops
Sesame seeds if prefer
Directions
Cut rolls in half and remove top half. Add bottom of rolls to baking dish (sprayed with oil) Add swiss cheese slices. Add thin onion slices. Add meat (layer it on!) Spoon Gordo's cheese all over top of meat. Spread the spicy mustard on the inside of the top of the rolls. Apply roll top with spicy mustard side down. Brush tops with melted butter/garlic combo – being liberal with it. Top with sesame seeds if desired. Cover pan with foil. Bake in 350 degree oven for 15 minutes then uncover rolls and bake another 15 minutes. Let Rest for about 10 minutes. You can serve straight from pan or plate to a platter. Supply more Gordo's cheese dip to dip sliders in. Enjoy.
Enjoy the day of celebrating with family and friends in this great country we live in. We are a proud American company based in Atlanta, GA. We are proud of our company and the products we share with you. Thank you for supporting us and Happy Birthday America! Now go enjoy these delicious July 4th recipes!