Atlanta Community Food Bank
Atlanta Community Food Bank works with more than 700 nonprofit partners—including food pantries, community kitchens, childcare centers, shelters and senior centers—to distribute over 67 million meals to more than 1 million people estimated to be food insecure due to COVID-19 in 29 counties across metro Atlanta and north Georgia.
ACFB is a member of Feeding America, the nation's leading domestic hunger-relief charity.
For more information about Atlanta Community Food Bank, click here.
The donations received from Gordo's, in the amount of 81,570 pounds, went towards strengthening our Strategic goal of serving our neighbors more often through diversified refrigerated products that are hard to source.  Providing scarce products to our neighbors is something we are proud to offer to address the diversity of cultures we serve in our 29 counties. On behalf of the Atlanta Community Food Bank and the neighbors we serve we thank you and look forward to your continued support.

– ACFB Procurement Team, Atlanta Community Food Bank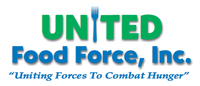 United Food Force
Mission Statement
The mission of United Food Force is to fight hunger through united forces and partnerships. Our passion is to provide nutritional food products and other resources that will nurture, sustain and enhance the quality of life for all recipients. Our dedication is to continue building and maintaining our organization for facilitating, contributing, and promoting programs to provide hunger relief in all communities and the strengthening of families.
For more information about United Food Force, click here.