It's official! Summer is in the rearview mirror, although not officially over until September 22, and school is in full swing, Pumpkin spice lattes are on the menu, and the smell and FEEL of fall is in the air. This time of year begins with a nationwide holiday – Labor Day! Folks make one last mad dash for a 3- or 4-day vacation that wraps up summer with heat and memories. Lakes, parties, camping, and beachside games are on the menu along with Gordo's Cheese Dips! But why waste time cooking and prepping food when you could just be having fun! Let's dive into these no-labor recipes for Labor Day!
Labor Day became a federal holiday in 1894. It is a day observed in America honoring the "American Worker" and their contributions to this great country. During this time in American history, we were in the Industrial Revolution and America was expanding and growing by the minute. Labor conditions were treacherous, days were long, and workers were replaceable. Children as young as 6 could be found working in factories and conditions were deplorable. Remember this was the 1800s, before safety regulations, fair wages,  and labor laws regarding children and the worker at large. On Sept 5, 1882, 10,000 workers took off and held a parade in New York (although it was considered a march from City Hall to Union Square).
The idea of honoring the "working man" (woman and child too!) – the very BACKBONE of this country – caught on quickly in other Industrial cities. It was signed into law after much struggle thru the mid to late 1800s and finally signed by President Grover Cleveland in 1894 as a Federal Holiday. Today it is still held tight and seen as the "working man's" day to be honored, and like ALL celebrations, Gordo's is definitely invited to the party!
When talking of the American Industrial Revolution one city that comes to mind is Philadelphia. It experienced growth like no other – textile factories, ironworks, sugar refineries, and machine shops contributed to Philly becoming the manufacturing center. Coal was transported from within the state to Philly to fuel the factories. They were able to fuel their own industries, thus making the state wealthier by not having to depend on resources outside itself!
And it also created one of the best-known sandwiches known nationally! The Philly Cheesesteak! 2 brothers were credited with creating this mouthwatering goodness. They wanted to expand on their business and offer a new sandwich and that my friend is how it was born! Fast forward to today and Gordo's didn't change the sandwich, it IMPROVED the creamy cheesy goodness. With our creamy, nutty flavor (or spicey) you can create a taste all your own. Onions, peppers, and meat on an onion roll slathered in Gordo's cheese. Make sure to grab a napkin or two or three!
INGREDIENTS:
1 1/2 pound rib eye steak -very thinly sliced or shaved
1/2 teaspoon salt
1/4 teaspoon pepper
1/4 cup worcestershire sauce
1 large green pepper, thinly sliced
1 large onion, thinly sliced
4 tablespoons olive oil
Gordo's Cheese Dip Mild
HOW TO PREPARE:
Preheat oven to 300 degrees Fahrenheit. Slice the green peppers and onions. On medium heat saute the vegetables with a little bit of olive oil. Cover the saute pan, so it can steam a little. Set the veggies aside, saute the meat. Season the meat with salt and pepper. Add the worcestershire sauce and stir once more. Mix in the vegetables with the meat. Open each roll lengthwise, add the meat mixture. Pour Gordo's Cheese Dip over top.
Labor Day is technically a holiday from laboring so who wants to spend a bunch of time in the kitchen? You would rather be outside enjoying the last bit of summer warmth on your face, nudges around the campfire, and nonstop laughter! This is where a good, yet quick and easy meal is enjoyed. Nothing is better than Gordo's Quesadillas. That is right! It is another incredible meal that you can make as quick and easy as you like or add everything but the kitchen sink! Some like just cheese, others will add meats and veggies. No matter what you choose to fill it, it ALWAYS has cheese and Gordo's is the best! Not only can you put it IN the quesadilla, but you can also have it to DIP your slice in too!
INGREDIENTS:
2 Large (12″) flour tortillas
1 tablespoon of margarine
12.oz Gordo's Cheese Dip (Any Flavor)
Additional toppings and fillings as desired
HOW TO PREPARE:
Melt 1 tbsp margarine in a large skillet. Place one tortilla in skillet over low heat. Spread Gordo's Cheese Dip on top of tortilla (add any additional fillings). Place the second tortilla on top of the cheese. Spread top of tortilla with margarine. Turn over tortillas carefully until golden brown. Cut into wedges.
Optional: Garnish with avocado, sour cream, tomatoes, your favorite salsa, cilantro
Speaking of campfires, Gordo's has a great dish that can be cooked in the coals or slid into an oven! Baked Vidalia Onion Cheese Dip. It has three (and a fourth if you replace the mayo with ½ block cream cheese) types of cheeses. It is warm. It is bubbly. It is dippable. It is delectable. You can scoop with chips, pita, crostini, or by the spoonful! You can use any flavor of Gordo's depending on the level of heat you want. We provide the variety and you provide the fun!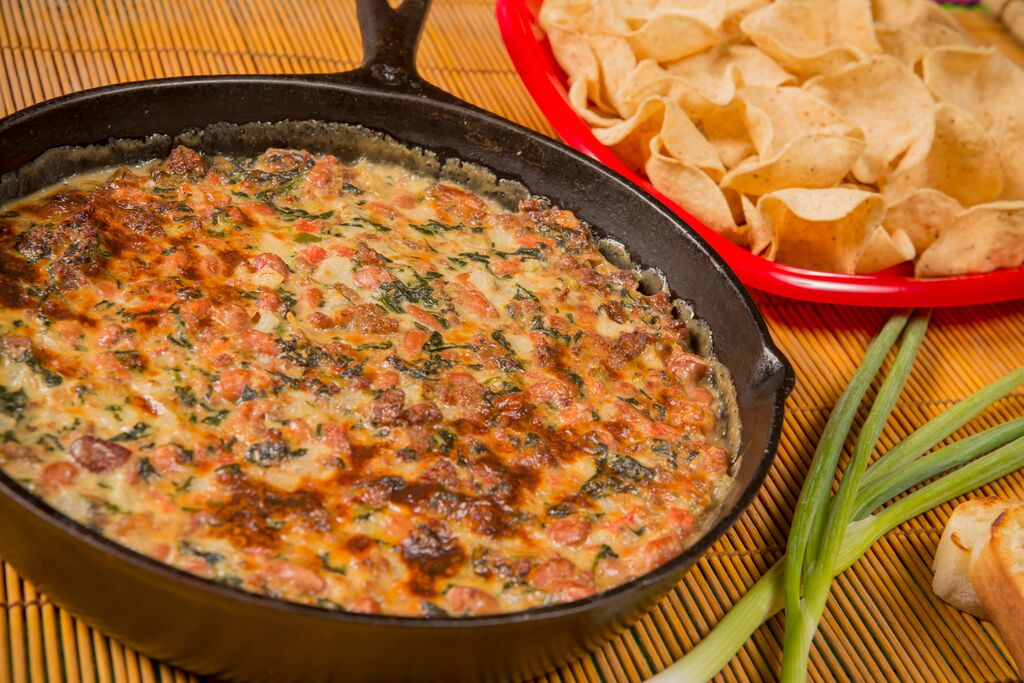 INGREDIENTS:
1 cup Gordo's Cheese Dip, Original
1/2 cup mayonnaise
2 cups (8 ounces) shredded cheddar cheese
1 cup (4 ounces) shredded pepper jack cheese
2 cups chopped Vidalia sweet onions, chopped
HOW TO PREPARE:
Melt Gordo's cheese dip and mix with mayonnaise, cheddar cheese and pepper jack cheese. Stir in onions. Pour in a greased 4 cup baking dish. Bake uncovered at 375 degrees for 20 – 25 minutes or until bubbly. Serve with bread or crackers.
As we wave farewell to summer warmth, long days, and water sports, we remember that all that this country has was built on the backs of and with the hands of the American laborer – both male and female; young and old. So, we tip our hats to you this Labor Day weekend – the American Worker.