It's that time of year again. The heat is at its hottest outside. Summer sports are winding down as our sweaty hats and shirts scream 'Finally!'  In the distance, the sound of bats hitting home runs begins to fade and gives way to whistles, hard hits, and traditions. The dust on the sandlots is settling to make way for the 120 yards of green and white. Endzone wins and loses.  Victory celebrations and season-ending inches. Yet despite all the pomp and circumstance on the field, some of the greatest memories, "games" and traditions occur BEFORE the game, OFF the field at an event, that weekly, is as anticipated as the games themselves – TAILGAITING!  And what better player to have on your team and at your tailgate than the goodness of Gordo's Cheese Dip?  
Tailgate with the Best Gordo's
In stadium lots across this great country, opposing team fans enter their own pregame arena. From team gear of shirts, hats, koozies, tattoos, and foam fingers to footballs, mascots, corn hole, and flags. Traditions, traditions, and more traditions ring loud and clear. There is no better time to start a new tailgating tradition than by adding Gordo's CheeseDip to your lineup. Creamy goodness; flavor galore and endless options. Once you add Gordo's to your lineup, you'll never look for a star player again! 
Fight songs blare from speakers and "cheers" is yelled with the clinking of cups, cans, and bottles.  If you are fortunate enough that your team's stadium is near water like in Knoxville, then sounds of the Vol Navy having Rocky Top on loop play is enough to stop fans from any team as they watch the die-hard Vol fans arrive by boat and "boatgate" on the water at the stadium!
While the grills are firing up to make heavenly meat goodness, pull out a trick play of your own by adding Gordo's to your lineup. Sneak it in and watch it score big with your crowd. It is a great stand-alone, for sure, but can also be a team player that has your dishes scoring touchdowns each time. One of the cool facts about Gordo's Cheese Dips is their creamy color and IF you are daring enough (and there must be plenty of you who are) you could always add a few drops of food coloring to the cheese and REALLY show your school spirit! Now let's grab the playbook and dive into some great 'Gordogating' football foods!! 
For that game that starts the day's schedule early, you aren't necessarily eating burgers at 10 AM! But you can always make great 'Gordogating' breakfast foods that are great to have before lunchtime inside the stadium. One of the best dishes to serve up early is Gordo's Hashbrown Casserole. This recipe has tons of flavor and of course, you can add any veggies you want and customize it to your group. You can definitely use the Gordo's Original Cheese Dip or spice it up a bit and use the Mild or Hot Cheese Dip and throw the gauntlet down to friends and foes alike! 
INGREDIENTS:
6 eggs
16 oz of frozen hash browns (thawed out)
1 tsp salt
½ tsp of pepper
½ garlic powder
1 ½ cups of shredded cheddar cheese
¼ cup of milk
¼ cup of Gordo's Dip
1 lb breakfast sausage (optional)
HOW TO PREPARE:
Preheat the oven to 350 degrees and brown the sausage in a separate pan. Layer the thawed hash browns on the bottom of a greased 13×9 baking dish. If you are adding sausage, evenly layer the cooked sausage over the hash browns and sprinkle the shredded cheese on top on the sausage. In a bowl, mix together the eggs, seasoning, milk, and Gordo's Cheese Dip. Pour the egg mixture over the sausage and hash brown layers and bake for 30-35 mins until the eggs are set. If you'd like, you can also add veggies like onions, tomatoes, or spinach to the egg mixture before baking!
Once cooked, you can put the breakfast casserole in the fridge and it'll be ready whenever you want to heat it up! You can either put the whole thing back in the oven and reheat for 10-15 minutes or cut out a piece and heat it up in the microwave for 1-2 mins.
For those mid-day games that have you 'Gordogating' for quite a few hours, you have so many options to choose from. If your idea is finger foods we have you covered with appetizers galore. If your menu leans more towards your lunch being the highlight of the day, then we certainly have the recipes for you! Let's take a quick peek at Gordo's playbook and see what we can help you with! Not everyone grills for hours. Some tailgating is simply just the idea of hanging with friends and enjoying stories, comradery, and mingling so Gordo's has several yummy and satisfying dishes to serve up!
Nothing is easier than Gordo's Grilled Fish Tacos. So much of the prep work is done ahead of time. Then when you arrive, you set up and get the grill going. The fish has had plenty of time in the rich and spicey marinade and is ready for the grill. It will take you longer to finish your tale of your highschool football glory days than it does for the fish to cook! Some like to throw the corn tortillas on the grill for a few seconds on each side and then load them up. The tip here is to use divided plates – one section for the tacos, then another for a helping of Gordo's Cheese Dip, and the last space for warm tortilla chips!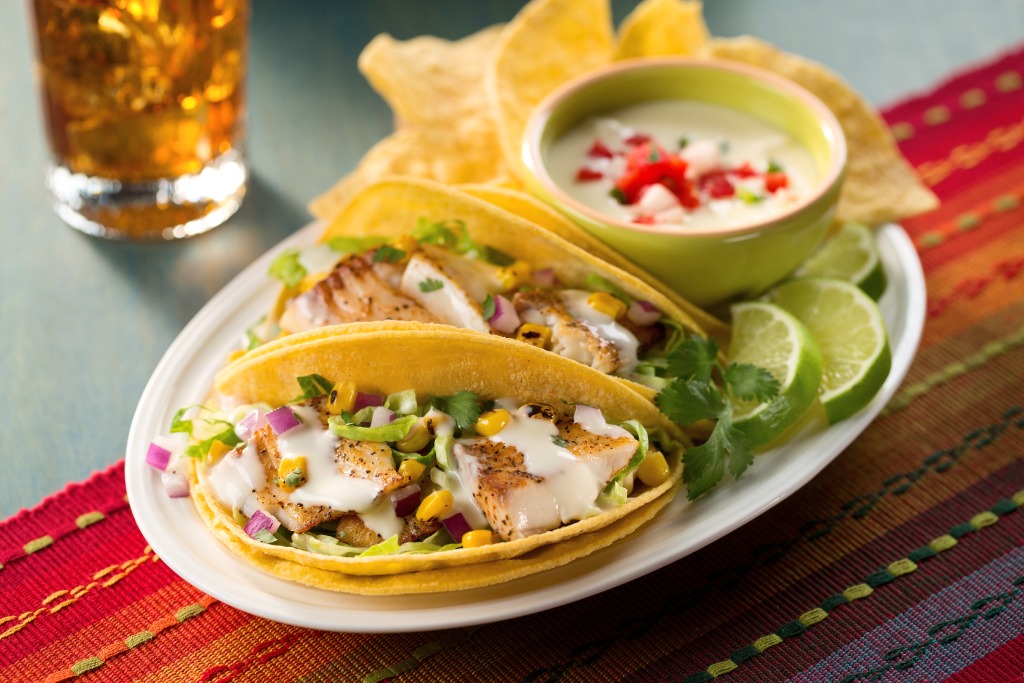 Serves: About 6 tacos
INGREDIENTS:
1 lb Tilapia, cod or mahi mahi fillets
2 Tbsp canola oil
1 1/2 Tbsp fresh lime juice
1 clove garlic, minced
1 1/2 tsp chili powder
1/2 tsp ground cumin
1/2 tsp ground paprika
1/8 tsp cayenne pepper
Salt and pepper
6 corn or flour tortillas
1 large hass avocado, sliced
1/2 small red cabbage, cored and sliced thin (8 oz)
1/4 cup cilantro, chopped
3/4 cup thinly sliced red onion
1 1/2 Tbsp lime juice
1 Tbsp canola oil
I container Gordo's Cheese Dip (any flavor)
HOW TO PREPARE:
In a mixing bowl whisk together canola oil, lime juice, garlic, chili powder, cumin, paprika, cayenne and season with salt and pepper to taste. Place fish into a gallon size resealable plastic bag and pour marinade over fish. Seal bag, move mixture around to coat fish in marinade, and allow fish to marinate in mixture 20 minutes.
Preheat a grill to medium-high heat. Brush grill grates with oil and place fish on grill. Grill until cooked through, about 3 minutes per side (cook time will vary). Add cabbage, red onion and cilantro to a medium mixing bowl. Pour lime juice and canola oil over top slaw and season lightly with salt and pepper. Toss to evenly coat. Move fish to plate, break into pieces and serve in warmed taco shells with cabbage slaw, avocado slices, and Gordo's Cheese Dip.
For the team that has the late night game, some tailgaters start mid-morning and go all day. Those are the serious ones. The guy with the massive smoker pit, tent, tables, corn hole, flags, you name it and they have it. And that includes delicious warm Gordo's! They like to cook their meat slow and by the time you dig in, it is falling off the bone, easily shredded with a fork, and just melts in your mouth. With each bite, you are left wondering what their secret is to the taste. Every good coach has that one play that no one can figure out and you will too!
One of the great meats for the day is pulled pork and Gordo's can kick it up a notch in several ways. Add a ½ cup of Gordo's Cheese Dip to your sauce and flags will be thrown everywhere for the illegal amount of goodness! Yeah, we said it, add some to your sauce and keep them guessing! You can make some of THE BEST sliders with Gordo's Cheese Dip to top them and to be a main ingredient in the coleslaw. Yes, you saw that right. You won't have to relive high school glory days because you will be a legend today with your recipes! 
INGREDIENTS:
FOR PULLED PORK:
1 two pound pork loin roast
1 cup of your favorite BBQ sauce
HOW TO PREPARE:
This one takes a little bit of preplanning because you have to cook the pork ahead of time, but it is so worth the extra effort! To cook the pork, put some water in the slow cooker, just enough to cover the bottom. Cook the pork on high for 5 to 6 hours. Shred the pork using two forks to separate the meat. Add the sliced onions and the BBQ sauce to the shredded pork and continue to cook for 30 more minutes. You can cook the pork at any time and refrigerate it if necessary until you are ready to use.
FOR COLESLAW:
½ head cabbage, grated
1 carrot, grated
¼ small onion, grated
½ cup Gordo's Cheese Dip Original
1½ tablespoons fresh lemon juice
2½ tablespoons buttermilk
1½ tablespoons white vinegar
3 tablespoons sugar
½ teaspoon salt and pepper to taste
Once cabbage, carrot and onion are grated, place in a large mixing bowl. In a medium bowl, whisk Gordo's Cheese Dip, lemon juice, buttermilk, white vinegar, and sugar until creamy.Pour combination over cabbage mixture and toss. Salt and pepper to taste. Refrigerate for several hours or overnight to allow flavors to combine.
FOR SLIDERS:
Pulled Pork
1 cup extra barbecue sauce
Coleslaw
1 Package slider buns
Open buns, add a serving of pulled pork and coleslaw. Top with extra barbecue sauce. Enjoy.
So whether you arrive by boat and blast your way down the waterways or on land and set up amongst the trees and hallowed grounds of the campus, Gordo's is always in the playbook and great for that flea flicker play. Here is to the fans who live for Saturdays, traditions, and their teams! Let's get ready for some football!!!!