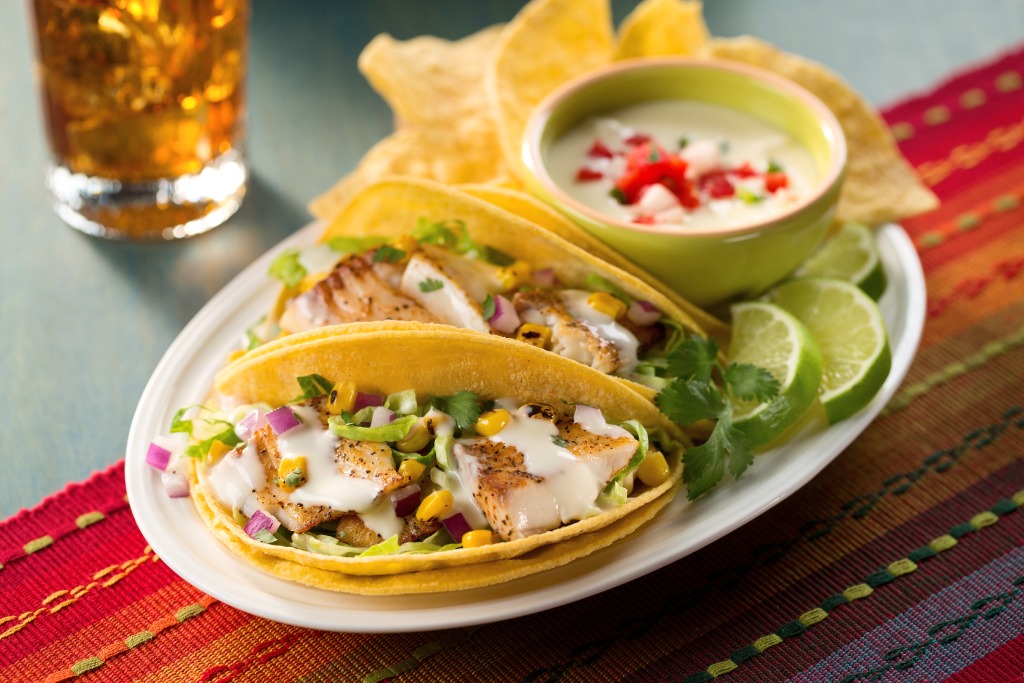 Serves: About 6 tacos
INGREDIENTS:
1 lb Tilapia, cod or mahi mahi fillets
2 Tbsp canola oil
1 1/2 Tbsp fresh lime juice
1 clove garlic, minced
1 1/2 tsp chili powder
1/2 tsp ground cumin
1/2 tsp ground paprika
1/8 tsp cayenne pepper
Salt and pepper
6 corn or flour tortillas
1 large hass avocado, sliced
1/2 small red cabbage, cored and sliced thin (8 oz)
1/4 cup cilantro, chopped
3/4 cup thinly sliced red onion
1 1/2 Tbsp lime juice
1 Tbsp canola oil
I container Gordo's Cheese Dip (any flavor)
HOW TO PREPARE:
In a mixing bowl whisk together canola oil, lime juice, garlic, chili powder, cumin, paprika, cayenne and season with salt and pepper to taste. Place fish into a gallon size resealable plastic bag and pour marinade over fish. Seal bag, move mixture around to coat fish in marinade, and allow fish to marinate in mixture 20 minutes. Preheat a grill to medium-high heat. Brush grill grates with oil and place fish on grill. Grill until cooked through, about 3 minutes per side (cook time will vary). Add cabbage, red onion and cilantro to a medium mixing bowl. Pour lime juice and canola oil over top slaw and season lightly with salt and pepper. Toss to evenly coat. Move fish to plate, break into pieces and serve in warmed taco shells with cabbage slaw, avocado slices and Gordo's Cheese Dip.