Take me out to the ballgame, take me out with the crowd… (You know you just sang that!) It is THAT time of year again. The crowds, the heat, afternoon games, or evening fun! The crack of the bat, the runs, and fans trying to catch those homers over the fence! But what we really love is the baseball food! What better way to celebrate the heat of the summer and the fun of the games it brings, than having Gordo's Cheese Dip at your next baseball gathering? It is a GRAND SLAM for sure!
Gordo's is located in the great state of Georgia, and love their Braves for sure. Whether you are tailgating before a game, meeting in the man cave at home to watch, or watching outside while grilling and in the pool, having Gordo's Cheese Dips is nothing short of the right call for scoring runs with the family and neighborhood!
A baseball stadium classic is nachos. You know, the kind that comes in the little clear plastic tray. A mound full of chips on one side and a small built-in cup that they would slosh a spoonful of orange cheese in! You would have to carry it back all wonky so you wouldn't get burned! Or if you're lucky you get your nachos in a little baseball helmet. What kid doesn't love eating out of those? (Pro-tip: you can buy them on Amazon for an at-home dupe)  There was absolutely nothing better tasting than that. But when you can't be at the ballpark, why not bring the ballpark to you?
Baseball Food at Home
You can go super simple like back in the day with chips and a side of good ol' hot cheese! Toss on some cut-up jalapenos and you are back in the ballpark cheering on your favorite team. If you crave unstable plastic containers just like the ballpark you can find them here!
Or you can pile the chips high on a platter, POUR on the Gordo's then top with meats, cheese, onions, olives, jalapenos, and sour cream and let the gang go at it! Any way you choose to serve it up, the sounds of summer will come alive before your eyes! Gordo's has several awesome flavors to choose from. Just regular flavored for the old-time memories or step up to the plate, point the bat straight to the outfield and bring home that run with Gordo's mild or hot flavors.
Who wouldn't love this easy and delicious recipe to take them out to the ball game in spirit? No strikes here for sure!
INGREDIENTS:
1 large bag of tortilla chips
1 can of black beans, drained
1 lb of ground beef, browned and seasoned with taco meat (or substitute grilled chicken)
1 16 oz package of shredded Colby jack cheese
1 small container Gordo's Cheese Dip
2 small jalapenos diced
1 small can of black olives (optional)
HOW TO PREPARE:
Start by covering the tray with the tortilla chips so they are evenly spread out. Brown your ground beef separately and add some taco seasoning to the meat before draining. Start off layering the nachos with a dusting of shredded cheese so all the chips are covered. Then layer the taco meat and black beans over the chips and cheese, as well as the diced jalapenos and olives. Add the desired amount of cheese for the final layer. Bake the nachos at 350 for about 15 mins until the cheese is melted. Heat up the Gordo's Mild Cheese Dip as directed and drizzle over the nachos for the final touch. You can never go wrong with more queso. Serve the nachos with sour cream, salsa, and some guacamole for dipping if you'd like.
Another game-day favorite is sliders. What an appropriate name for one of the most exciting plays a player can do! Slidin' in and hearing SAFE! Jump up and dust yourself off as you head back for more of BBQ Pulled Pork Sliders! Smokey meat, BBQ sauce, and creamy, cheesy slaw. If that doesn't get you excited and on deck for your turn then I don't know what will. Change it up for a switch hitter with the Hawaiian King rolls and have a spicy sweetness to share. You won't be hearing any boo's from the crowd here! Let your winning dish flash fast on the scoreboards and hear the crowds cheer!
INGREDIENTS:
FOR PULLED PORK:
1 two-pound pork loin roast
1 cup of your favorite BBQ sauce
HOW TO PREPARE:
This one takes a little bit of preplanning because you have to cook the pork ahead of time, but it is so worth the extra effort! To cook the pork, put some water in the slow cooker, just enough to cover the bottom. Cook the pork on high for 5 to 6 hours. Shred the pork using two forks to separate the meat. Add the sliced onions and the BBQ sauce to the shredded pork and continue to cook for 30 more minutes. You can cook the pork at any time and refrigerate it if necessary until you are ready to use.
FOR COLESLAW:
½ head cabbage, grated
1 carrot, grated
¼ small onion, grated
½ cup Gordo's Cheese Dip Original
1½ tablespoons fresh lemon juice
2½ tablespoons buttermilk
1½ tablespoons white vinegar
3 tablespoons sugar
½ teaspoon salt and pepper to taste
Once cabbage, carrot and onion are grated, place in a large mixing bowl. In a medium bowl, whisk Gordo's Cheese Dip, lemon juice, buttermilk, white vinegar, and sugar until creamy.Pour combination over cabbage mixture and toss. Salt and pepper to taste. Refrigerate for several hours or overnight to allow flavors to combine.
FOR SLIDERS:
Pulled Pork
1 cup extra barbecue sauce
Coleslaw
1 Package slider buns
As you are rounding third base and heading home with all the speed you can, make sure you grab some Gordo's cheesy fries! Another awesome dish that can be a side or stand alone. Good ol crisp crinkle fries, loads and loads of Gordo's Cheeses and the fireworks will be bursting after the game! This can be a good quick and easy filler to have on hand for kids of all age. You can load them up with toppings or keep them simple with one of the four creamy flavors of Gordo's. This is an easy grab during the 7th inning stretch! Stand up. Walk to the food table. Load a plate and stretch back over to your seat and dig in! However you like your game day fries, Gordo's is sure to be the game day pinch hitter EVERYONE wants on their team!
Fries? Good. Cheese? Good. Cheesy Fries? GREAT! Whether you make your fries homemade or throw some frozen ones in the air fryer to crisp up, topping them with queso will only make them that much more delicious!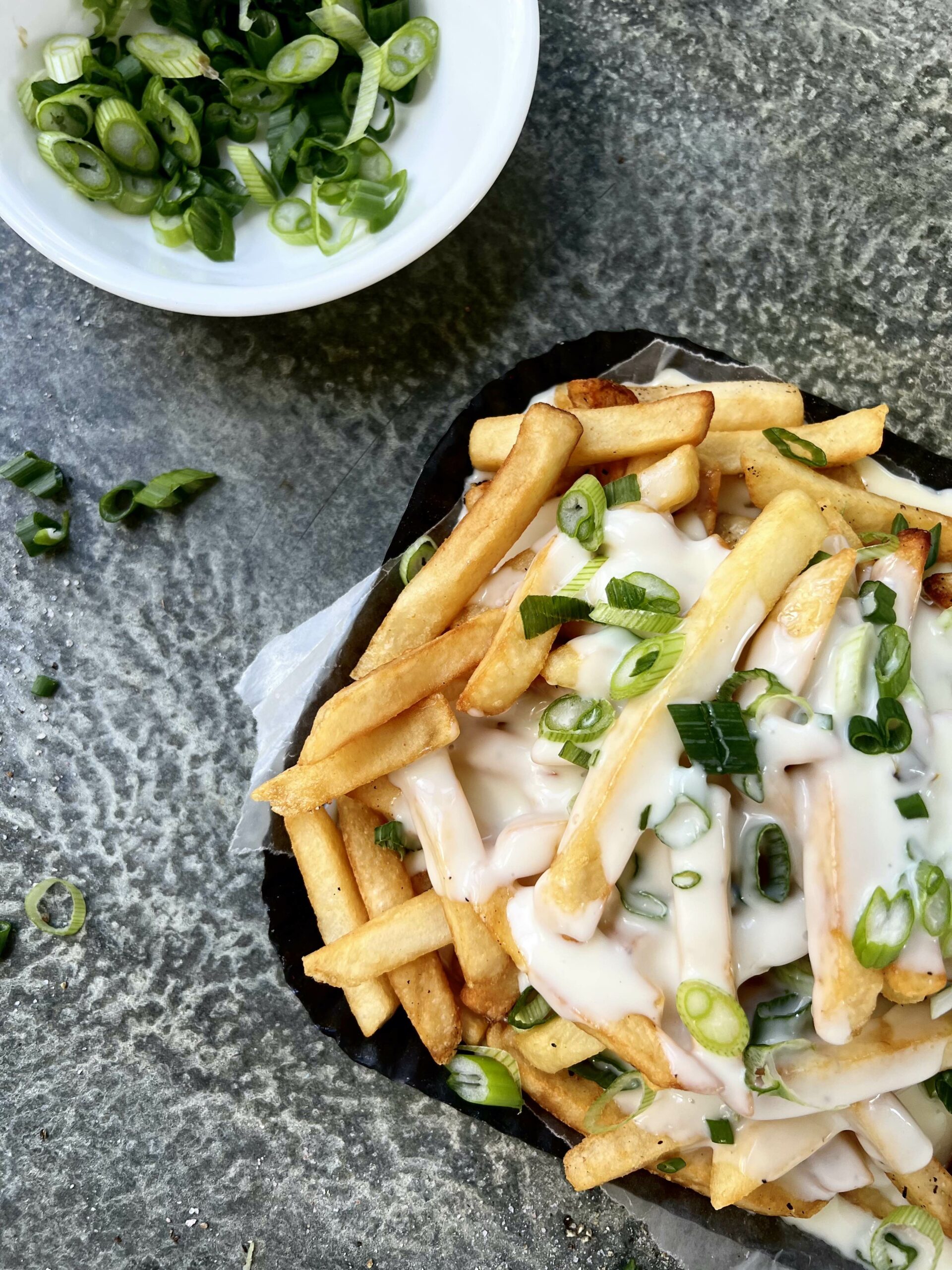 Makes 6 to 8 servings 
INGREDIENTS:
1 (2-pound) bag of frozen french fries, cooked according to package instructions
1 (16-ounce) container Gordo's Cheese Dip, heated
Salt and Pepper
Sliced green onions, as needed, optional

 
HOW TO PREPARE
Sprinkle hot fries with salt and pepper and place them onto a plate or bowl. Drizzle Gordo's Cheese Dip over fries and top with green onions.
Whether it is an early game, midday heat, or a fun evening game, you can't go wrong with having Gordo's on your roster for the event. Fast. Easy. Quick to please. Scoring smiles time and time again with any of our four cheesy goodness flavors. Here is to summertime! Here is to America's summertime sport! Here is to memories, foul balls, home runs and YOU'RE OUT – for summertime memories. All with Gordo's.