Calling all sports fans – young and old alike – it is that time of year where madness reigns supreme, March Madness that is! Regardless of if you like basketball or not, it's hard not to get caught up in the excitement of watching the underdog upset a high-ranked opponent! I mean, who doesn't love a good Cinderella story? Brackets get busted in the first round, dreams fizzle by the second round and then madness takes over! The best way to make it through all the madness is to grab some Gordo's Cheese Dip, invite over all of your friends and get settled in your favorite sports-watching spot on the couch and hold on tight as March Madness begins one of the CRAZIEST times in college sports!
The Sweet 16 reigns supreme this week as the brackets have narrowed down from 64 hopeful teams to the lucky 16. Boss's tend to be a little lax around the office and allow for games to be on quietly, pubs tend to be fuller at lunch, and a continuous stream of people with Air Pods in one ear (we all know that person who is "listening" during the conversation)! It's just that time of year! Bring your tailgate go-to, dinner upgrader, chips favorite dip– Gordo's Cheese Dip – to the watch parties with you and walk away a winner every time! No bracket needed!
The Sweet 16 is rounded out by:
This is the best time to grab some Gordo's cheesy goodness and get ready for some action-packed games, because what will your nervous hands be doing during the game if not snacking? By the end of the week, the Elite 8 will be set and the reality of the championship is ever closer. You can see it. You can feel it. And you can taste it, especially if you bring along these "sweet" dips to the watch party. Let's "dunk" into the creamy, buttery goodness of Gordo's, busted brackets or league-winning top two, let's plan to dance our way to the top! 
Grab some Gordo's Original Cheese Dip, marinara sauce, your favorite pizza toppings, and let's get the party started with Pizza Dip! Yes, you read that right, Pizza Dip! This is an awesome twist on several flavors and full of Italian goodness! You can top with your favorite pizza toppings, even the oh-so-controversial ham and pineapple on pizza! Whatever your heart (and stomach) desires! 
Quick and easy to put together to score points for the game! Don't forget the baguettes or pita chips to make this a Sweet 16 to remember!
Pro Tip: Use mini pepperonis to create the look of a basketball on the top of the dip!
Serves 8-10
INGREDIENTS:
8 oz Original Gordo's Cheese Dip
8 oz favorite marinara Sauce (any flavor or style)
4 oz grated Parmesan
½ packet dry Italian Dressing Mix
Desired toppings
HOW TO PREPARE:
Heat up Gordo's Cheese Dip in the microwave as directed. Pour into a microwave safe bowl. Add the remaining ingredients and mix well. Heat the entire mixture for 60 second in microwave, Stir. Depending on the microwave you may have to heat another 30 seconds. If desired top with mozzarella and bake until melted. Garnish with any of your favorites: grated Parmesan, diced bell peppers, diced olives, diced onions, diced tomatoes, and bacon bits! You can have your pizza dip anyway you want it! Serve with Ritz crackers and sliced French baguettes
Shrimp Scampi Dip
Another great way to 'dunk' into the games is with Shrimp Scampi Dip. This dip is packed with flavors galore! The rich, creamy goodness of Gordo's Cheese Dip, mozzarella, parmesan and butter – wow! Crown me the winner now! Not to mention big plump shrimp! Armed with your dip-carrier of choice (cracker, bread, a spoon, etc.) and dip into the bubbly goodness, this dip will be the sure favorite of the night. Welcome to the Big Dance Gordo's!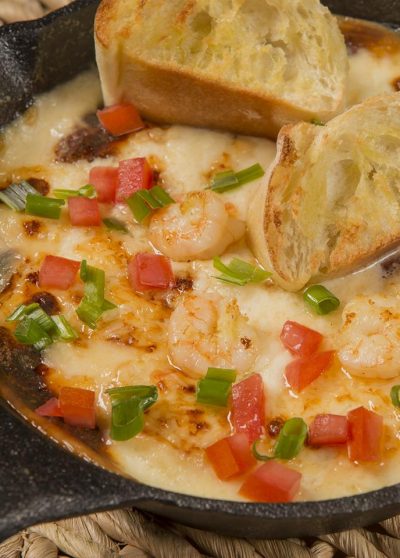 Serves: 6
INGREDIENTS:
16 oz. medium shrimp, peeled and deveined
1 teaspoon salt
1 cup Gordo's Cheese Dip(any flavor)
2 tablespoons butter
1/2 cup mozzarella cheese, shredded
1/2 cup parmesan cheese, grated
HOW TO PREPARE:
Place shrimp in pan with 1 quart boiling water and 1 teaspoon salt. Boil 4 minutes, drain and set aside. Melt Gordo's cheese dip with butter and add in cheeses. Lightly chop shrimp. Stir shrimp into cheese mixture. Pour into a greased 2 quart baking dish. Bake at 375 degrees 18 to 20 minutes or until golden brown and bubbly.
For those looking for a little more fun (and a little bit classy) during the game, grab your fondue pots and get ready to be crowned the winner of the madness! When you serve Gordo's White Wine Fondue at your party, all eyes will be on this! The flavors will awaken your senses and you will be droppin' 3's ALL night with this crowd-pleaser. The roasted garlic will fill the house and the wine – yummy – speaks for itself! Set out a platter of crostini, bread cubes, apples, veggies, or chips and you will DEFINITELY be going to the Elite 8!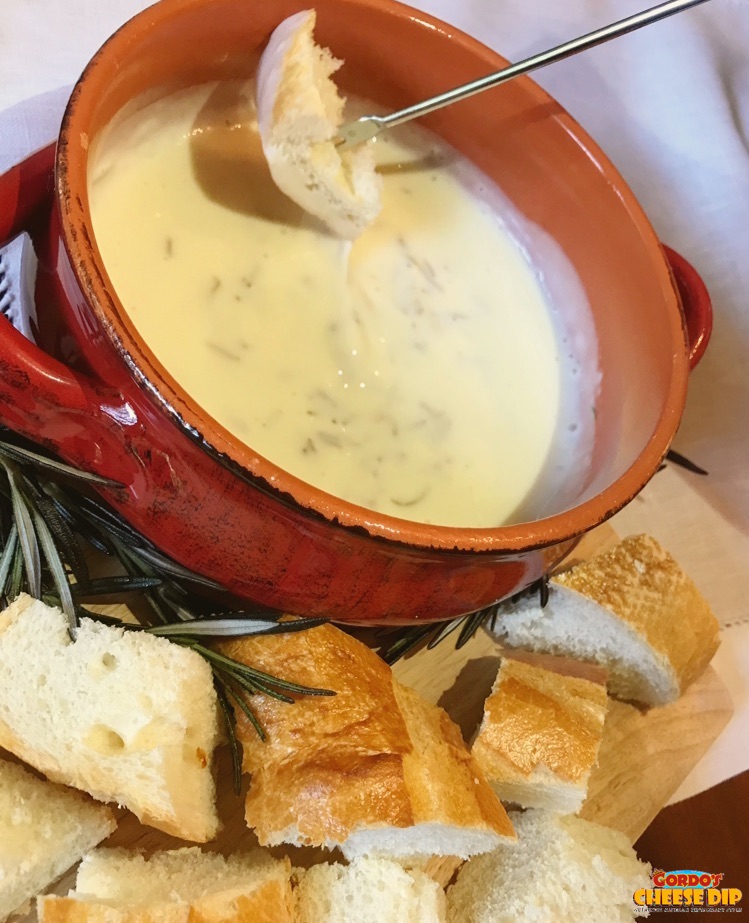 INGREDIENTS:
1 tub Gordo's Cheese Dip Original
2 cloves garlic, minced
1 cup Chardonnay
2 tablespoons fresh rosemary, finely chopped
Sea salt and black pepper to taste
HOW TO PREPARE:
In a small saucepan, saute the garlic over medium heat until translucent. Add the white wine and stir. Add to heated Gordo's Cheese Dip. Stir in rosemary. Serve immediately with crostini, bread cubes, apples, veggies, or chips.
SO, whether you are dancing or dipping, having Gordo's as your dance partner for the week will get you an invite to the Elite 8! I want to wish all the teams a good game as they play their way to the top! It's been madness so far and dreams have ended while others are still going high! Gordo's enjoys being your Dance partner at this time of year as the Madness of the season continues!