The month of March brings plenty of time to gather with friends and family. Whether you are Irish and celebrating St. Patrick's Day or preparing for the fun of March Madness, Gordo's is a great companion to take along for the cheers and jeers of the month! 
St. Patrick's Day is in honor of St. Patrick, the Patron Saint of Ireland, although now it is celebrated worldwide! Whether it is the shamrocks, leprechauns, pots of gold, or mugs of cheer, the color green is the thread of fun for the day. So as not to get pinched, you must be wearing green to keep those pesky leprechauns at bay! Many cities celebrate the Irish holiday by dying rivers and other bodies of water green! I am from the great city of San Antonio and they dye the River Walk green in celebration.
What about bringing a creamy and delicious pot of Gordo's for the luck of the Irish gatherings?  You can add to the fun of the day by adding a few drops of green food coloring to the golden color of Gordo's Cheese Dips to bring cheer and attention to the best pot of gold (or green) around!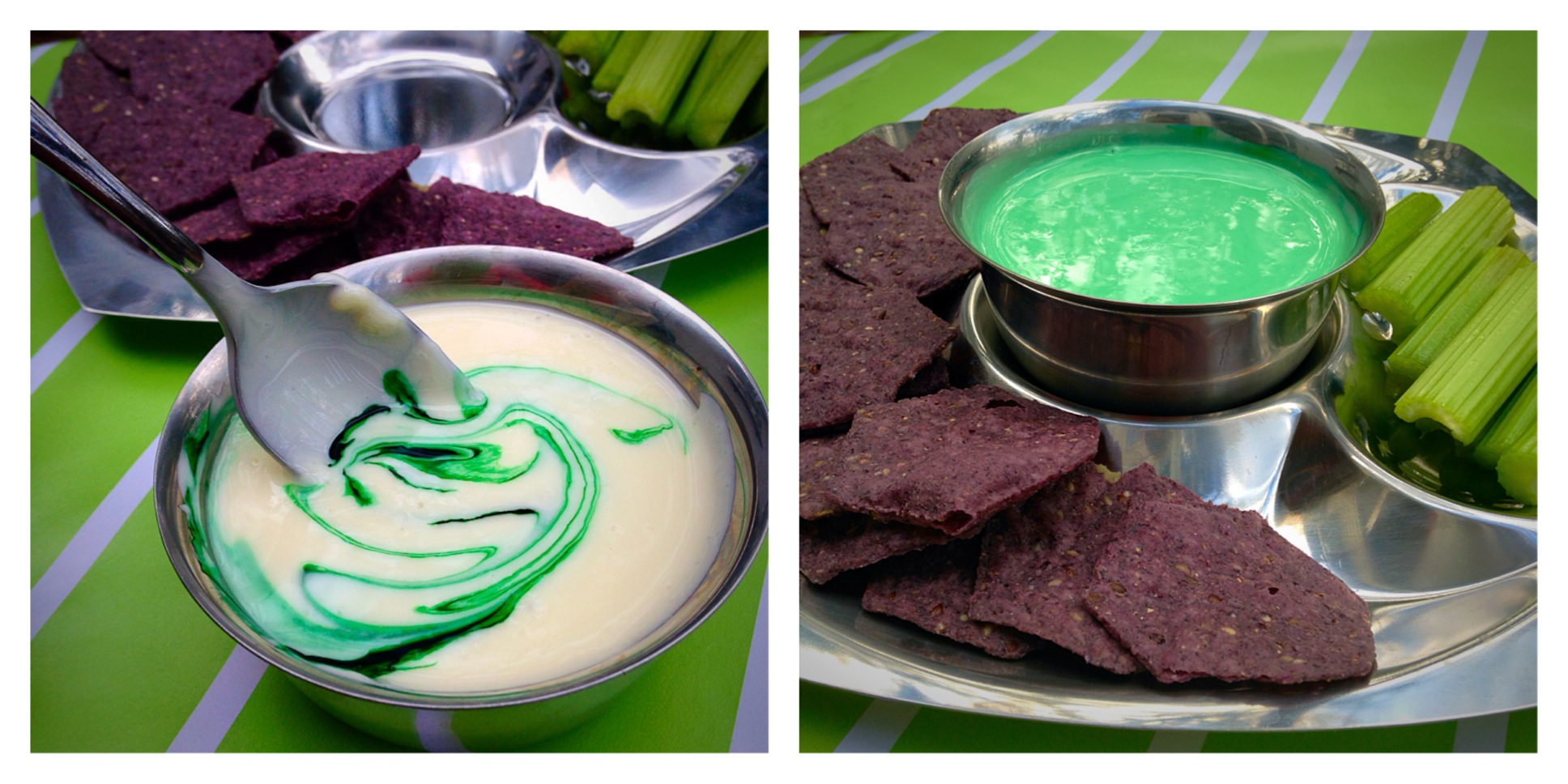 Spinach Artichoke Dip is the perfect party food to share some luck! Keeping it green and even getting the kiddos to indulge in a vegetable or two, spinach artichoke dip is great to have at gatherings for quick finger food DELIGHT. This dip is an awesome blend of creamy goodness with veggies, spices, and the richness of Gordo's buttery flavor! Warm some pita chips or tortilla chips and the Pot o' Gordo's yummy goodness is sure to grab cheers all around!
INGREDIENTS:
1 16 oz. bag frozen chopped spinach
1 can artichoke hearts (drained)
1 8 oz. package cream cheese
1/2 cup mayonnaise
1 1/2 cups fresh grated Parmesan cheese
1 package Dry Ranch seasoning
1 16 oz tub MILD Gordo's Cheese Dip
HOW TO PREPARE:
Cook spinach in microwave for 5 minutes. Drain and squeeze out any excess moisture.  In separate bowl, microwave cheese dip and cream cheese for 2 minutes until melted.  Chop drained artichoke hearts.  Mix all ingredients in large bowl.  Pour into greased 8 x 8 oven-safe dish.  Top with Parmesan cheese. Bake at 350 degrees for 30 minutes or until hot and bubbly throughout.  Serve with crackers, chips, or fresh vegetables.
Another amazing dish to show your spirit comes in the great taste of Gordo's Beer Cheese Soup.
 

Loaded with flavor from the bacon to the lager, Gordo's brings this soup to the forefront of St. Patrick's Day celebrations. Warm and bold, it is great with pulled bread to dip and savor the party going on in your mouth. The creamy and tasty goodness will be a crowd pleasure for sure and luck will be on your side!

INGREDIENTS:
1/2 pound piece of slab bacon, sliced 1/3 inch thick and cut into 1/3-inch dice
1 container (16 oz.) Gordo's Original Cheese Dip
3 cups chicken broth
1 cup all-purpose flour
½ cup butter or margarine
¾ cup finely chopped carrots
½ cup finely chopped celery
¼ cup finely chopped onion
½ teaspoon paprika
1/8 teaspoon black pepper
1/8 teaspoon ground red pepper
1 can (12 oz.) beer (lager or pilsner preferred)
HOW TO PREPARE:
In a large saucepan, cook the bacon until crisp. Remove bacon and excess grease. Add carrots, celery, and onion to saucepan until softened. Add broth, saving small amount for roux; heat to boiling over medium heat. Add the beer and cook until reduced by half, 5 minutes. In small saucepan, stir in flour, paprika, black pepper and ground red pepper with small amount of broth until lightly browned. Add this roux to large soup mixture to thicken. Reduce heat; stir in Gordo's Cheese Dip. Heat until cheese is melted, stirring occasionally. Stir in the bacon and season with salt and pepper. Add a few tablespoons of broth if the soup is too thick. Top with shredded cheese or chives, if desired. Serve with bread or crackers.
For the main course, but still an awesome finger food – St. Paddy's Day corned beef grilled cheeses! The key here is the bread! A good rye bread makes all the difference. The combination of Gordo's and Jarlsberg cheese is a match made in Ireland! The flavors meld together with the bread and bold flavors of the meat and mustard and the party begins! The Luck of the Irish will be on your side!
INGREDIENTS:
1 1/2 tablespoons unsalted butter
1 small onion
1 tablespoon sugar
2 ounces deli-sliced corned beef, cut into strips
2 teaspoons Worcestershire sauce
1 tablespoon whole-grain mustard
1 cup grated Jarlsberg cheese (about 4 ounces)
½ cup Gordo's Cheese Dip
4 slices marble rye bread
HOW TO PREPARE:
Cut the onion into thin slices. Melt butter in a large skillet over medium-high heat. Add the onion and sprinkle with sugar, a touch of salt, and ground black pepper to taste. Stir occasionally, until the onion is soft and golden (about 10 minutes). Remove from the heat and stir in corned beef, Worcestershire sauce, and mustard. Divide half of the cheese between two bread slices, top with the corned beef mixture, the remaining cheese, and two bread slices. Melt the remaining 1 tablespoon of butter in a large skillet over medium heat. Add the sandwiches and cook, turning once, pressing occasionally with a spatula, until the bread is toasted on both sides and the cheese melts.
SO gather 'round the table, grab some Pot o' Gordo's Cheese Dip, Spinach Artichoke Dip, Beer Soup, and Corned Beef Grilled Cheese and you will be the luckiest party in town!