OOOOOOooooooo……October brings out the ghosts, goblins, and gatherings that must
include Gordo's! Halloween isn't just about candy (said no kid EVER)! Many dress up
and gather to have fun, food, and festivities! Bring Gordo's along with some creativity
and you are sure to win first place for the BEST food! The excitement of the fall night,
dressing up scary (or pretty) and playing games, and having amazing food are all part of
the evening. Then it is TOPPED off with going trick or treating and getting FREE candy!
Say What? What!! When you gather with Gordo's we do more than get "added." We
show UP and OUT. As always, using our recipes or your family's traditional ones, Gordo's
Cheese Dips help you by kicking up the flavor with our Original, Mild, or Hot Cheese Dips. However, you choose to bring us along, get ready to be the yummy
fright of the night!
This season invites a few of Gordo's ghoulish recipes to your Halloween get-together for
a spooktacular night of food, fun, and memories! Imagine creating a spooky "cemetery"
with our Gordo's Party Layered Dip. That's right. With a bit of creativity, you can create
a scary yet yummy centerpiece! How do you have a good time without a ghost or two?
Having our tasty Gordo's Chicken Green Chile Tamales on your table will elevate the
excitement in the air AND feed the crew! The final piece to an evening of scary, spooky
fun and flare is serving up Gordo's Slow Cooked Walking Dead Tacos. Zombies are the
epitome of scary and gross and Gordo's can help you serve them right up to those
willing to take a chance!
Let's get the party started! Spicey refried beans, taco meat (beef or chicken), sour
cream, shredded lettuce, tomatoes, onions, black olives, avocadoes and some
CREATIVITY! This fun layered goodness can be the main attraction on your table!
Think of it as a creepy cemetery! With things oozing (sour cream or guac) the lettuce is
the shredded grass, and olives, onions, and tomatoes are body parts!!! Use tortilla chips as
headstones! Have fun and be creative! You can layer these in individual clear cups for
easy disposal or make a big one for the table and scoop out onto your party plates!
Either way, grab your Gordo's and create a masterpiece for your Halloween fall fun!
SERVES: 8-10
INGREDIENTS:
2-16 oz cans spicy refried beans
½ pound lean ground chuck scrambled, drained; add ½ pack taco seasoning mix
1 cup sour cream
1 cup guacamole
1 cup Gordo's Cheese Dip (any flavor)
1 cup shredded lettuce
1/2 cup tomatoes, chopped
1/2 cup scallions or green onions, sliced
1 bag tortilla chips
HOW TO PREPARE:
First layer refried beans, next layer seasoned ground chuck, add third layer of sour cream, add fourth layer of guacamole. Drizzle with your favorite flavor of Gordo's Cheese Dip. Top with lettuce, tomatoes and green onions. Dip with your favorite chip!
Ghosts! Ghosts! Everywhere there are ghosts! Gordo's Chicken Green Chile "Ghost"
tamales will be a hit! Unwrap the delicious flavor of chicken and green chile stuffing
with creamy Gordo's cheese, surrounded in a cloud of masa and wrapped in a "sheet"
(corn husk) and Tada! You have Gordo Ghosts! Use Gordo's cheese in both the meat
mix and as a dipper!! You could get VERY fun and scary using a marker to make eyes
and mouth on the corn husk (since you don't eat the husk) and bring these goodies to
life! You could even use a dollop of sour cream for eyes and mouth to hold on to black
olives! Just get creative and fun and these treats will be flying off your table to the
delight of the crowds!
What could be scarier at Halloween than Zombies? Join Gordo's and have Slow
Cooked Walking Dead Tacos! That's right! What is scarier than zombies? With these
"walking tacos" this is your chance to serve up a scary yet delightful dish that is fun to
have on hand. Individual bags of corn chips or Doritos crushed and loaded with
seasoned taco meat, Gordo's cheese, lettuce, tomato, onions, olives, guacamole – the
works! You can dress up the outside of the bags ahead of time with permanent markers
showing all the markings of a zombie's face! Or let the little goblins decorate their own!
However, if you choose to have Zombies, let Gordo's add that great taste element that
rises above others. Watch the faces of old and young alike, scream at the sight of
these. Yucky and scary on the outside, yummy and filling on the inside.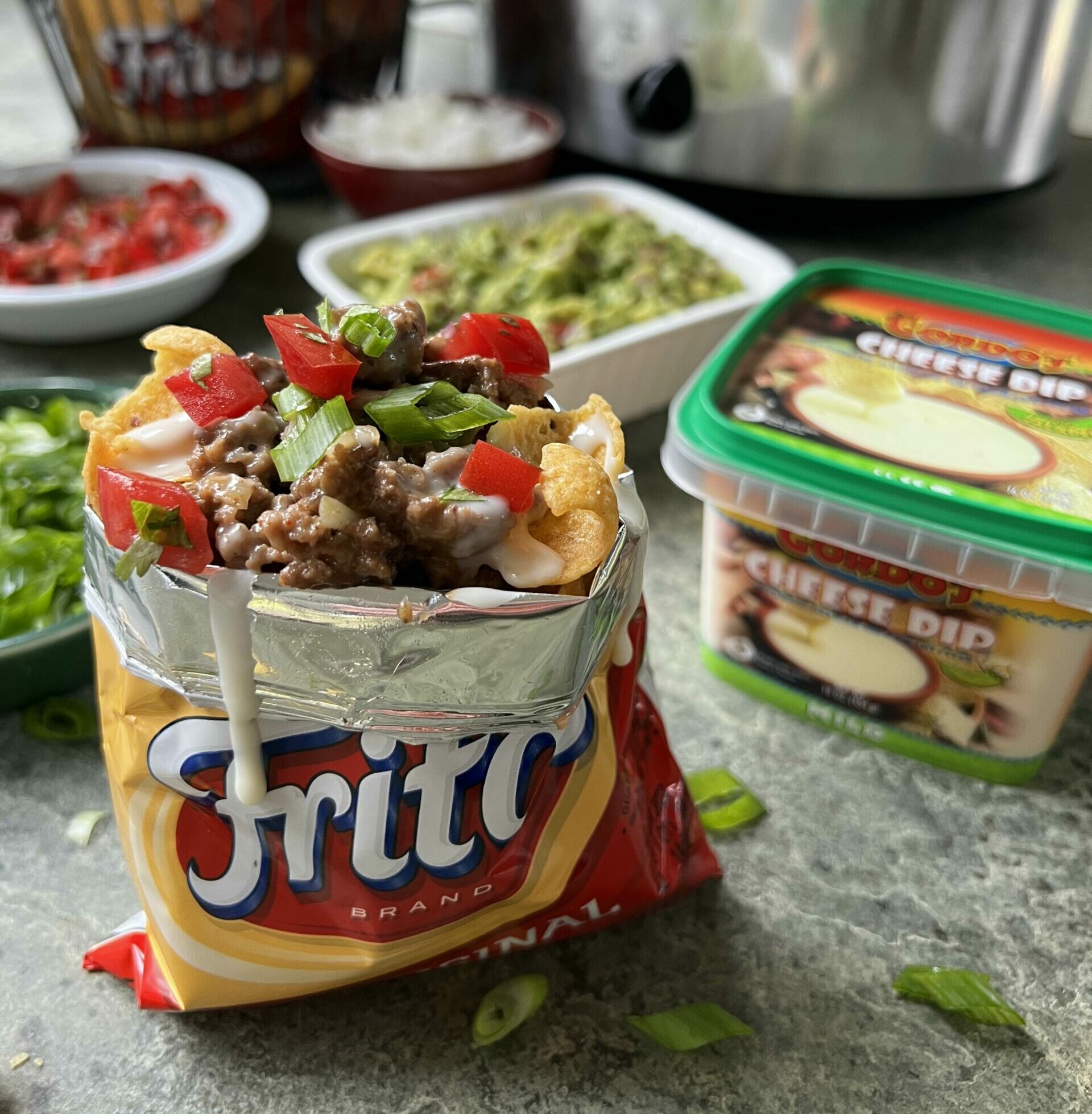 Makes 8-12 servings 
INGREDIENTS
2 pounds ground beef

 

1/2 cup chopped white onion
1 (1-ounce) packet taco seasoning

 

1 (16-ounce) container Gordo's Mild Cheese Dip

 

12 (1-ounce) bags Fritos, or chips of choice, as needed

 

Toppings of choice, such as: Shredded Lettuce, Pico De Gallo, Guacamole, Salsa, Green Onion, Cilantro, Lime Wedges, additional Gordo's Cheese Dip, Sour cream, etc
HOW TO PREPARE:
Cook beef a large skillet over medium-high heat, about 14 minutes, breaking up large pieces and stirring occasionally. Add onion and taco seasoning, cook until softened and translucent, about 3 minutes. Remove from heat and carefully drain excess fat from the pan.
Place cooked meat and queso into a slow cooker on high heat. Cook on high for 30 minutes and then turn to low to serve. Serve by opening small bag of chips, adding the cheesy meat from the slow cooker, and top with your toppings of choice. 
Of course, you can always add a little red and yellow food coloring and have a bowl of
orange Gordo's Cheese Dip to resemble a pumpkin on your table. Just the traditional
chips and cheese are ALWAYS a winner for those less adventurous eaters. This season
of Gordo's cheeses and food requires some creativity, and you can have a table full of
fun foods that will be the delight of the crowd (besides the FREE candy of course!) Just
remember to be safe, watch out for the little ones and keep an eye on the big kids too!
Have a happy and safe Halloween time! Gordo's