Olympic Style Snacks
Friday, July 23, 2021
We're winding up for the Olympic Games Tokyo 2020 and we are ready to watch Team USA go for the gold! With the craziness that has been the last year and a half (2020 amiright?), we are happy to return to some normalcy in our lives. Normal for the Gordo's gang means getting together with friends and family with a spread of festive snacks and of course, Gordo's Cheese Dip! So we've lined up our most festive (and punny) Olympic Style Snacks!
Before we dive into our favorite Olympic Style Snacks, we have a new Olympic Sport to submit to the International Olympic Committee to consider for the Olympic Games Paris 2024.
*drum roll please*
We give you…Stuff the Taco
Contestants must make their way through a course in a pool of Gordo's Cheese Dip to gather taco ingredients and assemble in a giant tortilla. Once all the "food components" are inside, the final person is tasked with rolling the taco shell and finishing the race. Take a look at our "Stuff the Taco" race from the Talladega Superspeedway in 2017!
Kyle Larson said this might be a little stranger than normal, but it's mostly on par with other Talladega weekends. pic.twitter.com/0WSwhIK2g7

— Michelle R. Martinelli (@MMartinelli4) May 6, 2017
Now onto the snacking!
Olympic Onion Rings
Nothing fancy here, just some Gordo's Dips and onion rings! But come on, doesn't it fit the theme perfectly! Display your "Olympic Rings" and serve with extra onion rings for dipping!
Backflippin' Buffalo Chicken Wing Dip
A sport's watching party classic! You can never go wrong with buffalo chicken wing dip! Your Olympic watch party attendees will be doing back flips for this dip, while you watch Olympic gymnasts do actual backflips!
PSA: Let's just assume no one you're hanging out with needs to be attempting a backflip. We don't need any "hold my beer" accidents 😜
Gold Medal Chicken Empanadas
Would it even be the Olympics if someone didn't take home the gold? Well, we're all about giving everyone a piece of the gold, because sharing is caring! So hand out "Gold Medal" Chicken Empanadas to all of your party goers! Everyone earned the gold in some way or another (we're looking at you guy who brought the extra Gordo's 😉)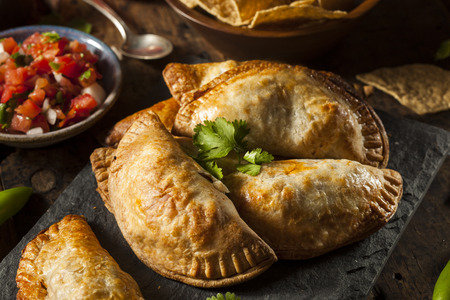 INGREDIENTS:
3 cups cooked chicken, shredded
½ cup Gordo's Cheese Dip (any flavor)
1 package taco seasoning
1 (15 oz.) package refrigerated pie crusts
1 egg & water
HOW TO PREPARE:
Preheat oven to 400 degrees F Line a Baking Sheet with parchment paper. Toss chicken in taco seasoning. Cook chicken in large skillet. Allow chicken to cool, shred. In a large bowl combine the chicken and cheese. Unroll 1 piecrust onto a lightly floured surface. Cut into rounds, using a 3-inch cookie cutter or cup. Re-roll dough as needed. Repeat with the remaining piecrust. Making as many circles as possible. In a small bowl, whisk together egg and 1-2 TBSP water. Arrange 1 dough circle on a clean flat surface. Lightly brush the edges with the egg wash.Place 1 large TSP of chicken in the center of the round. Fold the dough over the filling, pressing the edges with a fork to seal completely. Place on baking sheet. Repeat with the remaining circles and chicken mixture. Lightly Brush the tops of the empanadas with the egg wash. Bake in oven for 15 minutes or until golden brown.
Now let's celebrate the USA and watch our Olympic Team take home the gold!