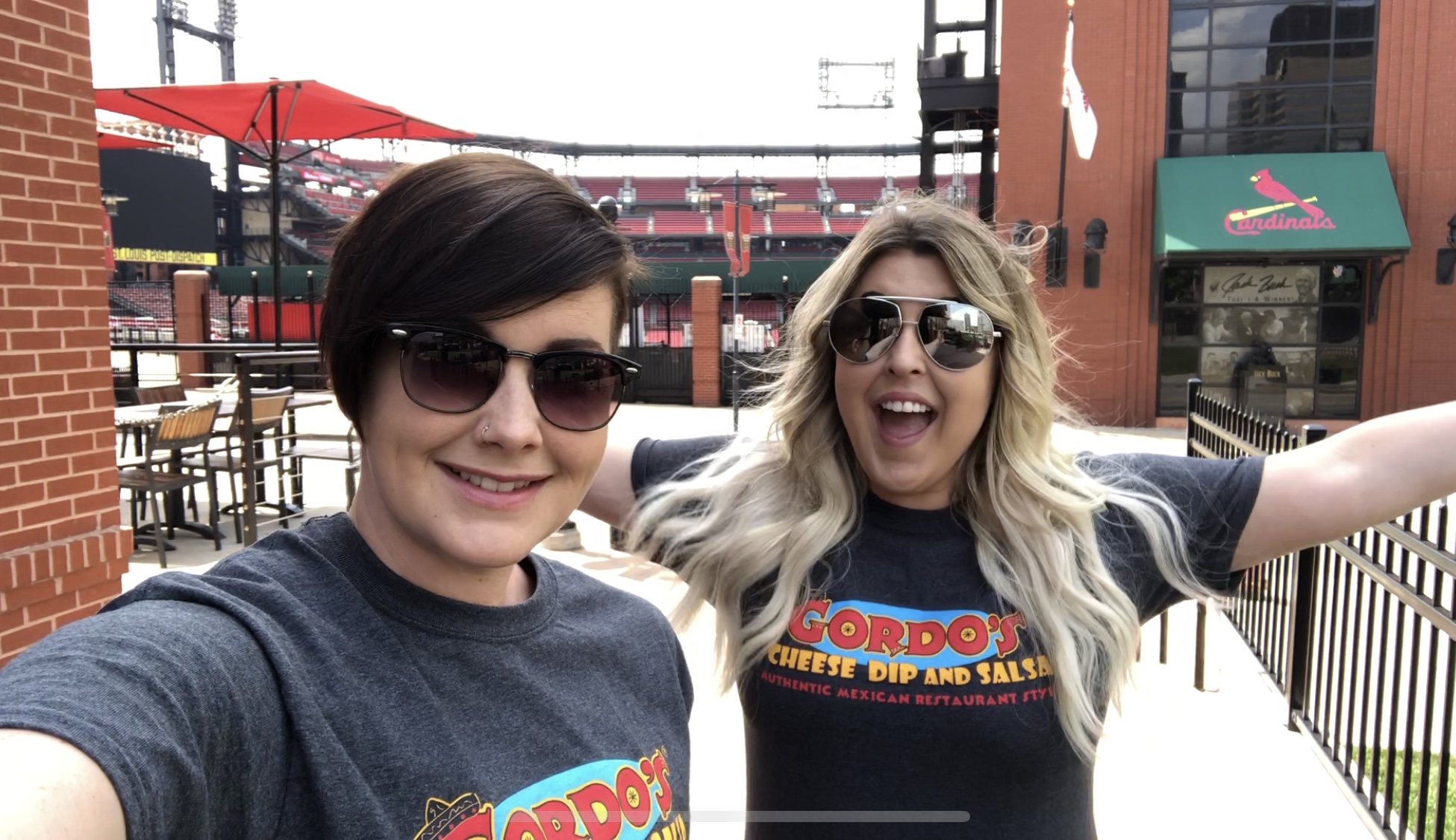 Hey all! We wanted to give you a little update on the Gordo's Big Trip. If you're been following us on social media you know we've been on quite the adventure. Morgan and I (hey, I'm Nicole) have been driving The Big Dipper (Gordo's brand new sampling truck) all around the Southeast and Midwest, making people super happy with free cheese dip!
Let me start from the beginning to give you some perspective. Morgan and I are new to working with the Gordo's brand, and neither of us had driven a big truck before in our lives. However, we love adventure and a new challenge, so we dove in head first. Both of us live in Nashville and work in the music and entertainment field, but you can't say no when you get the opportunity to work with cheese dip! We are making a digital video series about the Gordo's Big Dip Trip (which Morgan hosts) which you can follow on Gordo's Facebook and YouTube. Currently, we're about half way into the Gordo's Big Dip Trip, and I can honestly say I wish it didn't have to end. Let me give you a quick recap of our experience thus far!
We hopped in the Big Dipper and left out of Atlanta (home of Gordo's Dips) on May 2nd, making a quick stop in Birmingham on our way to the Beale Street Music Festival in Memphis, TN. We spent an amazing 4-day weekend passing out samples to festival goers, who were very excited about free snacks! One of the craziest moments in Memphis is when the storm moved in on Saturday and it started HAILING! Our crew piled in the truck and we battened down the hatches like we were at war with the weather. We played some rain themed music to entertain people that were outside the truck, and then passed out some dry shirts to the fans after the storm…which awarded us the expression that Gordo's is the Red Cross of the cheese industry! How funny is that?! She got folks putting Gordo's Cheese Dip on random festival foods…even a funnel cake! Yep, you read that right folks. Gordo's Cheese Dip on a funnel cake! During the evenings, we were lucky enough to enjoy some of the music, and got to see some amazing performances from Alanis Morissette, Luke Combs, Post Malone, Jack White, Ludacris, and Incubus, just to name a few. Check out the first episode of the series in the video below to see a full recap of the weekend in Memphis:
Our next destination was Evansville, IN, where we attended the Evansville Otters opening weekend at Bosse Field! Bosse Field is the 3rd oldest ballpark still in regular use and is also where they filmed "A League of Their Own." More importantly, it's the only baseball stadium where you can order Gordo's Cheese on your nachos or add it to your hot dog, so that's hard to compete with! We were also able to pull off an awesome Gordo's nacho eating contest, which got messy but made for some great entertainment.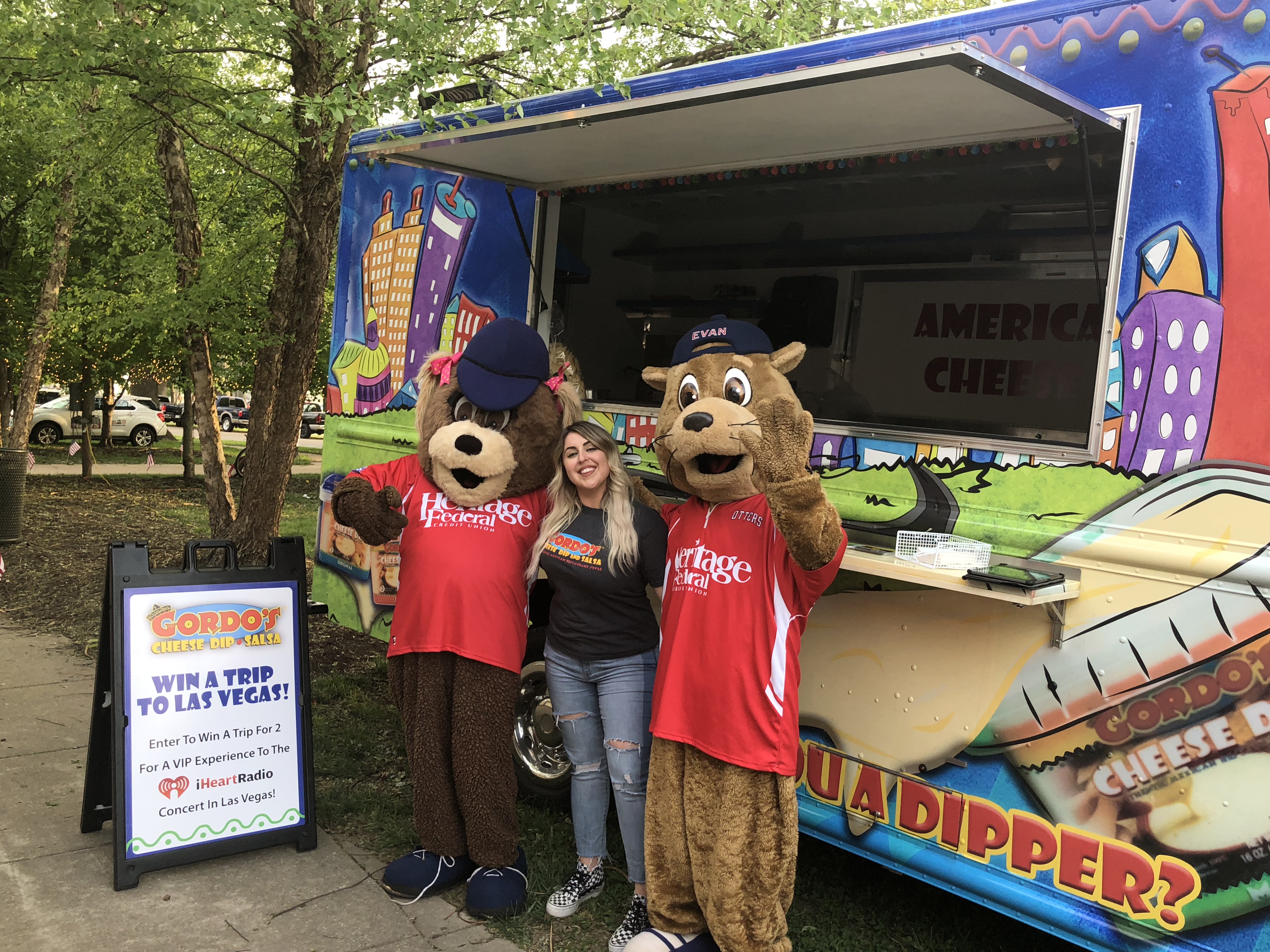 Sticking with the baseball theme, our next stop was Busch Stadium in St. Louis, MO, home of the St. Louis Cardinals! The Big Dipper got to hangout in Ballpark Village for the weekend home stand against the Phillies! It rained on and off throughout over the whole weekend but once again we passed out warm, dry shirts to a lot of thankful people, maintaining our reputation of being the "Red Cross of the cheese industry!" We had corn-hole, live entertainment, giant Jenga, hula hoops, swag, free Gordo's cheese dip and salsa, what more could you ask for?!
We were also lucky enough to team up with Chef Adam Pritchett from the new hot spot Hi Pointe Drive In (sister restaurant to Sugarfire Smoke House). He made some amazing creations using Gordo's Cheese Dip including a giant 7-layer Tacodilla, which might be one of the best things I've ever eaten. Stay tuned for the actual recipe and cooking video in an upcoming blog post!
If that's not enough excitement for you, Morgan and I are currently in The Big Dipper heading to Indianapolis, IN for the Indy 500 this weekend! Get excited, cause we're ready to sling some cheese dip in your face faster than you can wave that checkered flag. Louisville and Nashville get ready because you're on deck!