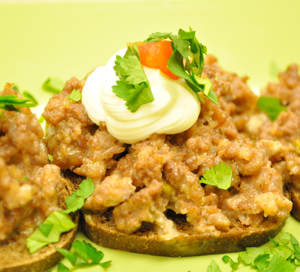 1 lb. ground beef
1 lb. breakfast sausage
1 16 oz. tub Gordo's mild or hot cheese dip
1 tablespoon Worcestershire sauce
1 teaspoon oregano
2 party loaves cocktail rye or pumpernickel bread squares
Brown sausage and ground beef in skillet. Drain fat. Return to pan, add cheese dip, Worcestershire sauce, and oregano. Heat until cheese is melted. Arrange bread pieces on a baking sheet. Place a tablespoon of the meat and cheese mixture over the bread.
Bake in a 375 degree oven for 10-12 minutes. Garnish with sour cream, tomatoes or olives.
These can be prepared ahead to save you time. After assembly place unbaked hanky pankys in the freezer. Remove when frozen solid and place in a freezer bag.Take out of the freezer 30 minutes before you need them. Thaw on pan 20 minutes and bake in a 375 degree oven for 10-12 minutes.