The fun day of Cinco de Mayo is a long-standing festive day! But what is Cinco de Mayo and why do people celebrate? Dating back to 1862, May 5 is observed as the anniversary of Mexico's victory over the French Empire at the Battle of Puebla (NOT to be confused with Mexico's Independence Day of September 16, 1810 from Spain). Celebrations with food, festivals, games, parades, dancing, and live music are held all across the world. One way to make that celebration even more festive and lively is bringing Gordo's to the party!
Cinco de Mayo came stateside thanks to FDR in 1933 when he passed the Good Neighbor Policy to help improve relations with our Latin American neigboring countries. Communities with heavy Hispanic populations carried on the traditions and Cinco de Mayo grew into the worldwide celebrations we see and LOVE today! A great way to spice up the day is to grab some Gordo's and add a touch of modern Mexican flare to old-world dishes.
Gordo's Mole Poblano Sauce 
The day is full of festivities and flavor and even comes with its own "Official Dish" and contrary to what comes to most Americans' minds, no it is NOT margaritas or tequila, it is Mole Poblano! This dish comes with all the pomp and circumstance it can handle! Mexican chocolate, spices, nuts, and flavor overload! While there ARE recipes that vary as much as the flavors do, it is the creamy richness that draws you back in. The perfect way to hint at EXTRA creaminess is to add Gordo's Cheese Dip into the recipe! It will bring buttery flavor and have your guests doing a Mexican hat dance while shouting "Olé"!! The sauce can be added to dishes such as enchiladas, rice, fajitas, carnitas, or anything your heart desires. Some even like it on the side to dip in or just eat by the spoonful! However you choose to bring it to your Cinco de Mayo celebration, adding Gordo's to the recipe is a way to bring home the flavor!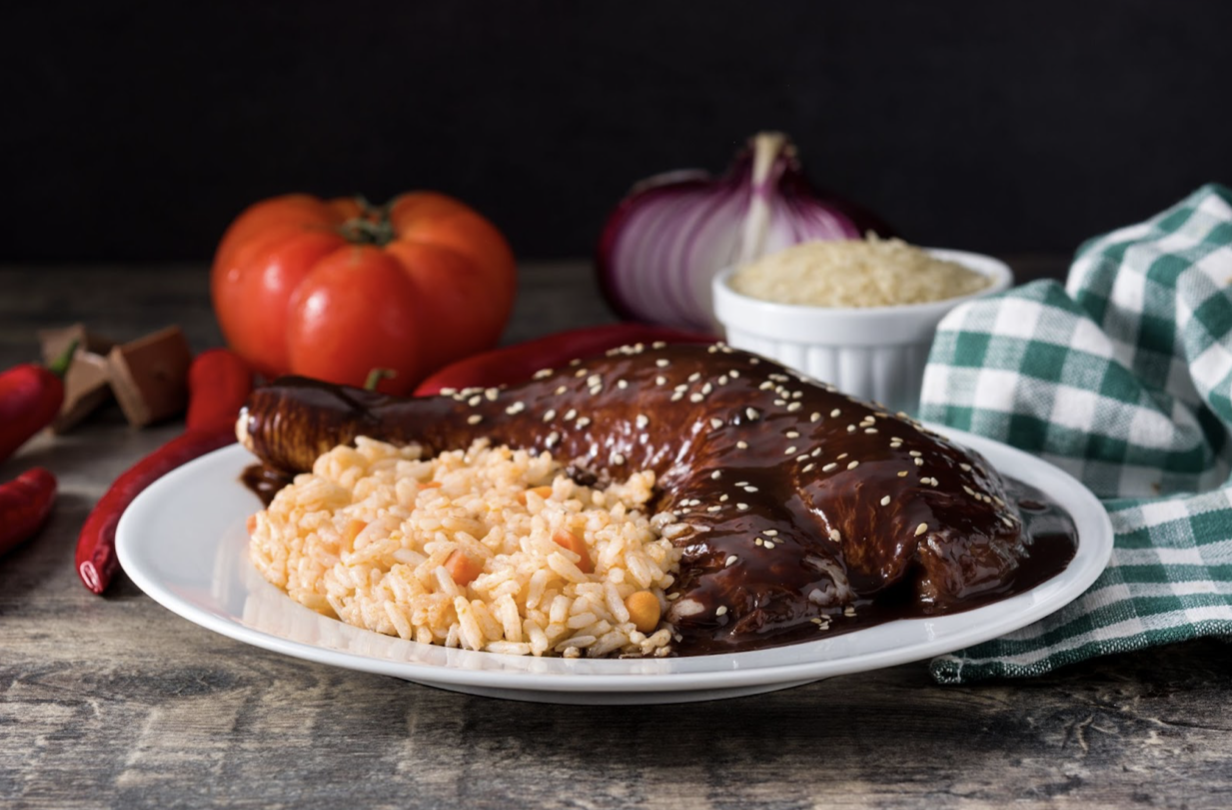 INGREDIENTS
6 Mulato peppers

 

4 Ancho peppers

 

6 Pasilla peppers

 

1 Tablespoon of reserved pepper seeds

 

6 Whole cloves

 

½Teaspoon black peppercorn

 

¼ Teaspoon coriander seeds

 

¼ Teaspoon anises seeds

 

¾ Cup sesame seeds

 

¾ Inch of Mexican cinnamon stick

 

½ Cup of raisins

 

⅓ Cup unskinned almonds

 

⅓ Cup peanuts

 

1 corn tortilla

 

3 Small slices of French bread

 

⅓ Cup of raw pumpkin seeds

 

½ Small white onion sliced

 

2 Medium roasted tomatoes

 

2 Tbsp Chipotle Sauce

 

3 Garlic cloves roasted

 

½ Large ripe dark-skinned plantain peeled, thickly sliced

 

1 Tablet of Mexican drinking Chocolate

 

6 cups chicken broth

 

1 cup Gordo's Cheese Dip (any flavor)

 

½ Cup of oil or lard to fry the ingredients

 

Salt to taste

 
HOW TO PREPARE
Prepare the peppers. Make sure to clean the dry peppers with a wet cloth and cut the peppers using your kitchen scissors, if possible, to flatten them for even toasting. In a skillet toast the dry peppers a few at a time, on both sides, pressing them down as you turn them, until the inside flesh turns tobacco brown. This takes a few seconds, take care not to let them burn. Place the peppers and the chocolate in a bowl with broth to soak. Keep toasting the rest of the peppers and placing them in the broth. Meanwhile, toast separately the reserved peppers seeds, the coriander seeds, the anise seeds and sesame seeds. Set them aside to cool. 
Grind in an electric coffee/spice grinder as finely as possible. Cloves, peppercorns, cinnamon, and all the toasted ingredients except the sesame seeds. In case you do not have a grinder, but you have a professional blender skip this step and place the spices and seeds on the pot with the rest of the ingredients to be ground in the blender. 
Reserve 2 tablespoons of the sesame seeds for serving the mole; grind the rest as finely as possible. After this step add this mixture of spices and seeds to the bowl with the peppers. 
Now, add a small portion of the lard or vegetable oil to a skillet and begin frying the following ingredients separately draining any excess fat after frying: the raisins until plump up, the almonds until well browned, the pumpkin seeds until they swell. 
Every ingredient will be added to the pot with the chicken broth. You can roast the tomatoes and garlic cloves while frying the rest of the ingredients. Fry the onions until golden brown and place in the bowl. Fry the tortilla and bread until crisp. Only add a little more lard at a time or it will be absorbed, specially by the tortilla and bread. Add plantain and sauté until golden, about 3 minutes. Using slotted spoon, drain excess fat and transfer to bowl. Make sure to use a ripe plantain. 
This is the bowl where all the fried and toasted ingredients were placed and now are ready to go into the blender. It is going to look a little bit messy. Crush the bread and tortilla, roughly chop the roasted tomatoes.  
Put ½ cup of the chicken broth into the blender. Add peeled garlic. Gradually add the spice mixture and blend well; then add another ½ cup of broth and gradually blend the fried ingredients to a slightly fine paste. Try not to add more liquid (unless your blender motor is heating or smoking) but constantly release the blades with a rubber spatula. You will have to do this step in 2 or 3 batches until everything has been pureed. You can use a Vitamix and grind the whole sauce twice. If the end results are still coarse, pass the whole mixture through a strainer. In a large skillet over medium heat, reheat the sauce, scraping the bottom of the pan very often to avoid sticking. Season with salt. 
Continue cooking until the mixture is very thick, about 8 minutes, and stir. Add 1 cup of Gordos cheese dip and enough of the chicken broth to desired thickness and continue cooking the mixture (which should be bubbling) for about 15 minutes. To serve, place a piece of chicken on a warm plate. Spoon on plenty of the mole sauce; sprinkle with sesame seeds. ****You can use this as a sauce for many things! 
If you are lucky enough to be able to attend an authentic Cinco de Mayo celebration, the sites, sounds, smells, and excitement are sure to be felt by all. One of the great dishes to have is none other than Mexican Street Corn. Who doesn't LOVE summer corn? The fun flavors of corn and rich buttery taste of Gordo's with a hint of spiciness can't be beaten! Crisp tortillas chips, loads of Gordo's in one of our flavors – or some of each – and summer corn, Cotija cheese, cilantro and lime!  On the cob, off the cob, Mexican Street Corn Nachos, Mexican Street Corn Salad, or a fun twist with Queso Basted BBQ Street Corn– whatever your choice, adding Gordo's as a main ingredient or hidden topping, you will find yourself and guests  singing Ay, ay, ay,ay, Canta y no llores, porque cantando se alegran, Cielito lindo, los carazones! Viva la Gordo's…….Mexican Street Corn Nachos!
INGREDIENTS:
1 large bag of tortilla chips
3 ears of corn
1/4 cup Cotija Cheese, Crumbled
1 container of Gordo's Original Cheese Dip
1/8 cup Chopped Cilantro
1/8 teaspoon Chili Powder
1 slice Lime
HOW TO PREPARE:
Remove the husks and silk from the corncobs. In a large pot, bring water to a boil. Add the corn to the boiling water (be careful as it may splash!) Boil corn for roughly 5 minutes then remove from heat, allowing corn to sit in hot water for another 10 minutes. Remove the corn from the water. Allow the corn to cool for a few minutes before beginning to carve. Once cool enough to handle, stand corn up and slice the kernels off the cob using a sharp knife. Layer chips, Gordo's Cheese Dip, corn, and cojita cheese. Top with cilantro, chili powder, and fresh lime juice.
For that Cinco de Mayo get together to celebrate the festivities of the day, a fun and easy (especially for clean up!!) meal for all to enjoy is Gordo's Slow Cooked Walking Tacos! Make the day of in the crock pot or a day ahead, this easy dish is especially fun for kids – eating the meal out of the chip bag itself – and toss the bag when done! Fritos or tortilla chips in the individual bags, the savory meat filling of your choice with the hidden goodness of Gordo's and all your favorite toppings! Grab the bag and a spork and off you go! Each bite is a fiesta of flavor! This is especially fun with little ones and allows them to build their own taco bowl!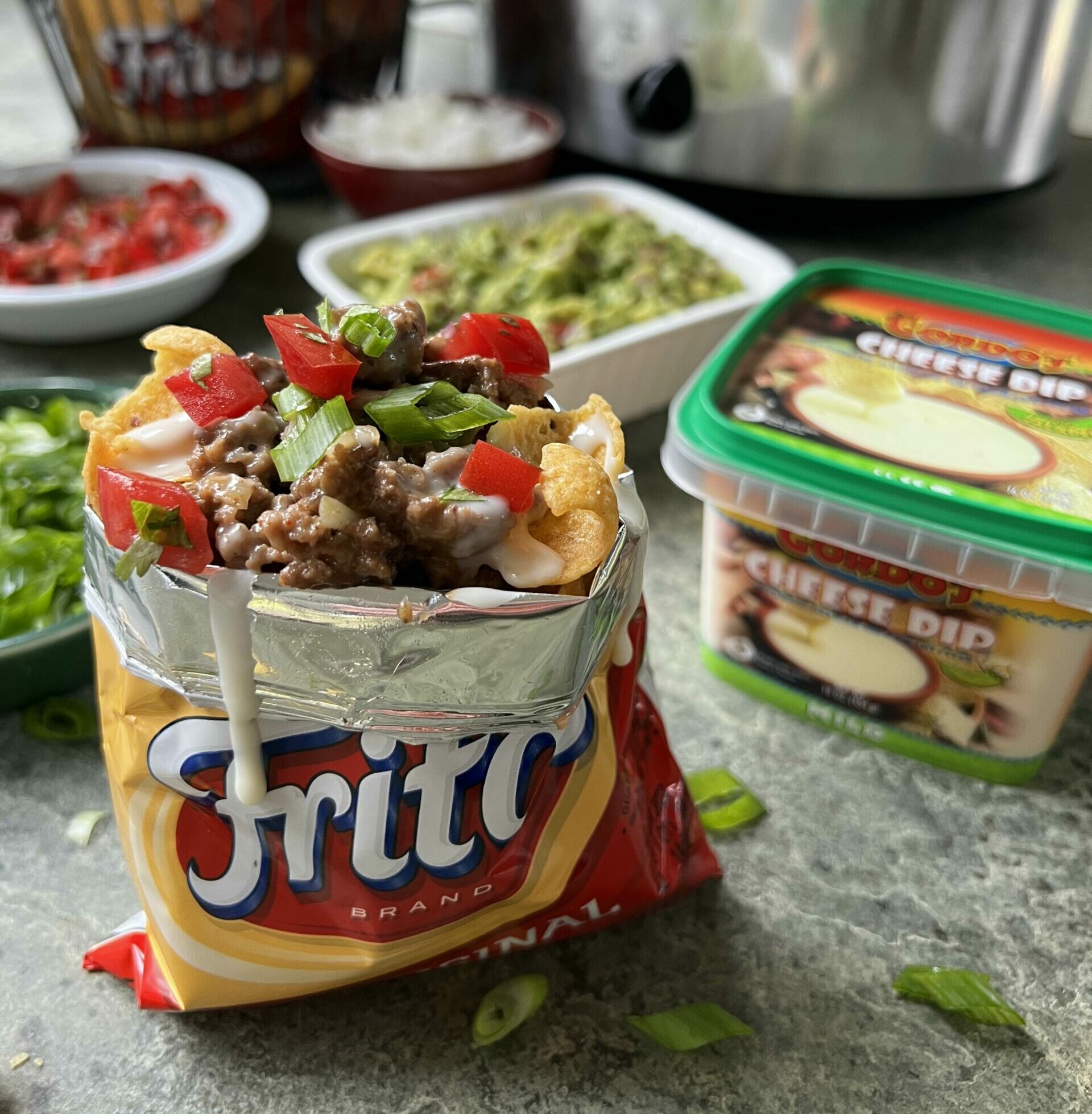 INGREDIENTS
2 pounds ground beef

 

1/2 cup chopped white onion
1 (1-ounce) packet taco seasoning

 

1 (16-ounce) container Gordo's Cheese Dip

 

12 (1-ounce) bags Fritos, or chips of choice, as needed

 

Toppings of choice, such as: Shredded Lettuce, Pico De Gallo, Guacamole, Salsa, Green Onion, Cilantro, Lime Wedges, additional Gordo's Cheese Dip, Sour cream, etc
HOW TO PREPARE:
Cook beef a large skillet over medium-high heat, about 14 minutes, breaking up large pieces and stirring occasionally. Add onion and taco seasoning, cook until softened and translucent, about 3 minutes. Remove from heat and carefully drain excess fat from the pan.
Place cooked meat and queso into a slow cooker on high heat. Cook on high for 30 minutes and then turn to low to serve. Serve by opening small bag of chips, adding the cheesy meat from the slow cooker, and top with your toppings of choice. 
Whether you are hosting a party or just the family for the fun of Cinco de Mayo, bringing Gordo's along for the day is always a sure winner! Remembering that FDR was instituting the Good Neighbor Policy, so be a good neighbor and share the joy and flavor of Gordo's with yours! Happy Cinco de Mayo from Gordo's!
Not celebrating Cinco de Mayo? Not to worry, with Gordo's everyday is a fiesta! While Gordo's Dips are worth every penny, that's no reason not to offer you a little savings, too! Head over to our coupon page for extra cheesy savings!