Labor Day quickly approaches and we're ready for some good Labor Day cookouts! And what would we even be doing if not adding a cheesy twist to things! So let's dive into our take on Labor Day Cookout Classics!
Easy Cheesy Burgers
Nothing says cookout like a burger! Now, this is an easy twist to a classic. Grab your favorite Gordo's Cheese Dip and throw it on your burger. Whether it's beef, turkey, black bean, or veggie adding Gordo's takes your burger to the next level!
Southern Potato Salad
And what goes better with burgers than a southern potato salad? This ain't your grandma's recipe though!
INGREDIENTS:
1 pound russet potatoes
1 cup Gordo's Cheese Dip Original
1/2 cup sweet onion, chopped
1/4 cup sweet pickle relish
1/2 cup celery, chopped
1/2 cup pimentos

1/2

teaspoon

onion powder

2

teaspoons

sugar

Paprika
HOW TO PREPARE:
Cut each potato in quarters. Place in a large pot of boiling water. Simmer until fork tender all the way through, about 20 minutes. Drain well. Place potatoes in a large bowl. Run a knife through them until they are cut into bite-sized pieces. In a small bowl, mix together Gordo's Cheese Dip (cold), sugar, and onion powder. Pour over potatoes and mix in well. Add relish, celery, onion, and pimentos. Mix in. Add salt and pepper to taste.
Pasta Salad
Pasta Salad is a great cookout go-to! You can load up pasta salad with your favorite veggies and use whatever noodles make your heart happy! It's a very customizable dish!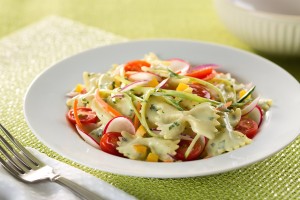 INGREDIENTS:
½ yellow or orange bell pepper, chopped
2 green onions whole, minced
3-4 radishes, sliced
2 small zucchini, julienned
½ red onion, sliced thin
Small bunch of parsley, chopped
1/2 (16-ounce) box bow tie or other shaped pasta
1/3 cup mayo
2 tablespoons apple cider vinegar
2 tablespoons sweet pickle relish
1/4 teaspoon ground white pepper, or to taste
1/8 teaspoon hot sauce, or to taste
½ cup Gordo's Cheese Dip
HOW TO PREPARE:
Prepare pasta according to package directions. Drain and rinse under cold water to cool. In a small bowl, whisk together mayo, vinegar, relish, melted Gordo's Cheese Dip, parsley, pepper and hot sauce. In a large bowl, combine pasta and prepared veggies. Add sauce mixture and stir to coat evenly.