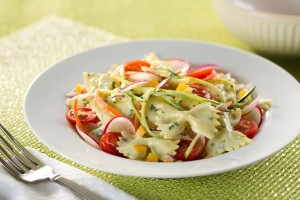 INGREDIENTS:
½ yellow or orange bell pepper, chopped
2 green onions whole, minced
3-4 radishes, sliced
2 small zucchini, julienned
½ red onion, sliced thin
Small bunch of parsley, chopped
1/2 (16-ounce) box bow tie or other shaped pasta
1/3 cup mayo
2 tablespoons apple cider vinegar
2 tablespoons sweet pickle relish
1/4 teaspoon ground white pepper, or to taste
1/8 teaspoon hot sauce, or to taste
½ cup Gordo's Cheese Dip
HOW TO PREPARE:
Prepare pasta according to package directions. Drain and rinse under cold water to cool. In a small bowl, whisk together mayo, vinegar, relish, melted Gordo's Cheese Dip, parsley, pepper and hot sauce. In a large bowl, combine pasta and prepared veggies. Add sauce mixture and stir to coat evenly.