Summer is in full swing across the US. From small-town celebrations to big city lights. What makes up summer? Parades, flags, and vacations. Neighborhood pools, lifeguard whistles, "cannonballs" and the smell of sunscreen. Ridin' the waves, building sandcastles, and beach volleyball! Lake fun on boats, skiing, tubing or just enjoying a lazy floating day. Sunburns and suntans! Late nights around fire pits, laughing and making memories. Catching fireflies and devouring s'mores. Summer crushes and camp friends. Star gazing and making wishes. Wherever you are and however you celebrate summertime in America, bringing Gordo's to the celebration is always a great way to light up the party with oooh's and ahhh's just like the fireworks in the night sky!
As we head into the July 4th weekend celebrations with family, friends, and food, let's not forget what brings this great time of year we love. Quick history lesson here – the founding members of the original 13 colonies decided that since they were across the pond for a reason, they should be able to govern and lead themselves according to those freedoms and ideas they sought to gain when making the harsh passages on ships in the first place! Who wants to be taxed and told what to do by people who have never set foot on or faced the varying conditions this land provides? Well, certainly not the people of the 18th century! We know the Pilgrims landed after a tumultuous 10-week journey from England in November 1620 (mind you this is prime hurricane season on our eastern coastline). Their spirit and resilience were tested from the very start. Weather, illness, and all the unknowns didn't stop the original 100 or so freedom-seekers from following their heart and finding what they dreamed of.  Of course, they weren't prepared for the harshness of winter and land they knew nothing about, but they persevered and today we are a strong and varied nation. A melting pot of all peoples. 
Fast forward 150 years and the colonies are growing and even stronger than the original! They do not feel they should be paying taxes to a government that has no idea of their struggles and way of life. They left for freedoms and ideas that were important to them. Being under the Crown was not one of those ideas. All of this culminates to the American Revolution that sets in motion the fight for a government that is for the people by the people and ideas that called to many. The Declaration of Independence is drafted and signed on July 4, 1776., although it did take several months for all 13 signers to get their signatures on the original document, and thus our great nation, The United States of America was born. 
Today, the ideas and struggles of our forefathers created a notion that we are a country set on freedoms and what is right. America stands ready to defend its homeland and those of countries that may not be able to. We stand for justice in the eyes of the world and the thought that if you can dream it, you can do it!  So as the family, friends, and passersby gather for celebrations this coming week, bring Gordo's along and watch the atmosphere get kicked up a bit with its cheesy goodness!
What better way to start the party than with Gordo's queso? All the creamy goodness and spices that will bring the fireworks to the table and not just the night sky! Make it even better by tossing in a diced tomato and green chiles and some seasoned sausage and BAM – an awesome all-day treat! This is great thrown in a crock pot and kept on low and the guests can help themselves as they want! Super easy to make and even easier to serve!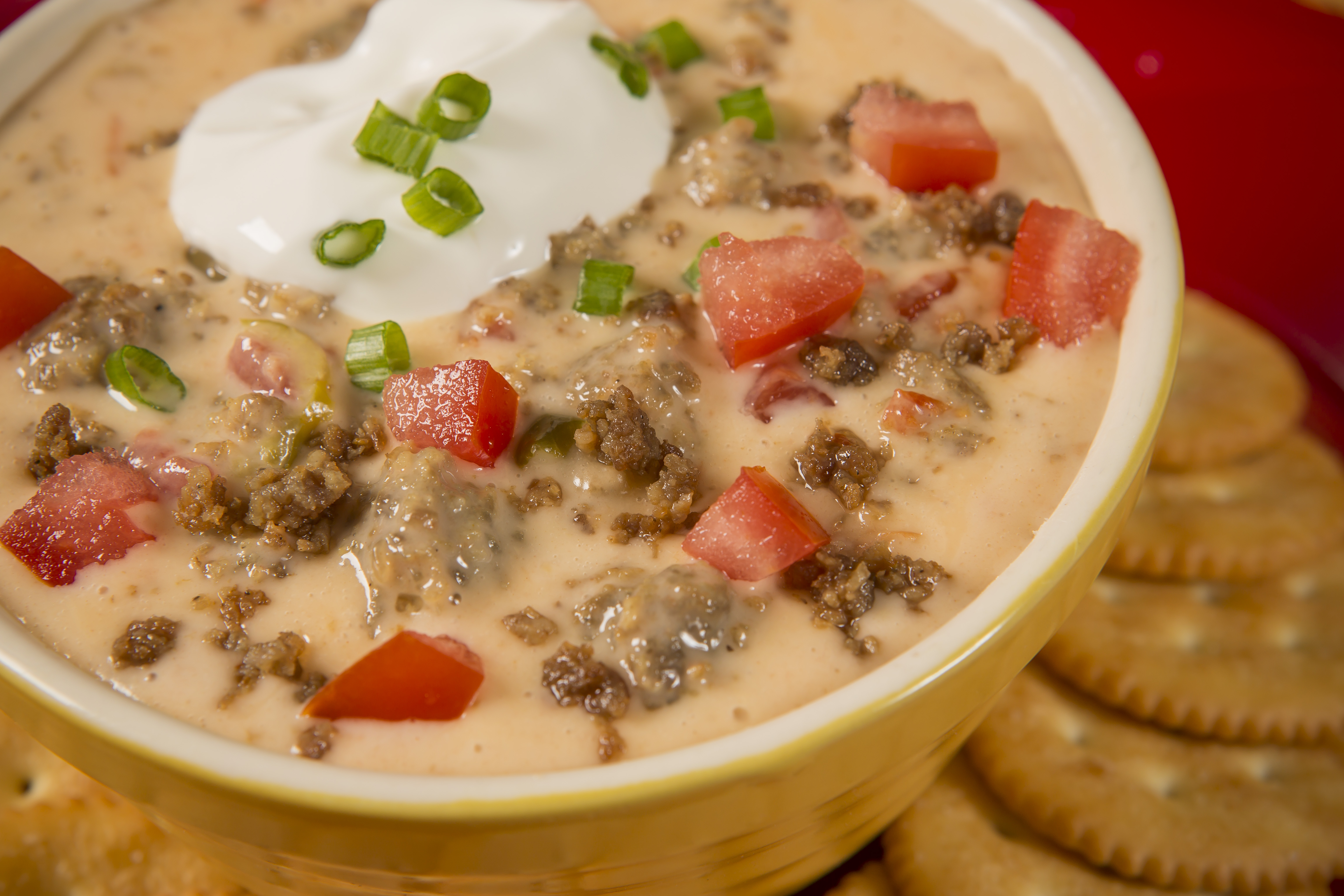 INGREDIENTS:
1 lb. ground hot pork sausage
1 (10oz.) can diced tomato and green chiles
1 cup Gordo's Cheese Dip(any flavor)
HOW TO PREPARE:
Cook sausage in large skillet, stirring until meat crumbles and is no longer pink. Drain well. Add diced tomatoes and green chiles, melted Gordo's Cheese Dip. Pour in 2 quart baking dish. Bake at 350 degrees for 20 to 25 minutes or until bubbly. Serve with corn chips, tortilla chips, crusty bread
Another great way to celebrate the 4th is by bringing along Gordo's Party Layered Dip. This has all the mixings of a great time! Refried beans, sour cream, guac, lettuce, tomatoes, onions, seasoned meat and of course Gordo's! Super easy to make and another great make a day ahead and have ready to take to the party! Just grab this and your chips and you are ready! Excellent to be served in small individual cups or made in a large bowl or trifle dish – any way you serve it – it's fireworks in your mouth!
SERVES: 8-10
INGREDIENTS:
2-16 oz cans spicy refried beans
½ pound lean ground chuck scrambled, drained; add ½ pack taco seasoning mix
1 cup sour cream
1 cup guacamole
1 cup Gordo's Cheese Dip (any flavor)
1 cup shredded lettuce
1/2 cup tomatoes, chopped
1/2 cup scallions or green onions, sliced
1 bag tortilla chips
HOW TO PREPARE:
First layer refried beans, next layer seasoned ground chuck, add third layer of sour cream, add fourth layer of guacamole. Drizzle with your favorite flavor of Gordo's Cheese Dip. Top with lettuce, tomatoes and green onions. Dip with your favorite chip!
Who doesn't love pizza? This next recipe is sure to be a hit with everyone at the party! This can be great fun for kiddos by making small "pizzas" or for the adults a great dip and eat on baguettes. Gordo's Cheese, marinara sauce, parmesan cheese, onion, pepperoni, or whatever your fancy is! Kids can use ritz crackers and make little pizzas. Adults can sit back and watch the fireworks light up the night and snack on this! That's the great thing about Gordo's Cheese Dips, it's not just for chips! It can be the star of the evening or snuck in as a hidden flavor that keeps everyone wondering what that hint of spicy, creaminess is! Gordo's is super useful in, on or under the dish!
Serves 8-10
INGREDIENTS:
8 oz Original Gordo's Cheese Dip
8 oz favorite marinara Sauce (any flavor or style)
4 oz grated Parmesan
½ packet dry Italian Dressing Mix
Desired toppings
HOW TO PREPARE:
Heat up Gordo's Cheese Dip in the microwave as directed. Pour into a microwave safe bowl. Add the remaining ingredients and mix well. Heat the entire mixture for 60 second in microwave, Stir. Depending on the microwave you may have to heat another 30 seconds. If desired top with mozzarella and bake until melted. Garnish with any of your favorites: grated Parmesan, diced bell peppers, diced olives, diced onions, diced tomatoes, and bacon bits! You can have your pizza dip anyway you want it! Serve with Ritz crackers and sliced French baguettes
As we celebrate this great country that we live in, known around the world as a melting pot of cultures, peoples and ideas, bring along some Gordo's Cheese Dip and see how you can bring flavors together and meld them into new, fun and creative ways to enjoy!  Remember that our forefathers and those since have fought hard for us to be able to enjoy the freedoms we have today. It is a day to celebrate when this great nation was born as the United States of America. Honor the country, the flag and the men and women who have fought to keep it free. Enjoy your holiday!