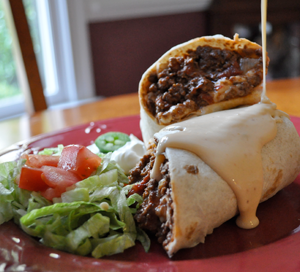 INGREDIENTS:
1 1/2 pounds ground beef chuck
1 package flour tortilla shells
1 container Gordo's Cheese Dip (any flavor)
1 8 oz can tomato sauce
1 teaspoon salt
1/2-teaspoon pepper
1 tablespoon chili powder
1/2 teaspoon cumin (optional)
Optional Fillings:

Tomato
Lettuce
Onion
Bean
Mexican Rice
HOW TO PREPARE:
Brown ground beef chuck and drain.  Return to skillet and add tomato sauce and spices.  Simmer 10 minutes or longer for sauce and spices to be incorporated into meat.  Spoon 2-3 tablespoons meat into flour tortilla shell.  Add desired fillings. Roll up into a burrito.  Melt cheese dip and pour over burrito.