Hello again queso lovers! I don't know about you, but I am ready for summer to draw to a close, and I can't wait to dive into a new season. With the fall equinox behind us, summer has officially come to an end and we can say hello to the best season on earth – FALL! Do you know what that means (aside from new scarves and spending way too much money on pumpkin spice lattes) – it means new seasonal recipes from Gordo's! In the spirit of the upcoming cool temperatures, colorful leaves, football games and tailgating, we've got some fun recipes for you to explore. Time to get outside, enjoy some beautiful weather and try some of these new tasty bites.
Let's have a look at one that you probably have never even thought of – it's savory, it's cheesy, it's bacon-y, and it's pumpkin-y…and it's the perfect dip for a fall game day. So come on, try something new. It's good for the soul.
CHEESY PUMPKIN DIP
INGREDIENTS:
HOW TO PREPARE:
Combine all ingredients and mis thoroughly with spoon or electric mixer. Garnish with bits of bacon and green onion and sprinkle with all spice if desired. Serve with Ritz crackers. For a healthy kick, serve with celery stalks.
Now, on to the next tasty adventure to please your palate. One of my favorite things about fall is that it is finally acceptable to bring soup back into my life. Nobody likes hot soup when it's 95 degrees out and 100% humidity, but guess what? Fall is back and so is SOUP #SoupSeason It's a glorious time of year. This recipe not only allows you to welcome the new season back into your life, it contains 3 the major food groups; CHEESE DIP (obviously), BACON and BEER. If you heard or read somewhere that these items were not part of the major food groups, you should probably stop reading all that pseudoscience and spend more time cooking up this mouth-watering recipe. No time like the present to live your best life – and it starts here, with BEER CHEESE SOUP.
INGREDIENTS:
HOW TO PREPARE:
In a large saucepan, cook the bacon until crisp. Remove bacon and excess grease. Add carrots, celery, and onion to saucepan until softened. Add broth, saving small amount for roux; heat to boiling over medium heat. Add the beer and cook until reduced by half, 5 minutes. In small saucepan, stir in flour, paprika, black pepper and ground red pepper with small amount of broth until lightly browned. Add this roux to large soup mixture to thicken. Reduce heat; stir in Gordo's Cheese Dip. Heat until cheese is melted, stirring occasionally. Stir in the bacon and season with salt and pepper. Add a few tablespoons of broth if the soup is too thick. Top with shredded cheese or chives, if desired. Serve with bread or crackers.
Now, clearly, I am on a serious soup kick so I will bless you with another gem of a recipe. And you are in luck because this one includes the 4th main food group – TACO'S. That's right, we are combining tacos and soup. Read that sentence again…TACO SOUP. Who in their right mind would not enjoy something so heavenly? This soup is absolutely delish and everyone at your tailgate, football party, fall equinox party or neighborhood potluck will be salivating for more. I personally like to spice this one up a little by topping it with Gordo's HOT dip or the CHEESE'N CHIPOLTE. But, if your taste buds can't handle that kind of feisty fiesta in your mouth, stick with the Gordo's mild or original. There are zero ways you can go wrong with this recipe. You're welcome.
INGREDIENTS:
HOW TO PREPARE: 
In large stockpot over medium-high heat, cook ground beef and onion until beef is browned. Drain well. Add water, beans, tomatoes, corn, chilies, and all juices from cans. Add in taco seasoning and ranch seasoning. Bring to a boil, reduce heat to medium-low, and simmer for 20 minutes. You can also move to a slow cooker, cover, and cook on HIGH for 4 hours or LOW for 6 to 8 hours. Serve and top with Gordo's Cheese Dip and other toppings.
Now that I'm on a taco roll, things are about to get a little messy…in the best way possible. You're probably going to want to save up your appetite and a lot of napkins for this one and I assure you, it does not disappoint. Have you ever loved a taco so much that you just didn't want it to end? I know, me too. That's why we invented the TACODILLA. It just keeps going and every bite is better than the next. But don't take my word for it, here's the recipe. Give it a shot, and I dare you to try to control yourself.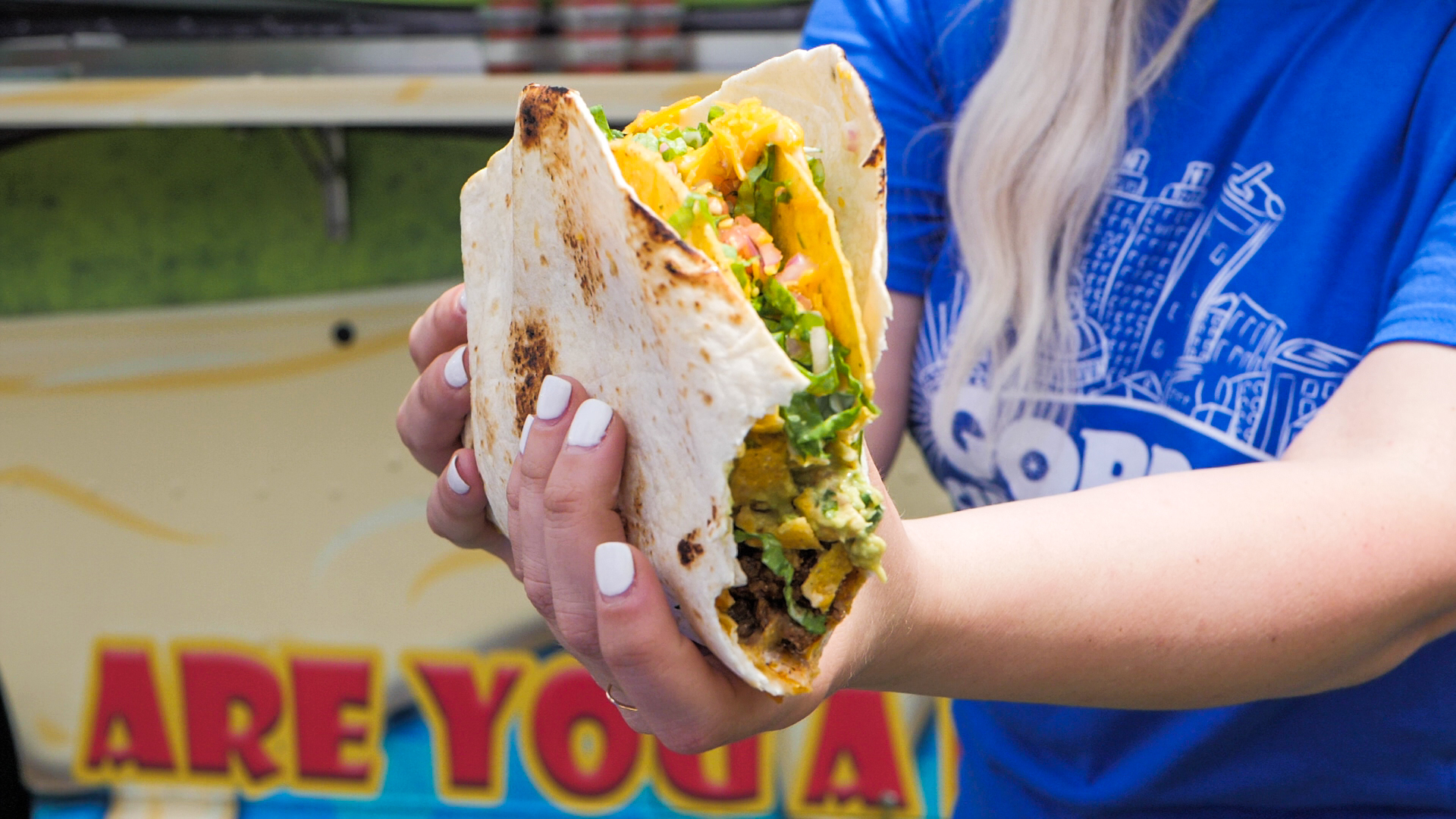 INGREDIENTS:
HOW TO PREPARE:
Heat up 8 oz of ground beef with your favorite taco mix. Set aside. Warm tortilla in a large skillet with Gordo's Cheese Dip and shredded cheese till melted. Set aside.
Take 3 taco shells and place them together, one inside the other to fit the diameter of the tortilla and fill with taco meat.
Take 2 taco shells and place them together and fill with guacamole. Repeat with last 2 shells, add lettuce tomato/pico and shredded cheese.
On one half of the tortilla place the taco meat in shells closest to the center then stack the guacamole shells inside the taco meat shells. Follow with the last two taco shells….the shape should fit the half of the tortilla. Fold over the other half and you should have 1 big Gordo 7 Layer Tacodilla!
Eat with extreme caution and contents may go EVERYWHERE. But it's so good, it's worth the mess!
So, there you have it, friends. Everything you need to kick off the fall and football season with a delicious bang. You've got a Cheesy pumpkin dip, beer cheese soup, taco soup, and 7 layer tacodilla. What more could anyone ask for? Plus, you've covered all the major food groups in these recipes, so you can feel darn good about your life choices. Now get out there, treat yourself to some tasty goodness and have some fun!