America's pizza obsession has reached an all new high in the past couple years. You can buy almost anything with pizza on it. There are pizza onesies, pizza pool rafts, pizza socks, and even pizza dog toys (my pup is playing with one right now).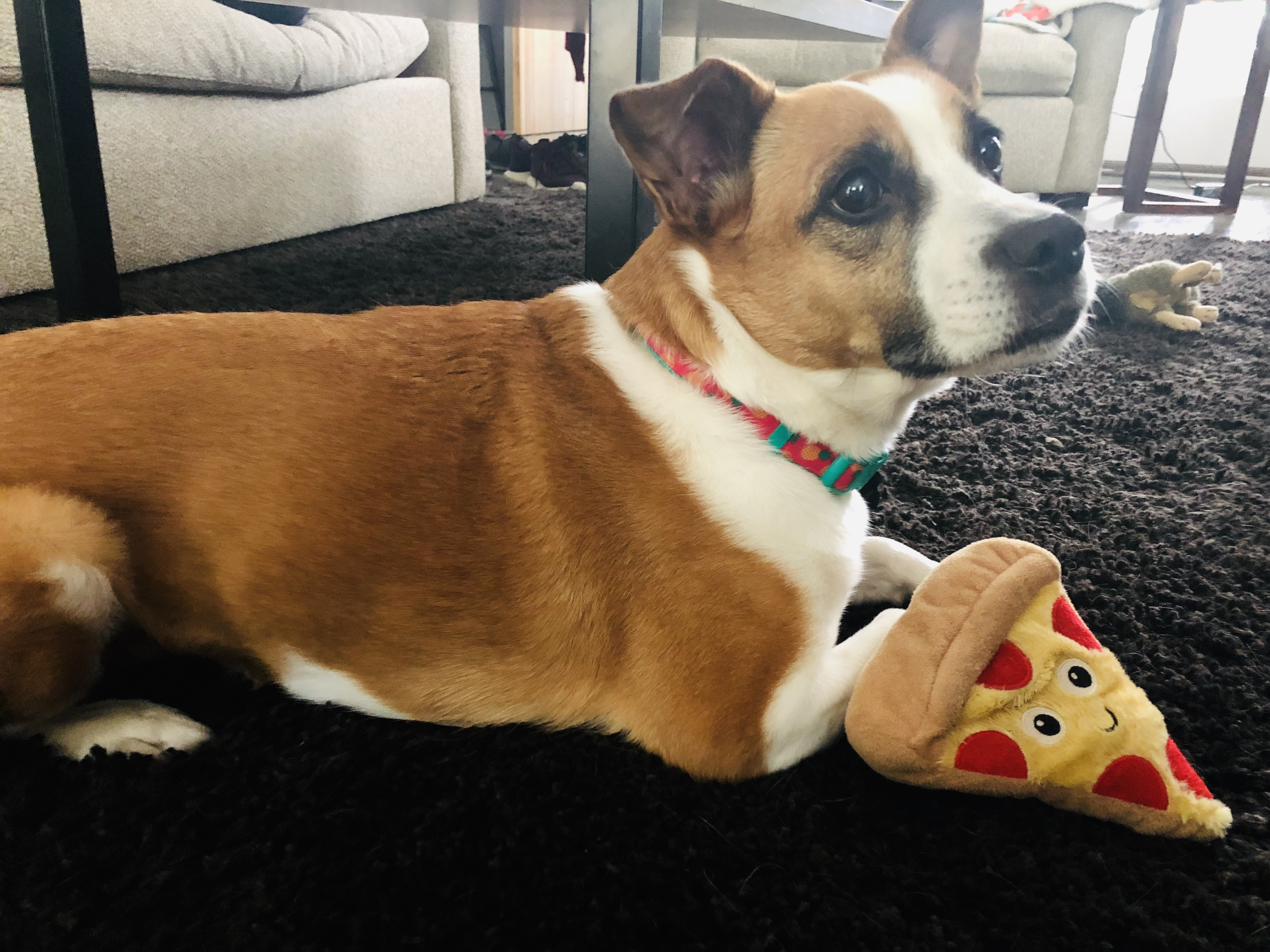 When you think about it, have you ever met anyone that doesn't like pizza? I sure haven't! Pizza is basically its own food group and is appropriate to consume any time of the year. According to a recent poll, about 3 BILLION pizzas are sold in America every year, with pepperoni being the favorite topping. Of course, it's always easy to order pizza, but it's pretty simple (and usually a little healthier) to make it on your own.
I'm here to give you a few tips and tricks for making your own pizza! Pepperoni pizzas are simple, but here are some unique recipes you can use to make your next pizza making adventure a little more interesting!
Buffalo Chicken Pizza
This pizza is perfect for buffalo wing lovers! It combines the best flavors of pizza and wings to create an amazing marriage of food. I highly recommend making it for you next tailgate or house party!
INGREDIENTS:
1 Premade pizza crust
2 cups of shredded mozzarella
1 cup of shredded cheddar cheese
½ cup of blue cheese crumbles (optional)
Finely chopped scallions
2 Tbsp of ranch
1 cup of buffalo wing sauce (Frank's Red Hot is where it's at)
2 boneless skinless chicken breasts
1 container Gordo's Cheese Dip Mild (for drizzling)
1 tablespoon of butter
½ tsp of garlic powder
1 tsp of salt
1 tsp pepper
2 tsp of red pepper flakes
HOW TO PREPARE:
Preheat your oven to 425 degrees. Prepare the crust and roll out on a pizza stone or baking sheet, use flour if needed and pinch sides to create raised crust. Dice up the chicken breast and cook in a pan with butter, seasoning and remaining wing sauce for about 8-10 minutes until chicken is fully cooked. . Spread about 2-3 tablespoons of the wing sauce onto to unbaked pizza crust and sprinkle a thin layer of cheddar and mozzarella cheese. Distribute the buffalo chicken on top of the pizza and layer with remaining cheese. Sprinkle with bleu cheese crumbles if desired. Bake for 16-18 minutes until crust is golden brown and cheese is melted. After pizza is cooked, garnish with finely chopped scallions and then drizzle with ranch dressing and Gordo's Mild cheese dip. Boom, there you have it, a delicious and unique buffalo chicken pizza.
Taco Pizza
Taco pizza is another unexpected combination for pizza that works incredibly well!
1 Premade Pizza Crust
1 lb of ground beef
1 package of favorite taco seasoning
1 can of refried beans
1 10 oz can of diced tomatoes and green chilies
2 cups of Mexican shredded cheese
1 container Gordo's Cheese Dip Mild
2 avocados, sliced
Shredded lettuce and freshly diced tomatoes for topping
HOW TO PREPARE:
Preheat your oven to 425 degrees. Prepare the crust and roll out on a pizza stone or baking sheet, use flour if needed and pinch sides to create raised crust. Brown the ground beef, drain and add the package of your preferred taco seasoning. For the pizza 'sauce' combine the refried beans and canned tomatoes and green chilies and spread over the dough. Add the ground beef and top with the shredded Mexican cheese. Bake for 16-18 minutes until the crust is golden brown. Remove pizza from over. When you are ready to serve, top the pizza with avocado slices, shredded lettuce and diced tomatoes. Drizzle a generous helping of Gordo's Cheese Dip Mild over the pizza and serve it up! Serve with salsa and sour cream on the side.
Pizza Dip
 Now this one isn't a pizza per say but it tastes just as good (or even better!)
INGREDIENTS:
8 oz Original Gordo's Cheese Dip
8 oz favorite marinara Sauce (any flavor or style)
4 oz grated Parmesan
½ packet dry Italian Dressing Mix
Desired toppings (pepperoni, sausage, etc.)
HOW TO PREPARE:
Heat up Gordo's Cheese Dip in the microwave as directed. Pour into a microwave safe bowl. Add the remaining ingredients and mix well. Heat the entire mixture for 60 second in microwave, Stir. Depending on the microwave you may have to heat another 30 seconds. If desired top with mozzarella and bake until melted. Garnish with any of your favorites: grated Parmesan, diced bell peppers, diced olives, diced onions, diced tomatoes, and bacon bits! You can have your pizza dip anyway you want it! Serve with Ritz crackers and sliced French baguettes
Cauliflower Crust
If you're watching your waistline, making a cauliflower crust is a great low carb option for pizza!
INGREDINTS:
1 head of cauliflower, remove the stalk
½ cup of blended Italian cheese
¼ cup of grated parmesan cheese
1 tsp of Italian seasoning
½ tsp of garlic powder
½ tsp of salt
2 eggs
HOW TO PREPARE:
Preheat your over to 400 degrees, and line a baking sheet with parchment paper. Put cauliflower florets into a food processor until very finely chopped. Steam the processed cauliflower in a steam basket for about 10-12 minutes. Put the cauliflower into a cheese cloth and squeeze as much moisture as possible out of the cauliflower. The drier, the better. Combine the dry, processed cauliflower with remaining ingredients. Press out onto parchment paper into pizza crust shape and bake for 20 mins. Put desired toppings on and bake for 10 additional minutes. Guilt free pizza coming right up!
Next time it's pizza night, don't call in that order! Try something new and make your own pizza. If you have kids, turn cooking into a fun activity and let them customize it with their favorite ingredients. Happy baking!