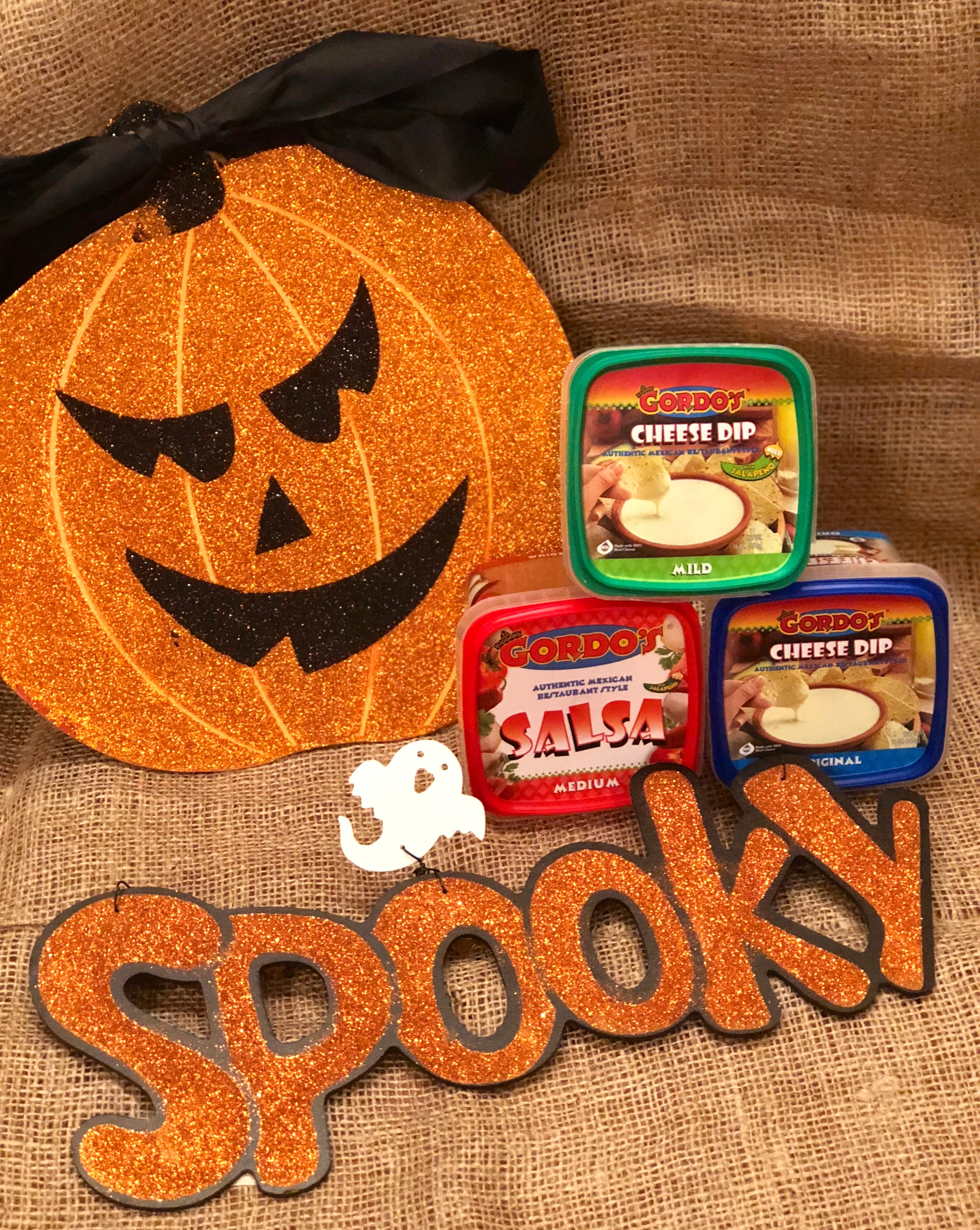 Have you carved all your pumpkins and picked out your Halloween costumes? What about the hay rides and haunted houses? The day of trick or treating and Halloween parties is less than two weeks away! According to Google Frightgeist some of the most popular costumes for 2018 include a unicorn, Spiderman, Fortnite characters, a pirate and a princess. Can't go wrong with the classics, but I always look forward to the creative costumes as well! I mean check out this "Taco Belle" costume! And of course, you could always be Gordo's Cheese Dip and a chip like these two!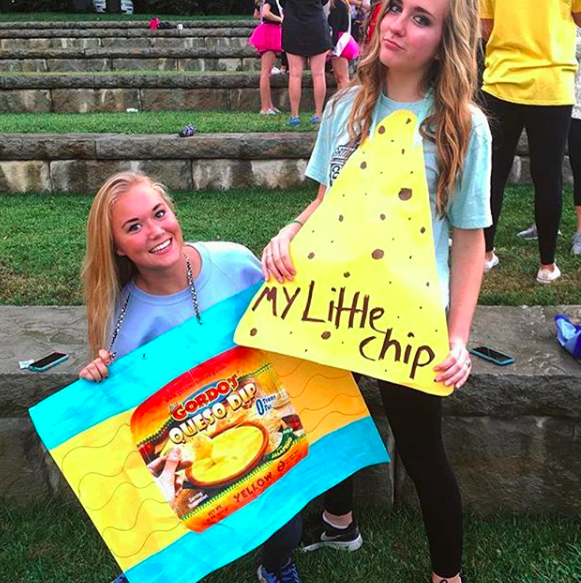 Halloween is a great time and is not only about costumes and candy! This week I have some recipes that are perfect for dinner on a cold Halloween night or appetizers for an upcoming Halloween party.
Spider Deviled Eggs
These chilling little snacks are a great side or appetizer at any Halloween party!
INGREDIENTS:
8 eggs, hardboiled
1/3 cup Gordo's Cheese Dip
1 can large, pitted black olives
Salt and pepper
Cayenne pepper to taste
HOW TO PREPARE:
Hard boil your eggs. Remove shells, cut each egg in half lengthwise, and scoop out yolks. Reserve yolks in a bowl to the side. Use a handheld blender or a food processor to puree together until smooth and creamy if desired. Add cold Gordo's Cheese Dip and salt and pepper to taste. Mix. Scoop into the middle of each egg white. Cut whole olive in half and place on eggs for the spider "body." Thinly slice the other half for the spiders legs. Put four legs on each side. Sprinkle with a bit of cayenne pepper! Keep them covered in the refrigerator until ready to serve.
Croissant Wrapped Hot Dog "Mummies"
These are a fun way to tie Halloween into an appetizer without a ton of work or ingredients! This is great appetizer that is PERFECT for dipping into some Gordo's Cheese Dip of any flavor!
INGREDIENTS:
12 hot dogs
2 cans of crescent roll dough
Optional Dipping Sauces: Gordo's Cheese Dip, spicy mustard, or ketchup
HOW TO PREPARE:
Preheat oven to 375 degrees. Unroll the crescent dough and cut into thin strips. Wrap each hot dog in strips of crescent to make it look like a mummy. Bake 13-15 minutes until the crescent rolls are a golden. Dot mustard onto mummies to create eyes.
I'm taking a spooky twist on one of my all time favorite recipes! Stuffed bell peppers are a fun meal that the whole family will enjoy!
INGREDIENTS:

3 cups cooked quinoa
1 (4-ounce) can green chiles
1 cup corn kernels
1/2 cup canned black beans, drained and rinsed
1/2 cup petite diced tomatoes
1 contatiner Gordo's Cheese Dip
3 tablespoons chopped fresh cilantro leaves
1 teaspoon cumin
1 teaspoon garlic powder
1/2 teaspoon onion powder
1/2 teaspoon chili powder, or more to taste
Kosher salt and freshly ground black pepper, to taste
6 bell peppers, tops cut, stemmed and seeded

HOW TO PREPARE: Preheat oven to 350 degrees F. Line a 9×13 baking dish with parchment paper. Cut tops off of peppers and clean the inside. Carve Jack-o'-lantern face into the side of the peppers. In a large bowl, combine quinoa, green chiles, corn, beans, tomatoes, Gordo's Cheese Dip, cilantro, cumin, garlic, onion and chili powder, salt and pepper, to taste. Spoon the filling into each bell pepper cavity. Place on prepared baking dish, cavity side up, and bake until the peppers are tender and the filling is heated through, about 25-30 minutes. Top with sour cream or extra Gordo's Cheese Dip. Serve immediately.
Monster Chocolate Bark
Monster Mash Chocolate Bark is a perfect one to make with the kiddos. This recipe can be easily adjusted to incorporate your favorite candies like candy corn, Kit Kats, cookies or sprinkles!
INGREDIENTS:
1

 

11-12 ounce bag white, dark, milk, or semi-sweet chocolate chips (about 2 cups)

1

 

tablespoon

 

vegetable shortening or vegetable oil

1 cup pretzels
2 cups Reese's Pieces Candy (or M&Ms)
Candy eyes
HOW TO PREPARE:
Line a large baking sheet with Parchment paper. Spread Pretzels evenly on parchment paper. Be sure to leave space around the edges of your pan. Place chocolate in microwave safe bowl. Microwave in 30 second intervals stirring in between until melted. Add shortening or oil. Spread melted chocolate over pretzels. Randomly place eyes, Reese's or other candy throughout the pan. Let chocolate set then using a large knife, cut into random serving size pieces. Store in an airtight container.
You're all set for all the Halloween festivities! Have a safe and fun holiday. I hope that you win all of the costume contests and your kids find the houses that give away the full size candy bars for trick-or-treating. Happy Halloween from Gordo's!