Chef Gordo checking in, I'm back with the blog I promised you last week. It's all about hot dogs!! Why you ask? Because it's 4th of July week and there is nothing more American than the hot dog. It is estimated that 20 billion hot dogs are consumed in America every year! BILLIONS OF HOT DOGS. That averages out to be about 70 hot dogs per person every year. From ballparks to backyards, the hot dog has always held a place near and dear to our hearts, especially on Independence Day.
The hot dog may seem like a simple meal, but all across the country we've found ways to turn it into an amazing dish. Several regions in the U.S. have created unique ways to make the hot dog a little more exciting than just adding some ketchup and mustard. Today, I'm going to go over 5 different hot dog variations that you can find in the U.S. Of course, there are more than just 5, but these dogs are my personal favorites! I mean honestly, what better what to celebrate freedom than being free to put whatever you want on your hot dog!
CHICAGO
Chi-town is famously known for its hot dog offerings! Portillo's is the first restaurant that comes to mind when I think about food in Chicago. It started in the area back in 1963 and specializes in Chicago style food, with most of its claim to fame being built around the hot dog.
To craft the perfect Chicago dog, you have to start with the all-beef frank and a sesame seed bun. Then you top it with yellow mustard, diced white onions, sweet pickle relish, a WHOLE pickle spear, a couple of small tomato wedges, sport peppers, and a dash of celery salt. Chicago does not mess around. Their hot dog is the closest you get to a full-on sandwich, and it's packed with flavor!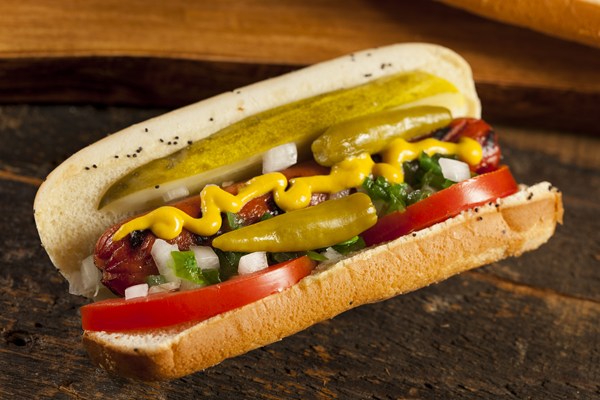 SEATTLE
Moving right along to the opposite side of the country, we have the Seattle dog. If you've never been to the wonderful city of Seattle, WA, you must know that they like to do things their own way. Seattle is an amazingly creative and unique city, so I would expect no less from their hot dog.
Now, I know this combination sounds crazy, but bear with me here. Of course, you have to start with the hot dog and the bun, duh. Seattle has a special topping that no other city uses on their hot dog and that my friends is cream cheese. That's right, the Seattle dog has a generous shmear of cream cheese on the bun and is also topped with sautéed onions and siracha sauce (or jalapenos). It may sound like an odd mix, but this dog is hands down my favorite of them all!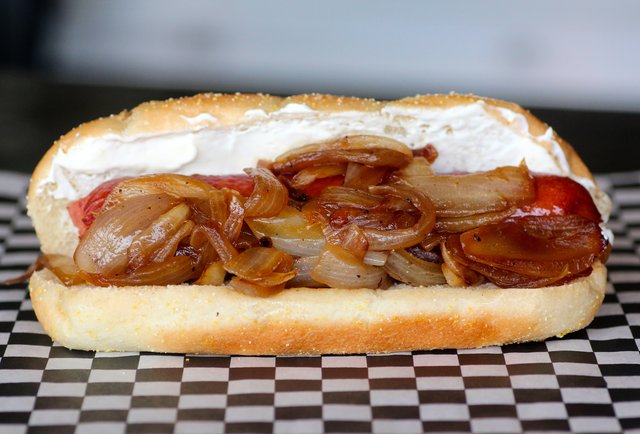 CINCINNATI
Cincinnati may not be the first place you think about when you think of hot dogs, but it's the food they pair it with that puts it on the map. The staple restaurant in Cincinnati is none other than Skyline Chili, so naturally their hot dog represents accordingly.
The Cincinnati hot dog is rather simple, but still delicious. It topped with 'Cincy style' chili (Mediterranean spiced meat based chili) and a generous portion of finely grated cheddar cheese.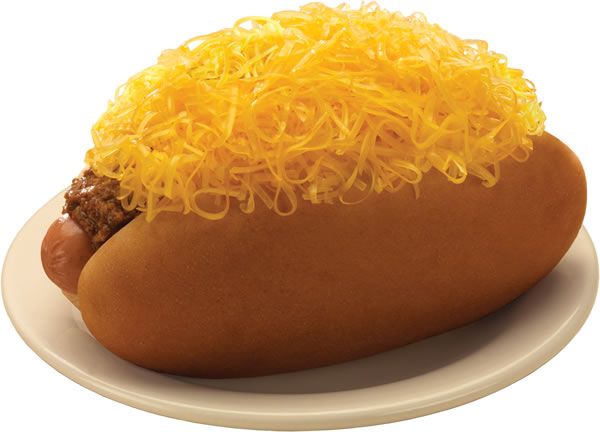 ATLANTA
Since I was born in raised in the ATL, I had to include my home town dog! The southern roots are obvious with this hot dog creation. I'll give you a hint, the topping of the Atlanta dog is a very popular side dish that can be found at every southern restaurant or family gathering. Any guesses?
Coleslaw is the winner! An Atlanta dog is simply topped with coleslaw and nothing else. At some restaurants, they refer to it as being 'dragged through the garden.' You may or may not find some mustard drizzled on this dog as well.
SONORAN
I've saved the most decadent of the dogs for last. This one is the mac daddy of hot dogs! The Sonoran dog is very popular throughout the southwest region of the U.S., specifically in Arizona. It has some Mexican inspiration, which also makes it the perfect hot dog to add Gordo's Cheese Dip to if you so desire.
First of all, the base of the Sonoran dog is a grilled bacon-wrapped dog (yes you read that right) placed in a larger baguette style bun, also known as a bolillo style bun. The dog is then topped with pinto beans, onions, tomatoes, mayonnaise, mustard, and salsa of any kind. You also might find guacamole and/or cotija cheese on a Sonoran dog. These mouthwatering masterpieces will not disappoint you! Also, you'll probably need a fork to eat this one.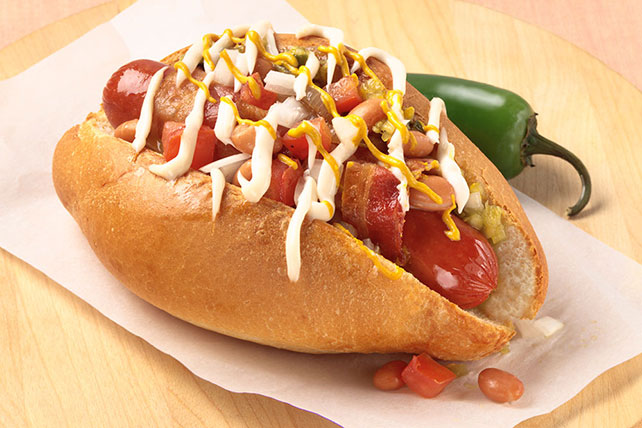 There you have it! Those are my top 5 very different, yet equally delicious and outrageous hot dogs in America. However, I'm not quite done yet. None of these dogs have Gordo's Cheese Dip on them, which is their loss. I was inspired to create what I think would be an amazing hot dog creation, so I could incorporate more Gordo's Cheese Dip into my cooking.
The Gordo's Dog
The Gordo's hot dog is a bacon-wrapped all beef hot dog slathered in the mild Gordo's Cheese Dip. After the dog is sufficiently covered in warm melty cheese dip, add some sautéed onions and jalapenos on top. Finish it off with some freshly diced tomatoes and a few avocado slices, and you have yourself a piece of heaven! Personally, I would also add some Cholula Hot Sauce on top because I like some heat, but I'll leave that up to you! If you really want to go next level, use a pretzel bun instead of a regular hot dog bun!
So my question for you is which one of these hot dogs is your favorite? What are your go to hot dog toppings? I hope you enjoy your 4th of July activities this week and get eat as many hot dogs as your heart desires! Stay safe and cool out there!