It's the most wonderful time of the year where when we are all super cold and get to go home for the holidays to eat our weight in food! There's also a lot of office holiday parties that are the perfect mix of fun and slightly awkward. If you don't have an ugly Christmas sweater yet, you should probably get on that because the likelihood of you being invited to an ugly sweater party is about 110%. Ugly Christmas sweaters have really taken off and you can pretty much find anything on a Christmas sweater now! I mean look at this llama lifting weights. Why do you need that on a sweater, you ask? Better question is why do you not need it?!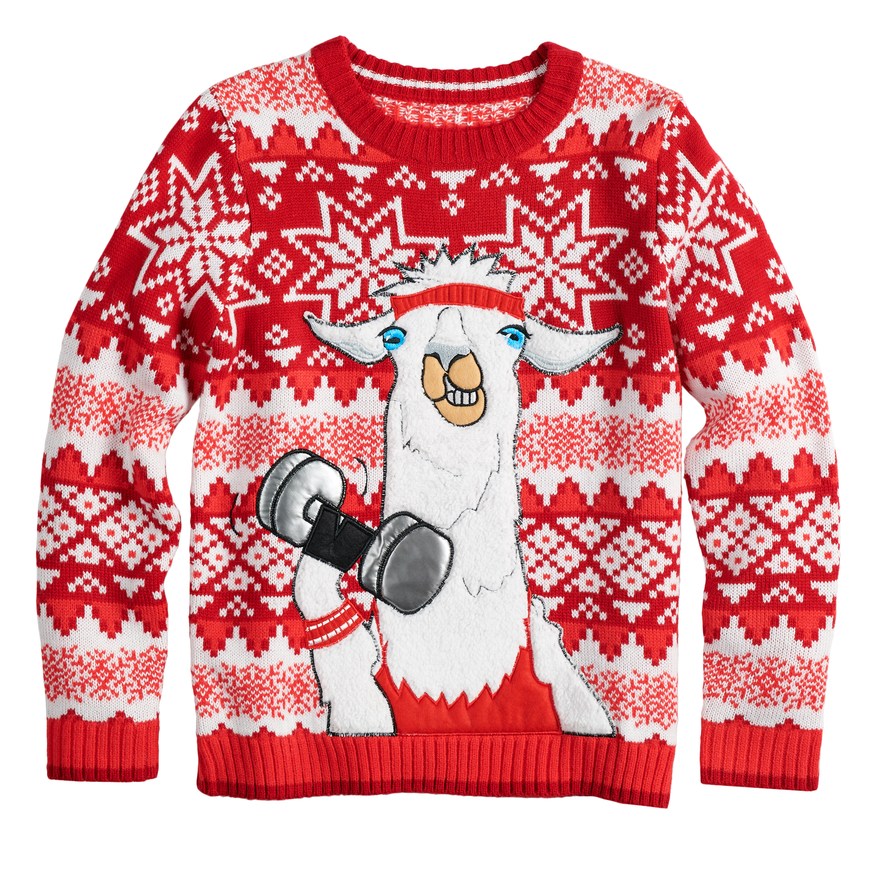 Okay back to the point here because you aren't here to read about sweaters, you're here for the food! Here's a few recipes to get you through those holiday potlucks! These recipes are very simple and easy to put together because I know we are all busy during the holiday season.
Cocktail Franks with Bourbon Sauce
These little guys are a great appetizer and are easy to make ahead! I mean we can all get on board with an appetizer we just throw into a crockpot and go, right?
INGREDIENTS:
1 lb of mini cocktail sausages (smoked preferred)
½ cup of ketchup
1/3 cup of brown sugar packed
3 Tbsp of bourbon
½ cup of BBQ sauce
½ tsp chili powder
HOW TO PREPARE:
It is ideal to cook these in a small slow cooker at least 1 hour before they are going to be served. Mix ketchup, brown sugar, bourbon, BBQ sauce and chili powder together in the slow cooker and then add the mini sausages. Make sure all the sausages are coated and cook on high for 1 hour. Switch to low and serve for a delicious appetizers.
Queso and Salsa
If you are in a crunch for time for something to bring to a potluck, just run out and grab some Gordo's Dips! Cheese dip and salsa are a hit at literally any party and don't take any prep time!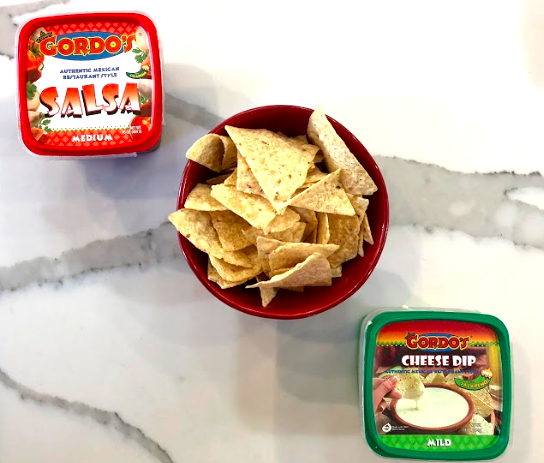 INGREDIENTS:
HOW TO PREPARE:
Not much preparation is required for this. With Mild Gordo's Cheese Dip and Medium Gordo's Salsa you already have your red and green for Christmas! But if you want to use bowls, put the cheese dip in one bowl and salsa in the other (red and white is perfect for Christmas) and arrange the multi colored tortilla chips around them. You can also add raw cauliflower and broccoli florets for some more Christmas colored dipping options.
Penne with Tomato Cream Sauce
Pasta is great for your own home gathering or to bring elsewhere because it is easy to reheat. It's a nice filling dish to bring to any potluck!
INGREDIENTS:
2 tablespoons olive oil
1 onion, diced
1 clove garlic, minced
2 15-ounce cans tomato sauce or marinara sauce
24 oz penne pasta
1 tablespoon dried basil leaves
1/4 teaspoon dried oregano
Dash of sugar (or more to taste)
1/2 cup Gordo's Cheese Dip Original
Salt and ground black pepper to taste
HOW TO PREPARE:
In a saucepan, sauté garlic and onion in olive oil over medium heat. Pour in the tomato sauce, add sugar, basil, oregano salt and pepper to taste and stir. Bring to simmer. Continue to simmer for 20 minutes. Cook the pasta according to the package directions. Remove from heat; stir in Gordo's® Cheese Dip Original. Reduce heat and simmer 5 more minutes. Stir in the pasta and thin with a little pasta water if needed. Garnish with fresh basil and parmesan cheese if you'd like.
White Chocolate Dipped Pretzels
This recipe is perfect if you were assigned dessert for the potluck but don't have a lot of time to put something fancy together. These pretzels are delicious, festive and easy to make.
INGREDIENTS:
1 package of white chocolate baking squares
1 bag of pretzels (twists or rods)
Red and/or green sprinkles
HOW TO PREPARE:
First, melt the white chocolate using the double boiler method or by heating it up in the microwave. If you do use the microwave, be sure to only heat about 20 seconds at a time and stir before heating again. Dip at least half of each pretzel into the melted chocolate and immediately put the sprinkles on. Place on wax paper and let them cool.
I hope your stomach is nice and expanded from Thanksgiving weekend and ready for December. Enjoy those holiday parties and please find the ugliest sweater you can and send me a photo via the Gordo's Facebook! If you haven't, visit and like our page: https://www.facebook.com/GordosCheeseDip !