Hello Gordo's my friends! It's Monday and I'm feeling the weight of the week ahead. I suppose we will have to forge ahead in the ever so stressful and busy work week, as they say, back to the rat race. As always though, I'm here to make your life a little easier with not only the most delicious recipes but also time saving and simple. I'll also do you another solid and remind you to print your Gordo's Dip coupon, good for $1.00 off any of the delicious dips that I've included in the recipes below. I personally love a good coupon, it makes me feel better about my life, and look at it this way, now you don't have to feel as bad about yourself when you hit Starbucks later. You're welcome!
This first recipe is one of my favorite weekday dinner recipes. It's super easy to throw together and is packed with some big flavor. And of course, last but definitely not least, once the delicious savory burger is smothered in Gordo's Cheese Dip you're long arduous day will slip away into oblivion. If you are in one of the colder parts of the country, you'll also be quite pleased that you can enjoy a hearty burger cooked indoors. Bonus! Just a quick note, be sure to buy the correct percentage of fat in your ground turkey, the leaner turkey will not hold a patty.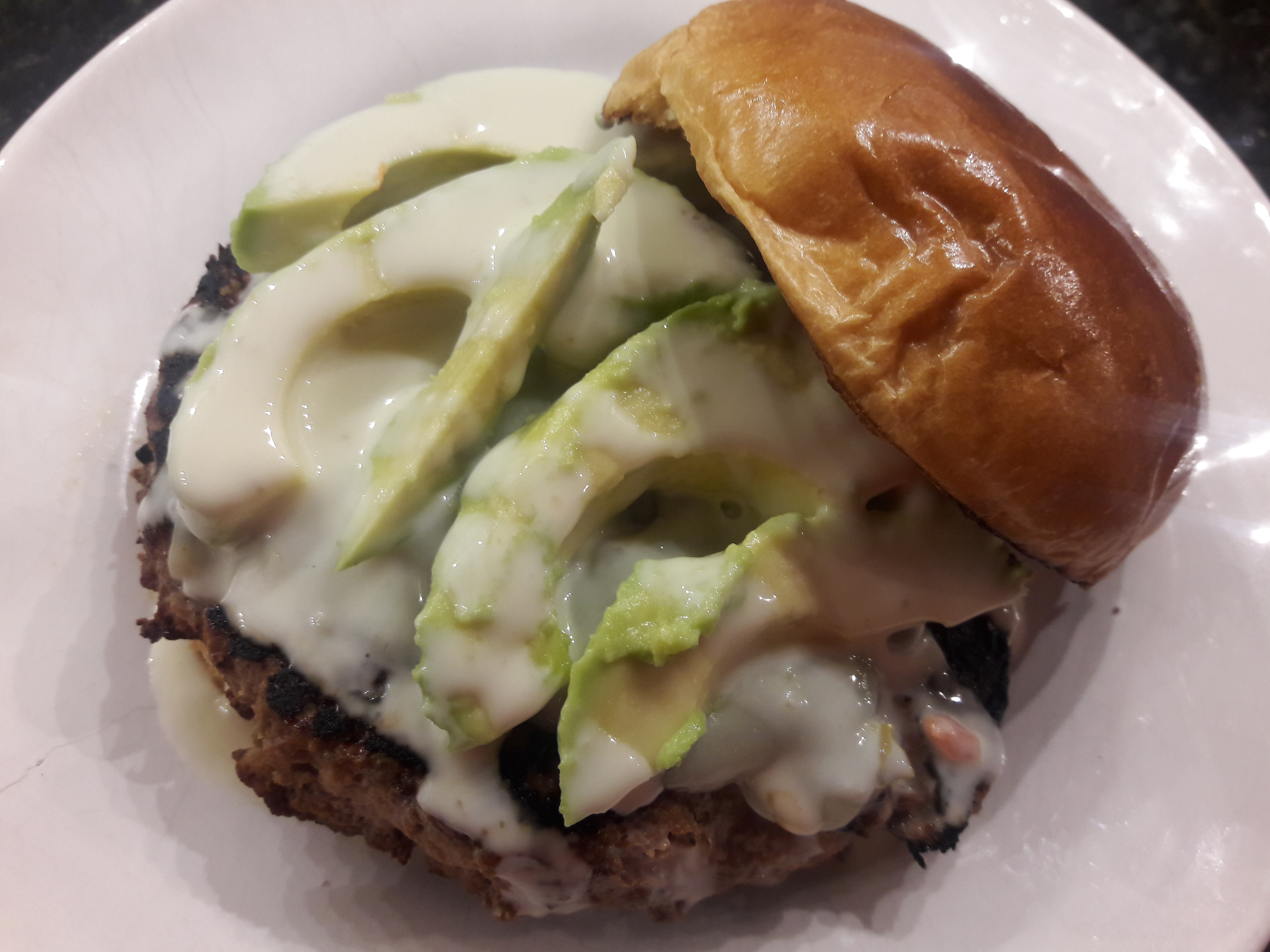 INGREDIENTS:
1 lb ground turkey 93% lean
1 cup Gordo's Salsa Any Flavor
2 tsp sea salt
1 tsp fresh ground pepper
2 cloves garlic minced
2 tsp dried cilantro or 2 tbs fresh chopped cilantro
1 whole avocado
4 brioche hamburger buns toasted
HOW TO PREPARE:
Place ground turkey, salsa, salt, pepper, garlic and cilantro in a mixing bowl. Stir together making sure not to overwork. Heat olive oil on a large skillet or grill pan on medium heat. Scoop 4 even portions of turkey mixture onto pan and gently form a patty with a spatula. There is no need to pre patty the burgers because they are so soft, they will firm up upon cooking. Cook burgers for about 5 minutes on one side until they are firm enough to flip, adjust heat if necessary. You want the bottom of the burger browned but not blackened! After the burgers are flipped cook for another 5 minutes. Flip again, lower heat to medium low and cover pan to continue heating through for about another 5-8 minutes. In the meantime, toast buns and slice avocado. Heat Gordo's cheese dip in microwave or simmer in a small saucepan. Once burgers are thoroughly cooked remove from pan and assemble. Place patty on the warmed brioche bun, top with sliced avocado and cover with Gordo's Cheese Dip! This dish is excellent served with Vigo saffron yellow rice and black beans topped with a dollop of Gordo's Salsa. If you are carb conscious or Keto these burgers are fantastic on their own, sans bun served with a side of mashed cauliflower or steamed broccoli.
CHICKEN TORTILLA CROCK POT SOUP
This next recipe is one of my all time favorites. It will literally warm your soul on a chilly night. Flavor packed and as low carb as you want it to be. If you're trying to follow keto all you have to do is leave off the tortillas at the end and you're all set! I love serving the soup with a big leafy green salad with some crunchy texture. If you're a carb lover, this creamy soup can be served alongside a warm, gooey grilled cheese sandwich. Either way this easy soup is a star and you'll want to make it again and again. The prep time is about 10 minutes and the rest will be done in the slow cooker.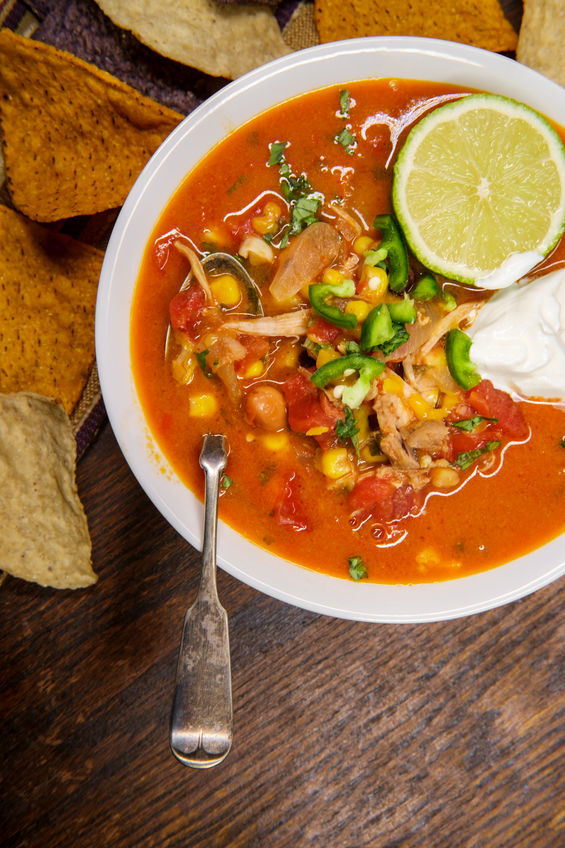 INGREDIENTS:
1lb boneless skinless chicken breasts
1 cup Gordo's Salsa Any Flavor
1 32oz chicken broth
3 cloves minced garlic
½ cup half and half
½ cup Cream Cheese
1 cup cheddar cheese
Salt to taste
Fresh cilantro for garnish
Avocado diced for garnish
Sour cream for garnish
Tortilla chips for garnish (optional)
HOW TO PREPARE:
TO MAKE IN SLOW COOKER:
Pre-heat slow cooker, add chicken breasts, salsa, chicken broth, garlic and salt. Cover and let cook on high for 3 hours. To the Crock-Pot, stir in half and half, cream cheese, shredded cheese and Gordo's cheese dip. Further cook on high for 20-30 minutes until all of the cheeses are melted. At the end of the cooking, using two forks, shred the chicken breasts. Serve with fresh chopped cilantro, diced avocado and sour cream. Top with roughly crumbled tortilla chips if desired.
Easy Peasy Spicy Mac and Cheesy
This next recipe can be thrown together in a hurry as an entrée or as a side dish. If you are serving it as an entrée you may want to throw in some browned crumbled sausage for some yummy protein. You can adjust the recipe to your desired level of spiciness with the cheese dip that you choose to use. You can dress it up a bit and mix in some chopped cilantro and chopped pickled jalapenos. If you want a dish packed with some serious heat mince up a few fresh jalapenos. This dish is very versatile and can be customized with a lot of different options. I will list the basic recipe below but if you find yourself with a glass of wine and some extra time get creative and toss some extra ingredients in. After all, it's pretty hard to ruin anything covered in cheese.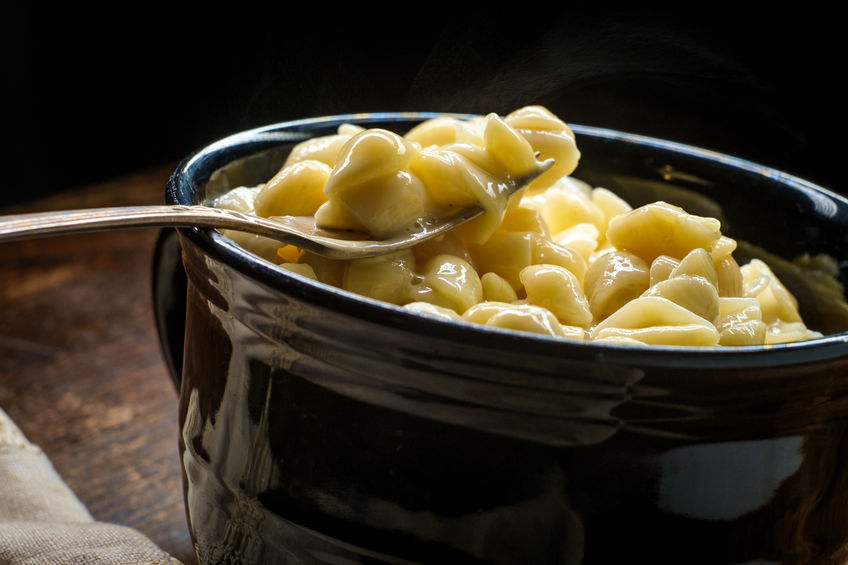 INGREDIENTS:
1lb shell pasta noodles (you can use any shape you like but I love how the cheese hides out in the shell)
1 16oz container Gordo's Cheese Dip
1 8oz bag of shredded pepper jack cheese
¼ cup of chopped pickled jalapenos
Chopped cilantro
1 or 2 minced fresh jalapeños
HOW TO PREPARE:
Heat a large pot of salted water. Bring to a boil and add pasta. Cook according to labels directions of al dente. In the meantime, in a separate saucepan bring cheese dip to a slow simmer, add chopped jalapenos and shredded pepper jack cheese stirring continuously until the shredded cheese blends in. Drain pasta keeping a very small amount of water in the pot and then add cheese mixture. If you are adding a browned sausage crumbles add it in now. Gently toss together making sure that all of the noodles are thoroughly coated. At this point you can add the fresh chopped cilantro. Serve immediately and enjoy!
That's all I have for you, I hope this helps you make it through the week with a little more ease. Take a moment from your week and enjoy some cheese.