Thanksgiving is almost here! After all that has happened since the start of 2020, we are all looking forward to a normal (or at least semi-normal) Thanksgiving! By this point, we are tired of our "tried and true" recipes and are desperate to make everyday meals feel special. We're bringing you easy ways to make your recipes pop, spice up your gatherings, and make moments around the table more fun! And what better table to bring new recipes to than the Thanksgiving table!  
In the blink of an eye we will be singing holiday songs and putting up Christmas trees…unless of course, like us, you start celebrating a little earlier! While we wait for the winter holidays to quickly appear, we prep to give thanks, enjoy festive food with friends and family, and relive our Thanksgiving traditions. 
Some our the most classic Thanksgiving traditions (and some of our favorites) are: 
Watching Macy's Thanksgiving Day Parade:
The Macy's Thanksgiving Day Parade is a time-honored tradition dating back 95 years! Whether you're watching to admire the floats, the balloons, the performers or so many other fun aspects, it's a time to gather around and enjoy! Some of this year's performances include Kristin Chenoweth, Darren Criss, Girls5eva, Kim Petras, Chris Lane, Andy Grammer, Nelly, Kelly Rowland, and more. The 2021 Macy's Thanksgiving Day Parade takes place between 9:00 AM and 12:00 PM.
Cheering on your favorite football teams:
In some houses, Thanksgiving means a day of football! You can cheer on your college football or NFL teams while chowing down on your Thanksgiving Day food favorites! 
Breaking the wishbone:
This poultry-inspired tradition actually dates back to ancient Rome. The Romans believed that birds held divine powers. They believed that keeping a particular bone would grant them those divine powers. The idea became so popular that there were not enough bones to go around! People started breaking the bones in half. The person who got the larger piece of the collar bone would have a wish granted! 
But what are all of these Thanksgiving traditions without the Thanksgiving Day food! Because without the food, what are we going to gather round to give thanks? While some people may focus on the turkey, we're all about the sides! Here are a few of our favorite turkey-complimenting side dishes! 
This ain't your mama's Mac and cheese! With spicy queso and bacon, we're taking Mac and cheese to a whole new level! Adding a little kick to your Thanksgiving plate is a great way to mix it up! Not into a little heat? Check out this recipe for Home-style Mac & Cheese!
INGREDIENTS:
16 ounces macaroni
1/2 cup melted butter
3 cups of milk
3 eggs
2 cup Gordo's Cheese Dip Mild
1 teaspoon salt
1 teaspoon pepper
1 teaspoon onion powder
2 cup shredded yellow American cheese
4 tablespoons butter
5 slices center cut bacon
2 jalapeños seeded and minced
HOW TO PREPARE:
Preheat oven to 400 degrees F (200 degrees C). Bring a large pot of lightly salted water to a boil. Add Macaroni pasta and cook for 8 to 10 minutes. Drain and toss with 1 tablespoon butter to prevent it from sticking together while you prepare the other ingredients. In a medium frying pan add bacon over medium-high heat. Fry until cooked to desired crispiness then remove and place on a paper towel to cool. Using the same sauce pan, sauté minced jalapeños in bacon grease for 2 minutes then set aside. Beat eggs, milk, salt and pepper. Mix in drained pasta. Pour melted butter into 2 quart casserole dish. Heat Gordo's Cheese Dip and mix 1/2 cup yellow American cheese. Use a fork to help push the cheese mixture into the pasta throughout the dish. Sprinkle the remaining shredded cheese over the top of the pasta. Bake for 15 to 20 minutes or until golden brown and heated through.
Did you know that mashed potatoes is the most popular Thanksgiving side dish in the US? And for good reason! Potatoes? Good. Butter? Good. Add queso? Even better! These creamy, cheesy mashed potatoes are the perfect side dish. 
INGREDIENTS
5 lbs of red potatoes
3 tablespoons of salt
1 ½ sticks of unsalted butter
1 cup of Gordo's Original Cheese Dip
Finely chopped chives
1/3 cup of sour cream
HOW TO PREPARE:
Start by cutting up the potatoes into quartered chunks. I like to use red potatoes and leave the skin on them. Bring a large pot of water to a boil, add 2 tablespoons of salt and cook potatoes in the boiling water for about 30 minutes until softened. Drain the water out and mash up the potatoes with a fork or potato masher. How mashed you make your potatoes is personal preference. Some like their potatoes chunky and some like them smooth, to each their own! Melt the butter in the microwave before incorporating it into the potatoes. Heat up the Gordo's Cheese Dip and add that to the potatoes along with the chives and sour cream. There you have it, queso potatoes. Add salt and pepper to taste and your Thanksgiving will be fabulous!
What is more Thanksgiving than a casserole? Okay, maybe turkey and stuffing but casserole is a close third! This easy, cheesy broccoli and cauliflower casserole is a delicious addition to your Thanksgiving meal. Bonus: Adding cheese to broccoli and cauliflower is a great way to get kids to start enjoying their vegetables! 
INGREDIENTS:
1 small head of cauliflower
1 head broccoli
2 tablespoons butter
1 16oz container of Gordo's Cheese Dip Original
1 8oz package shredded cheddar and jack cheese
Salt and pepper to taste
HOW TO PREPARE:
Preheat oven to 425 degrees F. Prep the broccoli and cauliflower: Cut the crowns away from the large stems. Break the crown up into bite sized florets. Rinse the florets thoroughly. Bring steamer water to a boil: Fill pot with water below steamer line and bring to a boil, add broccoli and cauliflower, cover; reduce heat to medium and steam for 5 to 6 minutes. Broccoli and cauliflower will be done when you can pierce with a fork. Remove from heat. Drain, and transfer to a medium baking dish, add butter, salt and pepper, toss to combine. In a separate medium saucepan over low heat, warm Gordo's Cheese Dip and sprinkle in 2/3 of the shredded cheese, and stir until melted. Pour sauce over broccoli and cauliflower. Bake in the preheated oven 30 minutes, until bubbly and lightly brown. Sprinkle with remaining cheese shredded during the final 10 minutes of cooking.
Yes, we're going with another potato recipe because has there ever been too much cheese and potatoes? No. No, there has not. Potatoes au gratin bring a little class to the meal! Bring this as a side dish to your Thanksgiving get-together to impress your friends and family with your cooking skills without all the effort! 
INGREDIENTS:
5 pounds russet potatoes
3 tablespoons butter
1 teaspoon mustard powder
2 cups of milk
1/2 teaspoon salt, plus more to taste
1/4 teaspoon black pepper, plus more to taste
1/2 cup Gordo's Cheese Dip Original
1/4 cup shredded gruyere cheese
1/4 cup shredded Parmesan cheese
GARNISH:
freshly chopped parsley
freshly chopped chives
HOW TO PREPARE:
Preheat the oven to 400 degrees F.Wash the potatoes under cold water, and peel and cut them into 1/8' slices. (using a mandoline is the easiest and fastest way to do this) Lay half of the potatoes flat in a buttered 2-quart baking dish. Set the remaining potatoes aside. Melt butter & flour in a sauce pan and simmer 2-3 minutes. Add mustard powder, salt, pepper and milk. Whisk over medium heat until thick and bubbly. Remove from heat and stir in cheeses until melted.  Pour half of the sauce over the potatoes, layer the rest of the potatoes on top of the sauce, and cover the potatoes with the remaining sauce. Sprinkle the reserved cheeses over the sauce. Spray a piece of foil with nonstick cooking spray and cover the dish with foil. Bake for 60 minutes, and then remove the foil and bake an additional 20-30 minutes or light golden brown in color and the potatoes are cooked through. Cool on a wire rack for 5 minutes, and then garnish with freshly chopped parsley or chives (optional) and serve.
Bacon + Cheese = A Match Made in Heaven! These Bacon and Cheese Stuffed Mushrooms can be served as a side dish or as an appetizer. Shoutout to Alaska and New Jersey who's favorite Thanksgiving sides are stuffed mushrooms according to Zippia!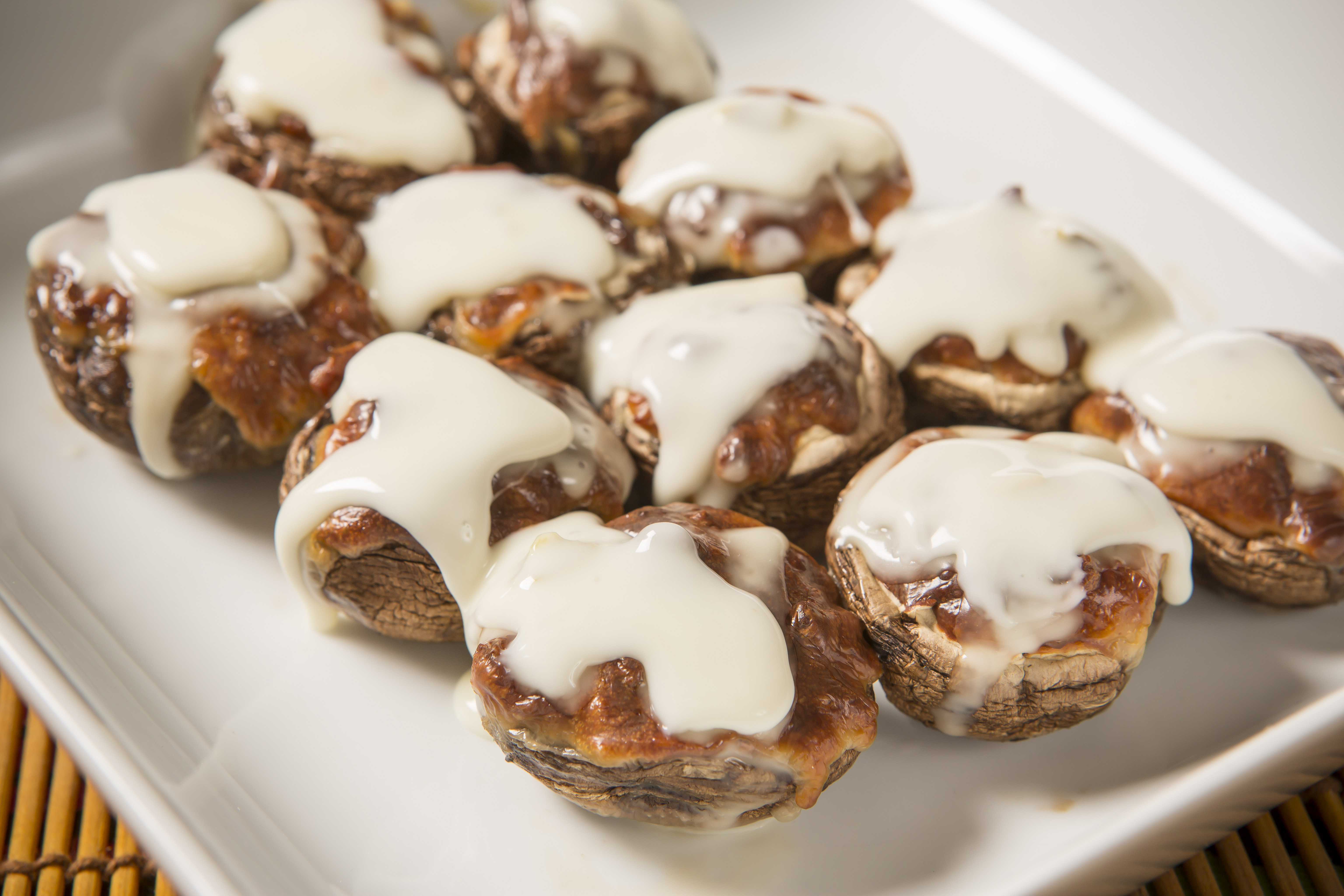 INGREDIENTS:
1 container(16oz) Gordo's Cheese Dip(any flavor)
½ cup panko bread crumbs
8 to 10 slices bacon, cooked and crumbled
15 to 20 large mushrooms
HOW TO PREPARE:
Preheat oven to 400 degrees. Remove stems from mushrooms and mince. Mix melted Gordo's cheese dip, panko bread crumbs, crumbled bacon and mushroom stems. Place mushroom caps on greased baking pan. Fill with bacon and cheese mixture. Bake 20 to 25 minutes or until golden brown.
We hope you have a great Thanksgiving full of friends, family, and most importantly, good food! If you are trying out one of these recipes, head over to our coupon page. While Gordo's Dips are worth every penny, that's no reason not to offer you a little savings, too!