It's the most wonderful time of the yearrrr! Okay, it may not be Christmas, but it's time for the kids to go back to school. So basically Christmas for parents. It's been a long, hot summer and I'm sure you took some fun trips or saw a few good concerts this summer, but you are more than ready for the kids to get back into a routine. Parents, I know you are definitely jumping for joy…the kids, maybe not so much. I remember the best part about going back to school was buying new school supplies and clothes, it was so exciting to be able to get new stuff! You get to plan your perfect first day of school outfit and get excited about seeing all of your friends. Then reality quickly set in when you realized it was time to actually use the new supplies and sit in class all day. We all went through it!
Let's talk about some easy after school snacks you can whip up for your kids! You don't have a ton of time, they're starving, Chef Gordo has the solution.
Gordo's Cheese Dip Snack Platter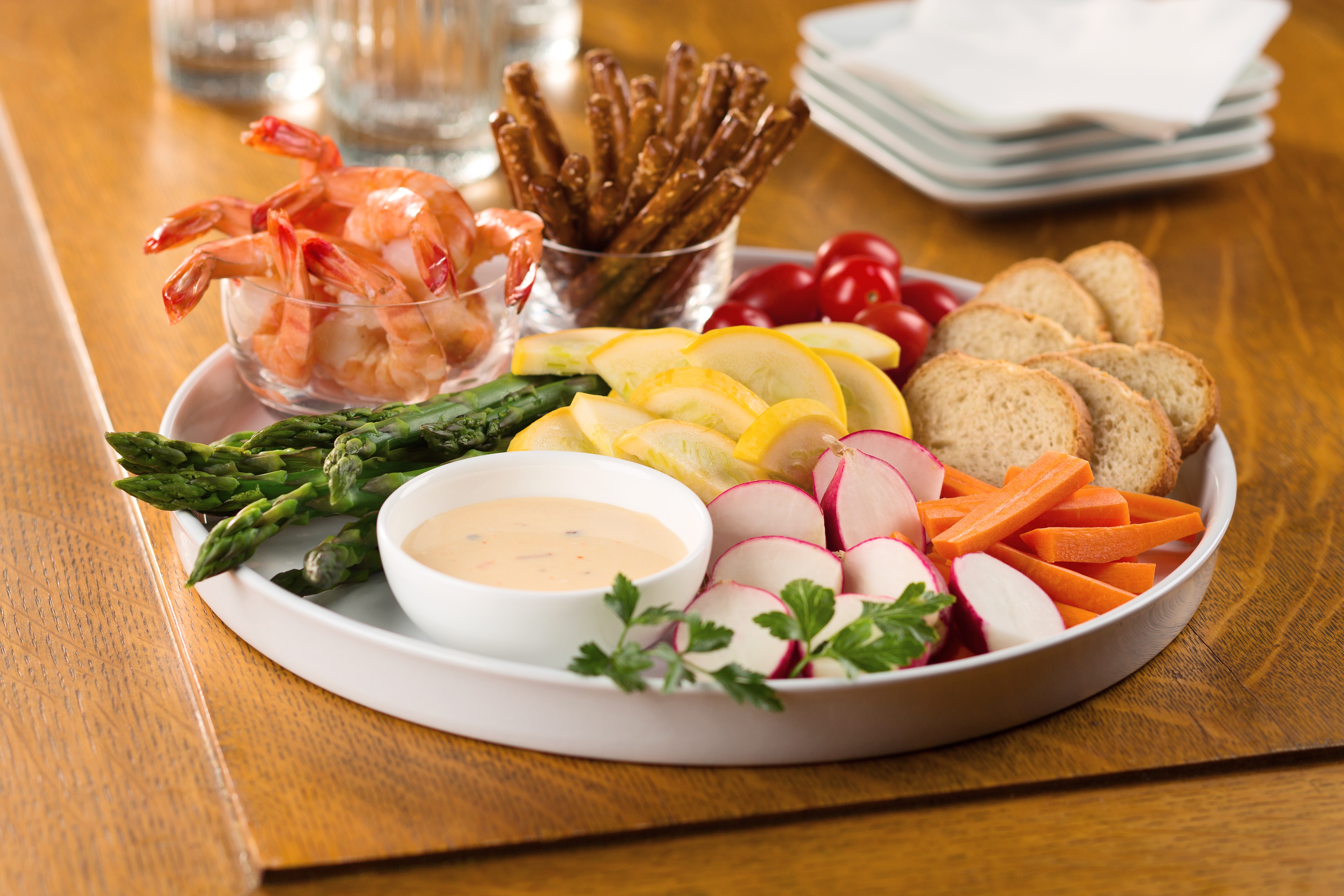 This is by far the easiest and quickest snack you can put together! Grab a container of original or mild Gordo's Cheese Dip and heat it up in the microwave for about 1-2 mins until melted and creamy. Put the dip on a nice fancy plate (or a paper one) and surround it with snacks to dip. There are a variety of options when it comes to foods that you can dip in cheese. Here are my suggestions: blue corn tortilla chips, bread, chips, carrots, cherry tomatoes, celery or basically any vegetable, pepperoni, shrimp, crackers of any kind, etc. It's a quick snack that you and your kids can enjoy!
Pro Parenting Tip: Dipping veggies in cheese is a great way to get picky eater to start eating those veggies!
Banana and Peanut Butter Roll
Ingredients needed: Peanut butter (or any nut/seed butter of choice), wheat tortillas, bananas (literally every time I spell bananas I sing the Gwen Stefani Hollaback Girl song in my head. Don't act like you don't.)
This snack is easy to put together and convenient to take on-the-go if they need some quick fuel between school and soccer practice. Take a medium to larger whole wheat tortilla and spread a layer of the butter of your choice on the entire tortilla. Then you can either slice up the banana or leave it whole and wrap the tortilla around it! I like to add honey for a touch of sweetness, but that's optional. You can also add chocolate chips if you want to make it a semi-healthy dessert.
Pizza Crescents
Ingredients needed: 1 tube of crescent rolls, package of pepperoni, shredded mozzarella cheese, marinara sauce, olive oil, garlic powder, oregano, Gordo's Original Cheese Dip
This snack takes a little more time but works great if your kids have friends coming over after school. Preheat your oven to 350 degrees. Get 1 tube of crescent roll and roll them out (do not separate them). Place pepperonis and healthy sprinkle of shredded mozzarella cheese across dough and roll it up. Slice the roll into roughly 1 inch pinwheels. Brush lightly with olive oil and sprinkle lightly with garlic powder and oregano. Place the rolls on a prepared baking sheet and bake for about 15 minutes, or until the cheese is melted and the dough is golden brown. You can get out some marinara sauce or Gordo's Cheese Dip for dipping.
Pro Football Lovers Tip: This snack is great for a tailgate or watching party this football season! (Peep our recipes page for some great tailgate recipes!)
No Bake Cookies
Ingredients needed: ¼ cup of unsweetened cocoa powder, 1 ¾ cup of sugar, ½ cup of milk, ½ cup of butter, 3 cups of quick oats, 1 tsp of vanilla extract, pinch of salt, ½ cup of peanut butter (or any nut/seed butter of choice)
There's always the obvious snack option of getting the prepackaged cookie dough, putting it on a tray and baking it for 12 minutes. Or just straight up eating the cookie dough by itself (you know you've done it.) But these no bake cookies are easy to make and taste incredible! Over medium heat, combine cocoa, sugar, milk and butter in a saucepan. Once it starts to fully boil, let it boil for one minute before removing from heat. Once you remove from heat, add the oats, vanilla, salt and butter of your choice, making sure everything is thoroughly mixed together. Before it cools, scoop the mixture in spoonfuls onto wax paper an let them sit to harden. For a faster setting process, put them in the fridge! These cookies would be great to make at the beginning of the week so you can have them ready in advance for after school chaos.
Hopefully these after school snack ideas will put a smile on your kids face and give them energy to finish that homework all on their own! Life is non-stop crazy these days, time flies by. Don't forget to take some time and ask your kids how there day was, who their favorite teacher is, or talk about something new they learned. If you can, make the snacks together! Care to share? Let me know some of your trade secrets for quick and easy snacks! You can never have too many snack ideas!