Tailgate Tacos and Football Fiestas
Tuesday, September 10, 2019
Hello again, friends! What are you doing this weekend? If your answer is involves staring at the new Facebook dating app, playing Fortnite, going to see It: Chapter 2, or anything lese that does not involve tailgating, NOW is the time to change your plans. You know why? Because it's football season! What is more fun than getting totally amped up for your favorite NFL or college team while stuffing your face with food from the back of a pick-up truck? Tail gaiting is a luxury that you can not afford to pass up. Let's have some fun, and check out some of our favorite recipes to bring to your tailgate party this weekend. Your friends mouths will thank you.
First on the list, we have the greatest finger food ever invented – the taco cup. How cute is that? It's a taco, with queso, in a little crunchy cup – I don't know who originally invented this, but I think I am in love. And they're so quick simple to make, you won't miss any of the fun being stuck in the kitchen with this recipe.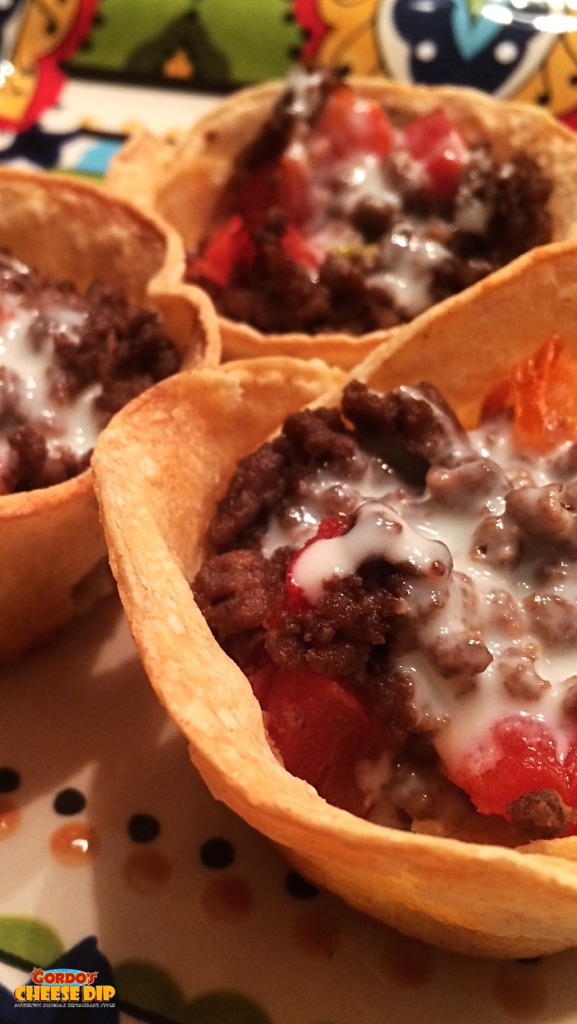 INGREDIENTS:
1 lb lean ground beef, browned and drained
1 packet taco seasoning
Gordo's Cheese Dip (Any Flavor)
1 (10-oz) can Ro-Tel Diced Tomatoes with Green Chiles
1 1/2 cups sharp cheddar cheese, shredded (or Mexican blend)
24 wonton wrappers
HOW TO PREPARE:
Preheat oven to 375 degrees F. Coat a standard size muffin tin with nonstick cooking spray. Combine cooked beef, taco seasoning, shredded cheese and tomatoes in a bowl and stir. Line each cup of prepared muffin tin with two wonton wrappers. Add taco mixture. Bake at 375 for 11-13 minutes until cups are heated through and edges are golden. Top with 1 Tablespoon Gordo's Cheese Dip.
*Optional: Top with sour cream and shredded lettuce for full taco experience*
Are you guys ready for the next mind blower? This recipe is so irresistible, anyone with a heartbeat will be salivating over it. Anything that involves cheese dip, tater tots, and avocado all on one plate is a winner in my book. Is it just me, or does everyone remember the day they first tasted a tater tot? Just me? Ok, well it was a pretty significant moment in my life, and now it's about to be a pivotal moment in your life as well. I am going to bestow upon you something like you have never tasted before (unless you have made a similar recipe, then ok, you've tasted something like it). But regardless, go ahead and prepare yourself for a flavor explosion – I proudly give you, LOADED TOTCHO MOUNTAIN!.
INGREDIENTS:
1 16oz bag frozen tater tots
1 cup shredded cheddar cheese
1/3 cup diced tomatoes (plain or fire roasted)
1 cup Gordo's Cheese Dip (spicy or original)
2 Avocados sliced
1 cup shredded rotisserie Chicken
1 packet taco seasoning
1/3 cup chopped green onion
1 fresh jalapeno, thinly sliced
1 can black beans, drained
¼ cup cilantro
HOW TO PREPARE:
Cook tater tots according to instructions on package. Warm shredded chicken and toss thoroughly in taco packet seasoning. Spread seasoned evenly over top of nachos. Sprinkle the shredded cheese, diced tomatoes and black beans. Drizzle Gordo's warm cheese dip, and top with sliced avocado, jalapenos, green onion and cilantro. If desired, add dollop of sour cream.
Now that we have explored the glorious world of totchos, let's check out a dish we can really dip into. We all know that a tailgating party is nothing without some kind of amazing dip involving queso, so we have curated one that is not only unique and bursting with flavor, but actually pretty healthy too! Imagine that, eating something during football season that you don't have to feel guilty about – you can even eat it with veggies! Yes, I said veggies and football in the same sentence. And believe me, I wouldn't go to that extreme if it wasn't a truly satisfying way to consume healthy food. This Mexican spin on classic hummus is bursting with flavor and makes you feel all the feels. We love you, taco hummus.
INGREDIENTS:
1 package taco seasoning mix 
1 can (15 oz) chick peas (garbanzo beans), undrained
2 teaspoons olive oil
1 tablespoon lemon juice
1 clove garlic, chopped
1/4 cup Gordo's Cheese Dip 
2 tablespoons chopped fresh cilantro, if desired
HOW TO PREPARE:
Drain chick peas, reserving liquid. In blender or food processor, place chick peas, oil, lemon juice, garlic, Gordo's Cheese Dip and taco seasoning mix. Cover; blend until smooth. Add reserved chick pea liquid, 1 teaspoon at a time, until desired consistency. Garnish hummus with cilantro. Serve with tortilla chips.
In conclusion, I have given you 3 recipes that will knock the socks of everyone at your tailgating party. Whether you're cheering for the Falcons (GO FALCONS!), the Dolphins, or the Cowboys, it doesn't even matter – bring one of these recipes and all sides will come together in support of your dish. That's right, we're bringing rivals together via cheesy tailgating goodness. Even if you don't know what sporting event you're at, who's playing and you still get football confused with foosball, it's ok, because the real winner here is he who brought the tastiest dish. And that's you. So, go have some fun and feed your face (and your friends faces) with these champion recipes.