Super Bowl Sunday!
Tuesday, January 30, 2018
Chef Gordo here,
An Atlanta native and a Falcons fan, I am still recovering from Super Bowl LI, but I begrudge no one an excellent Super Bowl party. Yes, old Chef Gordo enjoys watching the Philadelphia Eagles beat the New England Patriots just as much as the next guy or gal.
Eagle's superfan Pink will perform the national anthem at this year's Super Bowl, while Justin Timberlake is rocking the Super Bowl halftime show. It's a lot of pressure and let's hope he doesn't, ahem, slip up.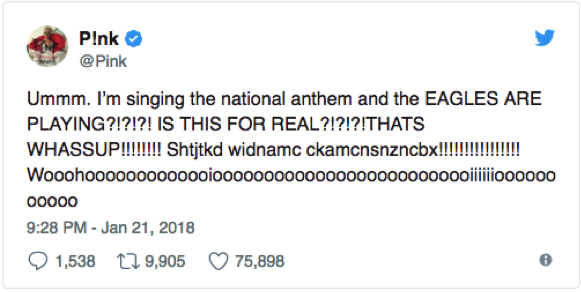 So while the Eagles and the Patriots players focus on the tape and the game that could get them at least a year of bragging rights, what should we, the people of the couch, be doing? I'm glad you asked – for the homegaters of the world, it's past time to plan our Super Bowl party! And what better way to do that than to bring together the food traditions of Philadelphia and
Chef Gordo's Guide to the Ultimate Super Bowl Party Food
Like most iconic American dishes, the Philly Cheese Steak's origins are now shrouded in myth. Word is an Italian-American street vendor in Philly named Pat got a hankering for shredded beef and onions – not the fish cakes and hot dogs he usually served. As he was savoring the world's very first Philly Steak (without cheese, that part came later!) a passing cabbie smelled the sandwich pre-ordained to become Philadelphia's favorite sandwich, and screeched to a halt to demand that Pat make one for him, too.
Who added cheese to the steak? Who really invented the Philly Cheese Steak? We'll never know. There are Philadelphia Eagles fans still fighting over the origins to this day. What we do know is who perfected Philly Cheese Steak Cheese Dip – yours truly, Chef Gordo.
Gordo's Philly Cheese Steak Cheese Dip
1 medium red onion, diced
1 small can diced green peppers
¾ pound sirloin or beef brisket

You can use any cut of beef, but be sure you get a cut that is well-marbled, which means meat with a good amount of fat in it. You should be able to look at your meat and see lots of red and white throughout the cut. This meat is gonna sizzle when you put it in the pan!

1 tablespoon unsalted butter
Kosher salt, for seasoning
1 to 2 (for cheesier dip) containers any flavor Gordo's Cheese Dip
For serving: Italian-style loaf of bread or tortilla chips
Put the cut of beef, uncovered, into the freezer for 30 to 60 minutes. You'll know the meat is ready to be sliced when it's firm on the outside, but still soft in the center. Chilling the meat will make it easier for you to cut the Philly Cheese Steak's uber-thin strips of meat.
Slice the chilled meat into thin strips. Since these morsels will be going in our cheese dip, slice them again into pieces small enough to be scooped up with a chip or a piece of crusty bread. Spread the cut meat out on a cookie sheet. Sprinkle meat with a light dusting of kosher salt to season. Set aside and leave to come to room temperature before cooking.
While the meat is getting to room temperature, dice the red onion. Fine dice or rough chop, just make sure your guests will be able to get it in their mouths, and make all of the pieces roughly the same size.
Is the meat at room temp? You're ready to play ball. Put a medium to large sized skillet over medium-high heat. Once the skillet is hot, add the butter. Once melted, add the onion. Saute, stirring occasionally, until the onion is caramelized. Set aside.
With the heat still medium-high, put the meat in the skillet. (Add a little more butter to the pan if you're nervous about sticking.) Cook until the meat is crispy, with a good dark brown color. Drain excess fat, combine with the onions. Stir in the (drained) can of diced green peppers. Mix into Gordo's Cheese Dip and serve with a crusty loaf of Italian bread or tortilla chips. Voila: the dip the Philadelphia Eagle's Super Bowl team deserves.
Okay, so this snack recipe doesn't have any particular connection to the Eagles or the Patriots, but it does have a place in the heart of NFL fans – wings! Wings are the ultimate Super Bowl party food. The spicer, the better, if you ask me, so grab some Gordo's Chipotle Cheese Dip to get started.
1 package dry ranch salad dressing mix
1 package dry taco seasoning
2 tablespoons ground cayenne pepper
1 bottle Franks Red Hot Original Cayenne Pepper Sauce
5 pounds wings
For serving: 1 container Gordo's Chipotle Cheese Dip
Mix ranch, taco seasoning, cayenne pepper, and hot sauce in large bowl. Place wings in zip lock bag and pour mixture over them. Marinate at least 4 hours, but for the best results, give the wings an overnight stay in this delicious sauce.
You can fry the wings if you want to, but you're probably still trying to get the house ready before your ravenous Super Bowl guests arrive. If you'd like an easier method of cooking, heat the oven to 400 degrees F. Place the wings on a baking sheet and cook for about 45 minutes, turning the wings over about 20 minutes in to ensure an even cook.
Serve with Gordo's Chipotle Cheese Dip. (Yeah, really! My Chipotle Cheese Dip makes for an amazing dipping sauce.) These wings also pair well with a Patriot fan's favorite, Sam Adams beer.
***
Now, Chef Gordo is no novice in the kitchen. But even I know when it's time to turn to Martha Stewart. For a dessert that Patriot's fans will love (and Eagles fans will try and fail to pretend they don't like) let's go with a New England favorite, Boston Cream Pie. End your Super Bowl party right, because no matter who the NFL Illuminati chooses as the Super Bowl winner, everybody wins with a bite of this deliciousness.
Individual Boston Cream Pies
h/t: Martha Stewart
For the Cupcakes
6 tablespoons unsalted butter, room temperature, plus more for tins
1 1/2 cups all-purpose flour, plus more for tins
1 1/2 teaspoons baking powder
1/2 teaspoon coarse salt
1/2 cup whole milk
3 large eggs
1 cup sugar
1 teaspoon pure vanilla extract
For the Vanilla Cream Filling
1/4 cup plus 2 tablespoons sugar
3 tablespoons cornstarch
Pinch of coarse salt
3 large egg yolks
1 1/2 cups whole milk
1 1/2 tablespoons unsalted butter
3/4 teaspoon pure vanilla extract
For the Chocolate Glaze
4 ounces semisweet chocolate (61 percent), finely chopped
1/2 cup heavy cream
2 teaspoons light corn syrup
Pinch of coarse salt
Now that you've got the ingredients, head on over to Ms. Stewart's website for the full recipe with baking instructions.
Okay, gang. You've got what it takes to throw a Super Bowl party. Take a breath, get your favorite jersey ready and don't forget the cheese dip.
Until next time,
Chef Gordo
Cheese Dip Magnate and Magnaimous Recipe Mogul