A Year-Round Party Favorite
Monday, March 16, 2020
Getting back together with friends and family is the best! And what gathering is complete without a table packed with awesome snacks. Everyone loves a bowl of Gordo's cheese dip and their favorite chips but sometimes it fun to whip up a special recipe too! So please check out this family favorite, it is likely to be added to your short list of go-to crowd pleasing recipes!
INGREDIENTS:
1 16 oz. bag frozen chopped spinach
1 can artichoke hearts (drained)
1 8 oz. package cream cheese
1/2 cup mayonnaise
1 1/2 cups fresh grated Parmesan cheese
1 package Dry Ranch seasoning
1 16 oz tub MILD Gordo's Cheese Dip
HOW TO PREPARE:
Cook spinach in microwave for 5 minutes. Drain and squeeze out any excess moisture. In separate bowl, microwave cheese dip and cream cheese for 2 minutes until melted. Chop drained artichoke hearts. Mix all ingredients in large bowl. Pour into greased 8 x 8 oven-safe dish. Top with Parmesan cheese. Bake at 350 degrees for 30 minutes or until hot and bubbly throughout. Serve with crackers, chips, or fresh vegetables.
Pot "O" Gold Dip and Shamrock Chips
This next recipe is for the kiddos! We have the cheese dip part covered but we're leaving the chip part up to you on this one. I promise the kids will love both making and eating this festive appetizer.
INGREDIENTS:
1 16oz tub Gordo's Queso Dip (this is the yellow one)
4 spinach tortillas
½ teaspoon salt
Olive oil cooking spray
HOW TO PREPARE:
Preheat oven to 350 degrees F. Lay tortillas flat on a cutting board. Use a shamrock cookie cutter to cut chips from tortilla. Lay chips in a single layer on a paper lined baking sheet and spray with cooking spray. Flip and spray other side with cooking spray. Lightly season with salt. Bake 5-10 minutes, or until crispy. Serve with the lucky Gordo's Pot "O" Gold and enjoy!
Leprechaun Dip
This next recipe is just as easy and can be served as an alternative with the shamrock chips if you prefer the flavor of white cheese dip. Since this dip brings the green you can also serve with regular tortilla chips instead of making your own. Even better, serve some green broccoli for dipping alongside for the ultimate leprechaun's delight. Enlist the help of your little one's on this recipe as well because it's fun and couldn't be easier!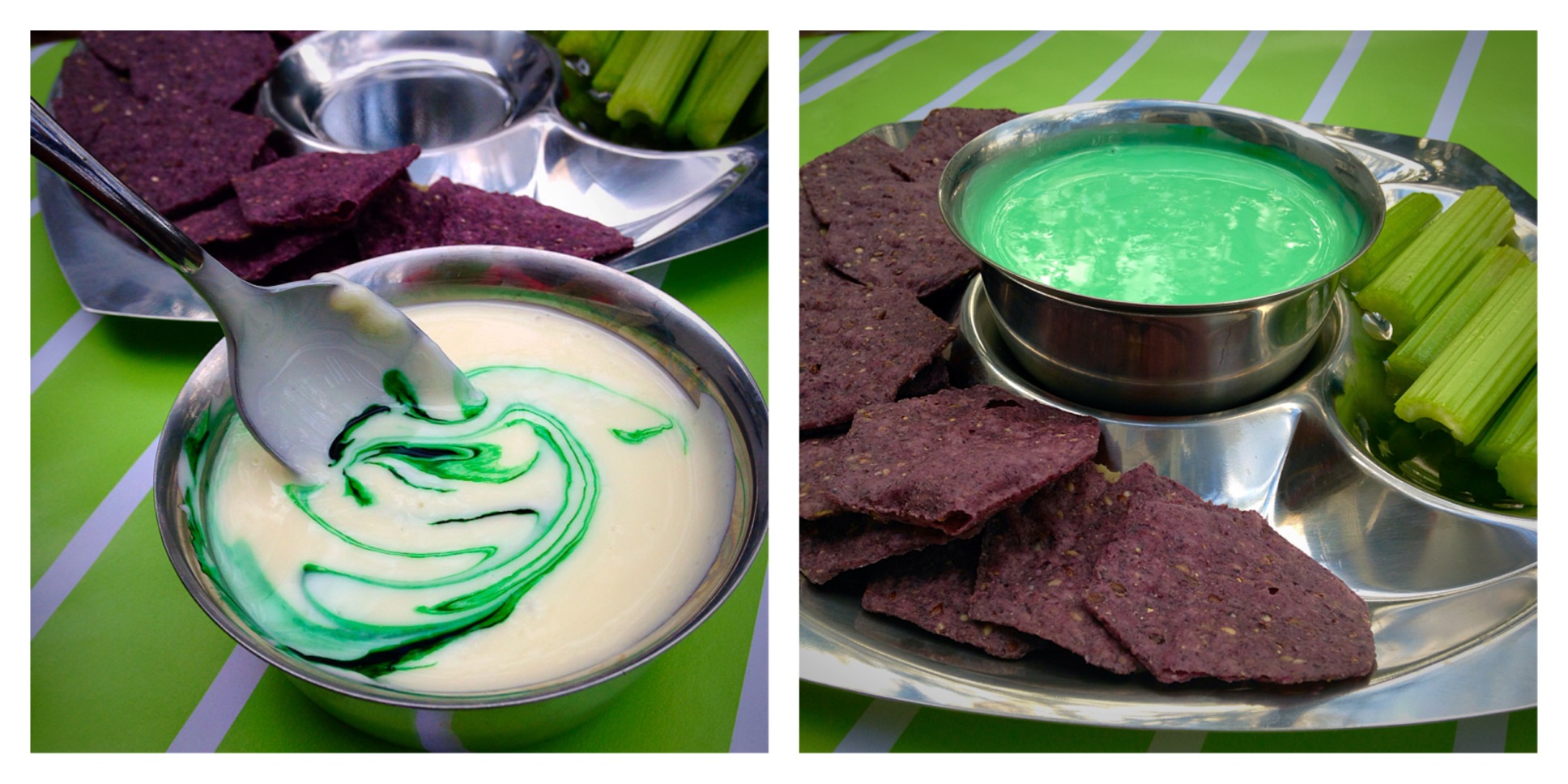 INGREDIENTS
1 16oz tub of Gordo's Cheese Dip
Green dye, add to achieve desired color.
That's it! Easy as pie!
Green Eggs & Ham
Next up is another easy dish that can be served for breakfast or dinner. It's the perfect way to start or end your day. It's a great combination of health and comfort foods when you need a little bit of both in your life. If your feeling a little more on the comfort food side of things serve with biscuits if your leaning towards the healthy side of life serve with a green salad or sprouted grain toast.
INGREDIENTS:
1 avocado diced
5 eggs
4 thick slices of ham
2 tablespoon of butter
¼ cup of MILD Gordo's Cheese Dip
¼ cup of milk
HOW TO PREPARE:
Heat 2 pans on medium-low heat and add 1 tablespoon of butter to each and let melt.In a mixing bowl add eggs, milk, salt and pepper and whisk eggs thoroughly and vigorously, this will ensure a fluffier scrambled egg. When the butter in the pan is hot in each pan add ham slices to 1 and add the eggs and the diced avocado to the other, don't stir, let the bottom set. Gently push the egg and avocado from one edge of the pan to another until no liquid is left. Add the Gordo's Cheese Dip to the scrambled eggs. Turn off heat when the liquid is gone, and eggs are still soft to continue cooking without overcooking. In the other pan flip the ham after a few minutes of sizzling, lightly brown on each side. Transfer to a plate when the eggs are set but still soft. Place eggs on top of 2 ham slices and serve ASAP while hot!
Mean Green Cheesy Avocado Toast
The last recipe we have to celebrate St. Patrick's Day may not be a traditionally Irish dish, but it is green and delicious none the less! Again, this one cannot be put in a box, you can serve it for breakfast, lunch or a hearty snack. Triple the recipe and quarter the toast and serve it as an appetizer. It's healthy but as usual we're going to kick it up a notch and make it extra yummy with…. you guessed it, some cheese dip, because you are in fact reading a cheese dip blog.
INGREDIENTS:
1 whole avocado thinly sliced
2 pieces of your favorite bread, my personal favorite is Dave's Killer White Bread Done Right Organic Bread.
Pinch of sea salt
¼ cup of Gordo's Cheese Dip
HOW TO PREPARE:
Lightly toast bread to a golden brown. 2. Add ½ of the avocado to each slice of toast. With a fork, lightly mash avocado into toast. 3. Sprinkle a pinch of sea salt on each slice. 4. Warm up a ¼ cup of Gordo's Cheese Dip in the microwave and drizzle on the toast. This is going to be your new go-to 5 minute meal!
Alright, now that you've got more green recipes than you know what to do with, go and have the best St. Patrick's Day celebration you've ever had and toast with an Irish car bomb for me! Until next time, stay clean, enjoy the green and as always, relish your cheese.