Walking Tacos
Monday, July 30, 2018
Chef Gordo here to teach y'all about the walking taco! I'm gonna be honest with you, I hadn't heard of a 'walking taco' until a couple of years ago. My first run in with a walking taco was at CMA Festival in Nashville, and I immediately wondered why I hadn't thought of this or seen them before.
Obviously, it's not a taco with legs, but rather a taco style dish that you can easily walk around with. Eating a taco can be messy business. You know that feeling when you take that first bite of a taco and the toppings fall out of one end and spill everywhere. It's not a fun moment. The walking taco solves this problem by containing all the best parts of a taco in a single serving bag of chips! Genius, a portable taco.
Walking tacos are sometimes referred to as a 'taco-in-a-bag', but I don't think that name is anywhere near as fun. This street inspired fare can be traced back to a southern favorite, Frito Pie! Frito Pie consists of original Fritos corn chips topped with chili, onions, and cheese (obviously Gordo's Cheese Dip amps these up to a whole new level!) It was occasionally served in Fritos chip bags at fairs in the south beginning in the 1980's so people could walk around the fair and eat at the same time. The walking taco follows the same concept but uses different ingredients. The base can be any single serving bag of chips, the most commonly used are Fritos or Doritos. I like to crunch my chips up a little bit, cut the bag open horizontally, and then top the chips with seasoned taco meat and all the delicious taco toppings you can dream of. Stick a fork in there and you got yourself a walking taco.
The walking taco is perfect for any kind of party and gives people the freedom to wander, eat and socialize. They don't have to be tied to a table to eat their meal! Set up a taco barf so with a variety of different chips and toppings so your friends can customize their walking taco!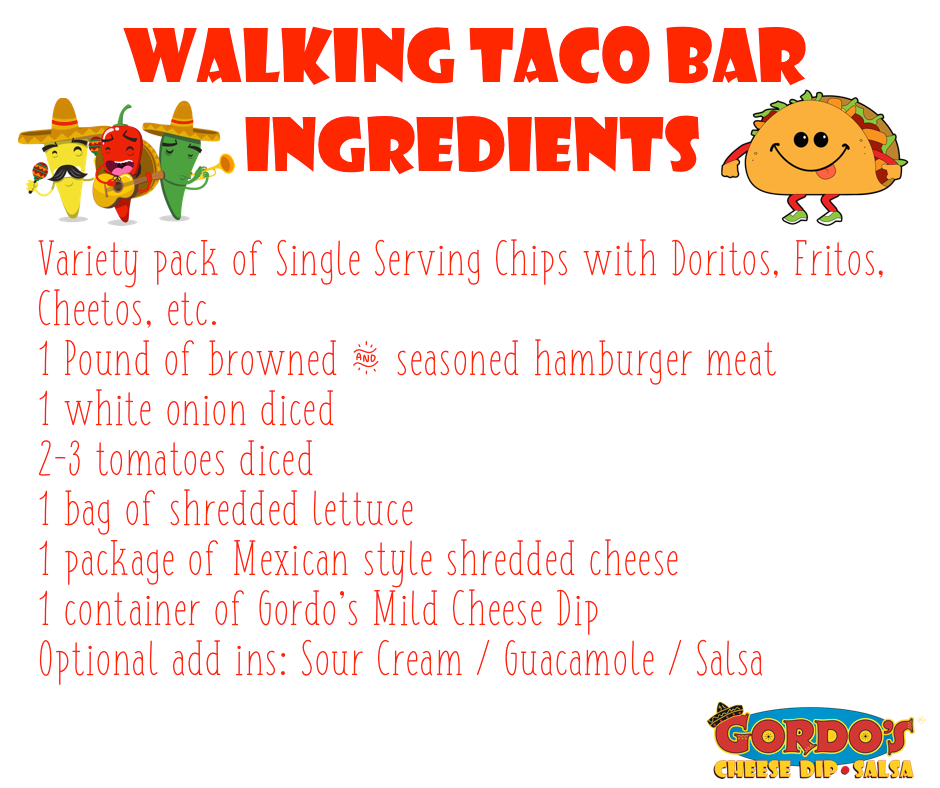 The walking taco bar is a quick and easy to set up and adds a little flare to your usual spread. It works perfectly for both kids and adults, a guaranteed crowd pleaser! My question for you this week is what does your perfect taco consist of? Do you load it up with all of the toppings or do you prefer to keep it simple?