Tuna for Everyone!
Tuesday, March 8, 2016
Chef Gordo here!
With the quest to find all the uses for Gordo's Cheese Dip underway, finding inspiration for recipes is proving to be far easier than expected thanks to the magical world of Pinterest. Now, if you are a food junky like me and have never explored Pinterest, I would highly recommend it. It is basically every cookbook ever all in one place. You can search for recipes or just scroll through for ideas (which is great when you don't know what you want for dinner). Pinterest is great for lots of other things like travel, fashion, DIYs and so much more! But I just spend countless hours making myself hungry looking at pictures of food to get ideas for great Gordo's recipes!
This time the picture that made me get up and go start cooking was The Stay At Home Chef's healthy tuna stuffed avocado. She has tons of tuna stuffed avocado recipes. Who knew you could stuff an avocado with tuna in more than one way! Its fabulous and I love it. Okay, confession time. I love canned tuna. It is 100% my guilty pleasure. I say guilty pleasure because for some reason eating canned tuna on a regular basis is frowned upon in society. So fellow tuna lovers, I am here for you. I understand.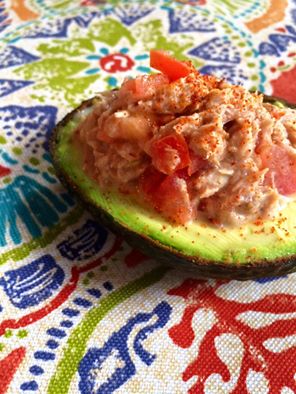 So when I saw this recipe, I had to try something like it with Gordo's! I went ahead and threw five of my favorite ingredients together for a great lunch! All it takes is avocado, Gordo's Cheese Dip, canned tuna, tomato, and a little bit of cayenne pepper for a kick! Now, I only made it for me and it was the perfect amount for lunch! I wish I had some bread to make a sandwich out of but either, it was filling.
Adding Gordo's to tuna salad essential adds a creaminess to the salad and replaces the mayo that is normally in it. And I will let you guys in on a little secret, Gorod's Cheese Dip is actually less fattening than mayo. I know. Shocking that cheese dip would be healthier than something else. But it is! So just a little added bonus to being delicious, you can feel a little better about your love of tuna salad.
Gordo's Tuna Stuffed Avocado
PREP TIME: 5 mins                TOTAL TIME:5 mins                Serves: 4 – 6
INGREDIENTS
3 (5-ounce) cans tuna
½ cup melted Gordo's Cheese Dip (Original, Mild, or Hot)
½ cup tomatoes (diced)
½ teaspoon cayenne pepper
2 – 3 avocados, halved and pitted
salt and pepper, to taste
HOW TO PREPARE
Combine tuna, Gordo's Cheese Dip, tomatoes, and cayenne pepper in a medium bowl until well combined. Spoon into avocado halves. Salt and pepper to taste.