Tacos and Tequila, Anyone?
Wednesday, July 24, 2019
It's National Tequila Day and there's no better pair than tequila and tacos! I mean we've even been to festivals just for the Tequila and Tacos! (Peep some of our fave people out at the event here!) So we've lined up our favorite taco recipes for you to whip up some tacos to go with your tequila.
Let's start out with a classic taco! The Fajita Soft Tacos. The OG tacos. Now these bad boys are some of our favorites because I mean who doesn't love the combination of chicken, steak and veggies sautéed to perfection topped with your favorite toppings and all wrapped up in a soft, warm tortilla blanket. I know…now your mouth is watering, mine too.
Serving Size: 4
INGREDIENTS:
1/2 pound boneless, skinless chicken breast halves, cut in strips
1/2 pound sirloin steak, cut in strips
1 cup salsa
2 tablespoons lime juice
1 teaspoon Worcestershire sauce
1 bell pepper, cut into thin strips
One onion, cut into thin strips
One (12-ct.) Package flour tortillas (taco and fajita size)
1 container Gordo's Cheese Dip (any flavor)
HOW TO PREPARE:
In large pot, cook meat in its own fat until it loses its pink color. Drain fat. Combine meat, seasoning and add pepper and onion; cook and stir 3 to 4 minutes until vegetables are tender-crisp. Spoon fajita filling onto tortillas. Add cheese as desired and top with additional salsa if desired. Roll up to serve.
Another great classic in the story of tacos, the carnitas tacos. Now these take a bit longer to put together but believe me, it's worth the trouble.
INGREDIENTS:
2 1/2 lbs. pork shoulder (also known as 'pork butt')
1 tbsp. lime juice
2 tsp. coarse sea salt
2 tsp. ground cumin
1 tsp. chili powder
1 tsp. garlic powder
1 tsp. oregano
1 tsp. onion powder
1/2 tsp. ground black pepper
For Tacos & Toppings:

Small corn tortillas
Gordo's Cheese Dip (any flavor)
Cilantro
Cooked rice
Red onion, diced
Tomato, diced
Lime juice
HOW TO PREPARE:
Cut pork should into large 3-4 inch chunks, removing any excess fat, and place in slow cooker. Combine remaining ingredients in slow cooker. Mix thoroughly. Cover and cook on high for 4 hours or until tender. When ready, pull apart pork with a fork. Serve on warm corn tortillas with rice and top with onions, cilantro, tomato, cheese dip and lime juice!
Taking things on to a lighter side, grilled fish tacos! These are a great summer recipe because they don't leave you stuffed and are great by the beach (or a pool because close enough right?)

Serves: About 6 tacos
INGREDIENTS:
1 lb Tilapia, cod or mahi mahi fillets
2 Tbsp canola oil
1 1/2 Tbsp fresh lime juice
1 clove garlic, minced
1 1/2 tsp chili powder
1/2 tsp ground cumin
1/2 tsp ground paprika
1/8 tsp cayenne pepper
Salt and pepper
6 corn or flour tortillas
1 large hass avocado, sliced
1/2 small red cabbage, cored and sliced thin (8 oz)
1/4 cup cilantro, chopped
3/4 cup thinly sliced red onion
1 1/2 Tbsp lime juice
1 Tbsp canola oil
I container Gordo's Cheese Dip (any flavor)
HOW TO PREPARE:
In a mixing bowl whisk together canola oil, lime juice, garlic, chili powder, cumin, paprika, cayenne and season with salt and pepper to taste. Place fish into a gallon size resealable plastic bag and pour marinade over fish. Seal bag, move mixture around to coat fish in marinade, and allow fish to marinate in mixture 20 minutes. Preheat a grill to medium-high heat. Brush grill grates with oil and place fish on grill. Grill until cooked through, about 3 minutes per side (cook time will vary). Add cabbage, red onion and cilantro to a medium mixing bowl. Pour lime juice and canola oil over top slaw and season lightly with salt and pepper. Toss to evenly coat. Move fish to plate, break into pieces and serve in warmed taco shells with cabbage slaw, avocado slices and Gordo's Cheese Dip.
Now this one speaks for itself…I mean the name? The picture? You get the idea. 7 layers. Taco+Quesadilla. Nothing better than that!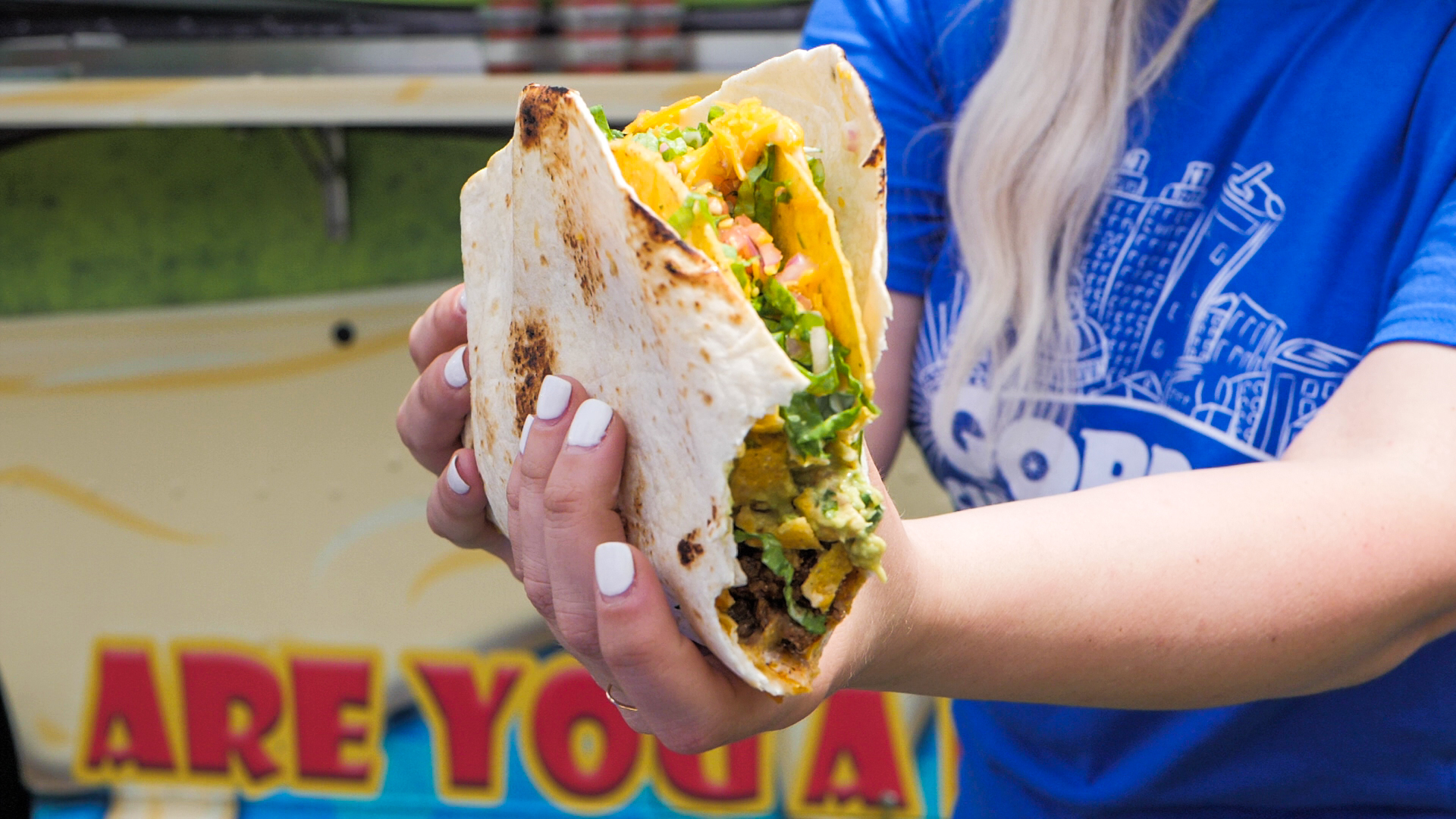 INGREDIENTS:
7 Fried Corn Tortillas
1 12in Flour Tortilla
8oz Guacamole
8oz Taco Meat
Shredded Lettuce
6oz Shredded Cheese
Pico de gallo or tomatoes or Gordo's salsa, your choice! You know what our favorite is…
HOW TO PREPARE:
Heat up 8 oz of ground beef with your favorite taco mix. Set aside. Warm tortilla in a large skillet with Gordo's Cheese Dip and shredded cheese till melted. Set aside. Take 3 taco shells and place them together, one inside the other to fit the diameter of the tortilla and fill with taco meat.Take 2 taco shells and place them together and fill with guacamole. Repeat with last 2 shells, add lettuce tomato/pico and shredded cheese.On one half of the tortilla place the taco meat in shells closest to the center then stack the guacamole shells inside the taco meat shells. Follow with the last two taco shells….the shape should fit the half of the tortilla. Fold over the other half and you should have 1 big Gordo 7 Layer Tacodilla! Eat with extreme caution and contents may go EVERYWHERE. But it's so good, it's worth the mess!
Now these breakfast tacos are great for breakfast for dinner or if you celebrate National Tequila Day a little too hard tonight and need a little pick me up in the morning!
SERVES: 6-8
INGREDIENTS:
6 ounces ground sausage
8 (6 inch) corn or flour tortillas
6 eggs
1/2 teaspoon pepper
1/2 teaspoon salt
1 cup heated Gordo's Cheese Dip (original)
1 dash hot sauce to taste
1/2 cup salsa
HOW TO PREPARE:
Scramble the sausage in a skillet over medium-high heat. Cook and stir until evenly brown. Drain and set aside. Whisk together the eggs, salt and pepper. Set your skillet with your sausage back onto the medium-high heat and add the egg mixture. Cook and stir until firm. Warm tortillas for about 15 seconds in your microwave. Fill the tortilla with the scrambled egg, sausage, and cheese. Add hot pepper sauce and salsa to your liking. Pour heated Gordo's Cheese Dip over your tortilla.
Now that you've got all of our favorite taco recipes, go out and have fun! But not too much fun 🙂