Skating Our Way To Victory
Monday, February 12, 2018
Anyoung, y'all! Chef Gordo, winter sports and cheese dip enthusiast, greeting you in Korean with a Southern twist. Holy jalapenos, have y'all been watching the Winter Olympics? There have been some absolutely amazing victories. That Norweigan cross country skier who fell down, picked himself back up and WON his race? The closest I have ever gotten to such valor was when I walked through a crushing 3 inches of snow during Atlanta's 2013 Snowpacalypse to get tortilla chips for the cabin-fevered neighborhood. (Naturally, I had already restocked my Gordo's Cheese Dip supply pre-pocalypse.)
Speaking of snow and ice, I have to tell y'all that these dark circles under my eyes this Monday are not because I stayed up all night inventing new cheese dip delights. (I mean, read on, that was part of it.) But really, these circles are here because I stayed up watching Olympic figure skating. And wow was there some amazing figure skating going on last night.
Adam Rippon, our American hot shot male figure skater this year skated to a Coldplay song and also skated away with my breath. I get that I'm being melodramatic, but it's hard not to give into soap opera level descriptions when you're watching people in sparkly, rhinestone-covered competitive gear. Adam Rippon's sequined blue flames were so reflective I almost needed sunglasses to watch the TV. That's kind of what makes figure skating so great. Those skaters are athletes, no less intense than the Olympic hockey teams that will take the ice this week, but they have to be athletes with suave style and a dramatic flair.
Rippon and the American figure skaters, including Mirai Nagasu, the first American woman to land a triple axel at the Olympics, upped our 2018 medal count, by bringing home a bronze medal for Team Figure Skating.
Ah, that old Olympic medal count. I watch the medal count, always hoping that the Americans will win overall. Makes me feel pretty good about our overall athleticism as I sit on the couch … hardly moving … for several hours of primetime Olympic watching.
Those Olympic medals don't come without some heartbreak, though. Adam Rippon and Mirai Nagasu may be killing it in Pyeongchang in this Winter Olympics, but they both competed for, and missed out on, a spot at Sochi. So instead of flying across the ice in 2014, they went to In-N-Out for burgers, then ate them on the roof of Mirai Nagasu's house. Talk about a side of sadness. (Also, fries. I get that they're Olympic athletes, but come on – not making the team should earn you some fried food!)
So in honor of their triumph last night, I have created a new Gordo's Cheese Dip Masterpiece ™: Victory Cheeseburger Cheese Dip.
Victory Cheeseburger Cheese Dip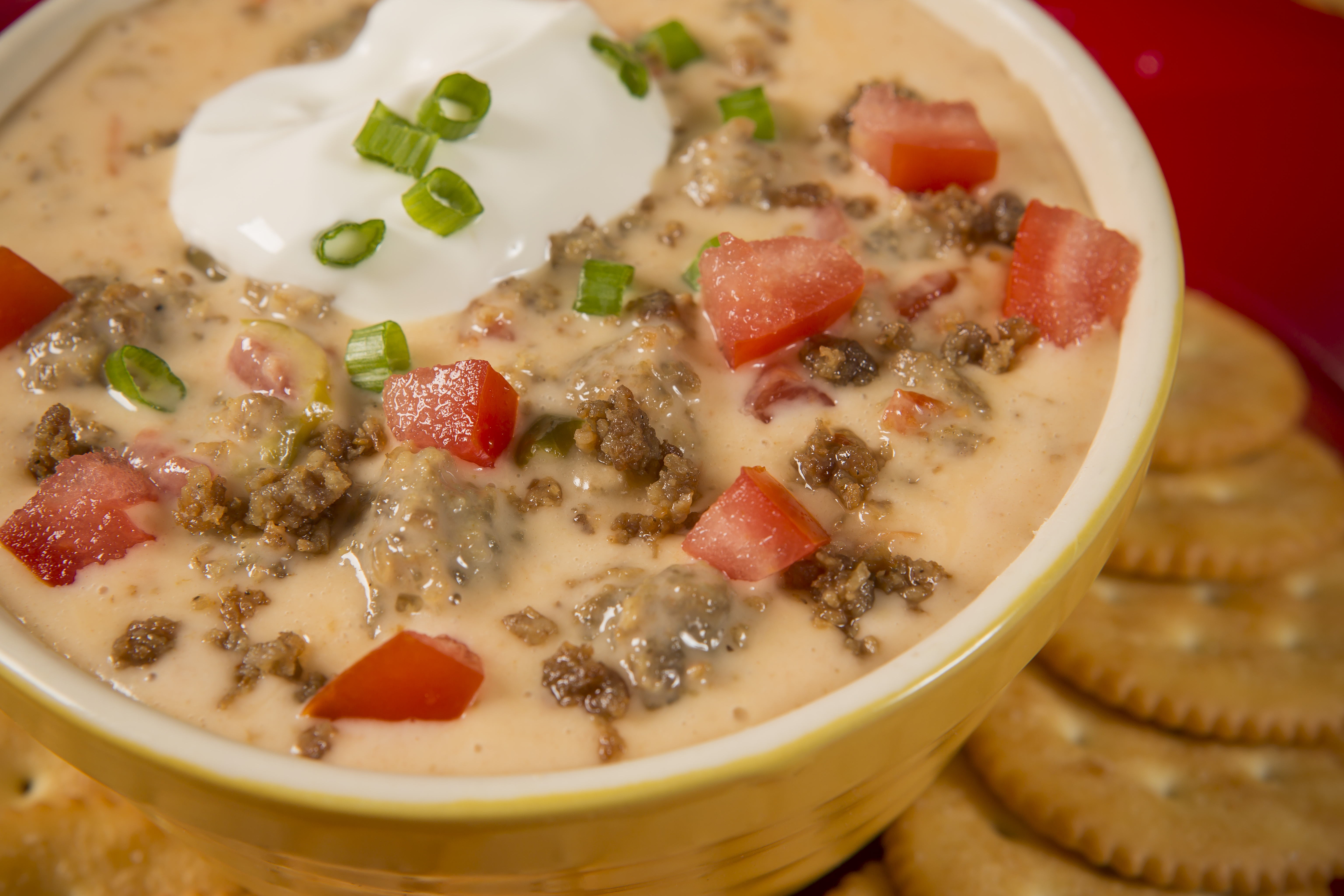 INGREDIENTS:
1 to 2 containers any flavor Gordo's Cheese Dip

Whatever amount of Gordo's goodness you use it up to you. Some people like a super cheesy cheese dip – other people like a cheese dip that's packed with extras. Honestly, it comes down to how sturdy you like your tortilla chips. Are you a scoops or a thin strips person? Decide accordingly.

1 medium tomato, or 3 plum tomatoes

1 medium white onion

1 pound ground beef, 80% Lean/20 Fat

1 tablespoon vegetable oil
For the burger seasoning:
1 tablespoon paprika

1 1/4 teaspoons salt

1 teaspoon ground black pepper

1/2 teaspoon brown sugar

1/2 teaspoon garlic powder

1/2 teaspoon onion powder

1/4 teaspoon ground cayenne pepper
HOW TO PREPARE:
In N' Out is known for good, brown, caramelized onions, so let's start with those. Brace yourself for a few tears and chop your onion finely. (Think of Olympic athletes' parent's faces when their kids win a medal and you'll probably start crying for more reasons than the onion fumes.) Turn the heat low on a skillet. Once the skillet is warm, add 1 tablespoon vegetable oil, then add the chopped onion.
Cover the onions and cook on low – very low – until they are golden and soft, about 30 minutes. Check on them semi-frequently to make sure they don't burn. Uncover them when they start to brown and caramelize. Cook for about another 5 minutes. Now, add a ¼ cup of water, increase the heat to bring the water to a simmer, and simmer until the water evaporates. Voila – In N' Out style caramelized onions. Set those suckers aside.
While the onion is cooking, dice the tomato. Once diced, sprinkle with a little kosher salt and set aside.
On to the burgers. Combine all the burger seasoning spices in a bowl or a jar. You will have some leftover seasoning, but that's okay. Chef Gordo here has actually done you a favor, cause this seasoning livens up any burger, whether or not you are planning on adding it to a delicious container of my cheese dip.
Make 4 thin burger patties with the pound of ground beef. Sprinkle them with the burger seasoning, about a teaspoon of seasoning on each. Knock this down to a ½ teaspoon if that looks like it'll be too much for you. Get your skillet hot – don't be shy about heat. The biggest mistake most home cooks make is not turning up the heat hot enough, so go for broke!
Up your own medal count in the kitchen. I hope you've bribed the judges with some snacks. Just don't dope the cheese dip! You might get caught, and then you'll have to compete as a Cook From Your House, not as a regular old House Cook. Ahem, Olympians from Russia…
Cook the hamburger patties as you normally would, about 3 minutes a side for a medium finish. Once cooked, let them rest on some paper towels to get rid of excess fat. Once cool enough to handle, break them up into pieces.
Add the burger bits, caramelized onion and diced tomato to your Gordo's Cheese Dip. Make sure you stick the landing and serve with tortilla chips, crackers, or bread.
So now you've got your Olympic Victory Dip. Are you ready for more Olympics? May you watch Team USA increase the medal count with the intensity of Adam Rippon. And never forget, you, a regular person, could still try your hand at Olympic events. Though some of them are probably best left to the people who spend all year practicing.
Check out some of the folks from Buzzfeed trying their hand at Olympic Diving here!
Other Regular Person Olympic Events Chef Gordo Could Medal In:
Watching all of season 7 of Homeland
Crying on command, like Claire Danes in Homeland
Remembering to set the DVR to record Homeland
Remembering that Homeland Security and "Homeland" are two different things
Reading AV Club reviews