Fall Into Brunch
Saturday, September 22, 2018
Chef Gordo back at it again, dishing out your favorite recipes all season long! I don't know about you, but there are very few things that I love more than a great brunch with friends and family. Now that it is officially the first day of fall with the fall equinox, it is the PERFECT time to brunch it up on the patio of your favorite restaurant, or even better, at your own home. Breakfast + Lunch = Brunch. They make the perfect couple and it's time to celebrate this amazing union by putting on a brunch gathering at your house for your family and friends! You can either treat it as a girls only brunch or make these recipes when the boys come over early on football Sundays. And what would we be doing if we didn't add a dash of pumpkin spice to get us all in the fall spirit.
Hold on to your Ugg Boots and pumpkin spice lattes, cause we are FALLing right into brunch today. Here are 3 recipes you can make for your upcoming brunch gathering!
Pumpkin Spice French Toast Casserole
This one is great is you have a lot of guests coming over for brunch and don't want to spend the time making only a few slices of French toast at a time. Prepare this one the night before so it has time to set before baking.
INGREDIENTS:
1 loaf of French bread
7 eggs
2 Cups of milk
½ cup pure pumpkin
2 tbsp brown sugar
1 tsp vanilla extract
2 tsp pumpkin pie spice
½ tsp cinnamon
HOW TO PREPARE:
Slice up the French bread into about 2-inch slices or cut into 1 in cubes. Distribute the cut up bread evenly in a greased 13×9 baking dish, layering if needed. In a separate bowl, combine eggs, milk, pumpkin, sugar, vanilla extract, pumpkin pie spice and cinnamon. Whisk the mixture until evenly blended and then evenly pour it over the break in the baking dish. Cover and let it sit overnight. The next day about an hour before you are ready to eat, preheat the oven to 350 degrees and bake the casserole for 40-45 mins until a toothpick inserted comes out clean. Serve hot with maple syrup. Optional toppings include powdered sugar, raisins and chopped pecans!
Gordo's Ultimate Breakfast Sandwich
Breakfast sandwiches are easily my favorite brunch meal. This recipe this is for one sandwich, so do keep that in mind if you plan on making multiple! Breakfast sandwiches are ideal for a smaller brunch crew, and they are easily customizable.
INGREDIENTS (for one sandwich)
Whole wheat or sourdough bread, whichever you prefer
2 eggs
1 handful of spinach
2 sliced of cheddar cheese
½ of an avocado
3-4 slices of thick cut bacon cooked
HOW TO PREPARE:
Start off the sandwich by lightly toasting 2 slices of your chosen bread using a regular toaster or toaster oven. After toasting, immediately butter both slices and place the cheddar cheese on one slice of bread to start the base of the sandwich. Add the cooked thick cut bacon and then generously drizzle the Gordo's mild queso over the bacon. Slice up the avocado into thin pieces and place that over the bacon. I like to cook the eggs over easy, so when you bite into the sandwich the yolk drips down and soaks into the bread, but you can also scramble them if you prefer. Put your fried or scrambled eggs on top of the avocado and drizzle some hot sauce over the eggs. Finish off the sandwich with some fresh spinach and finally the other slice of bread. You know have yourself the perfect Gordo's Breakfast Sandwich.
This provides a good savory balance to the sweet French toast recipe!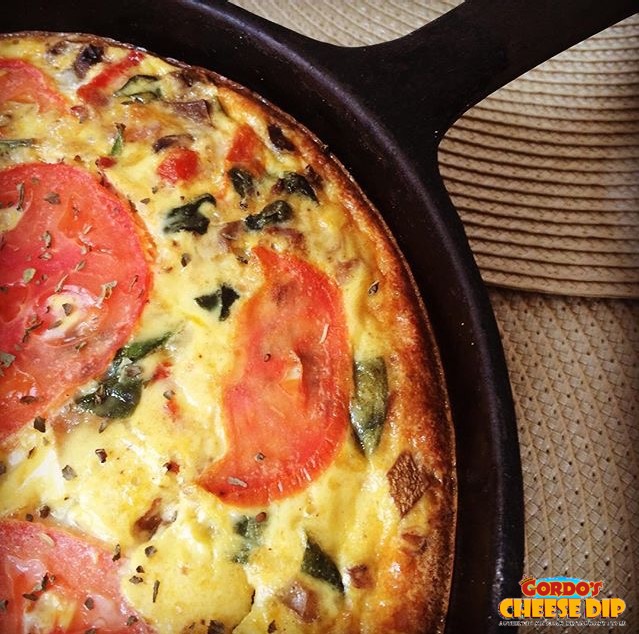 INGREDIENTS:
1 9 inch piecrust
3 slices of bacon, cooked crisp and chopped up
⅓ C fresh spinach, sautéed
3 tbsp mushroom, chopped
5 large eggs, beaten
1 C half and half
½ C milk
½ C shredded Swiss cheese
¼ C shredded cheddar cheese
3 tbsp melted Gordo's Cheese Dip Original
½ tsp ground pepper
⅛ tsp seasoned salt
1 tbsp basil
¾ of a tomato, thin sliced, slices halved
HOW TO PREPARE:
Place the piecrust in a 9″ round pie pan. Freeze for 15 minutes. Bake the piecrust at 350 for 15 minutes. While piecrust is freezing and baking, you can begin to prep the inside of the quiche. In a mixing bowl, combine the beaten eggs, cheeses, milk, half and half, bacon, spinach, mushroom, basil, pepper and seasoned salt. Pour the mixture into the prepared piecrust and even out if needed. Top with the sliced tomatoes. Bake at 350 for 45 minutes or until a toothpick inserted into the center comes out clean.
Pro Brunch Tips
These are all great dishes for the main brunch course, but embellishments are also important. Definitely have an array of fresh fruits and some donuts or pastries set out from your local bakery. You also want to have some champagne and orange juice on deck for mimosas.
If you really want to be next level, you can also set up a make your own Bloody Mary bar. Set out the vodka of your choice, a couple different types of tomato juice, olives, celery, cooked bacon, salami, cheese cubes, slices pickles, hot sauce, salt, pepper, horseradish, Worcestershire sauce, and some lemon and lime slices. With those ingredients, people can craft their own Bloody Mary masterpieces.
Now you have the knowledge you need to craft the perfect fall brunch. Invite a few close friends or make it a party. Either way, it'll be a great start to the fall season.