Everything Avocado
Tuesday, July 31, 2018
Hey guys, Chef Gordo here! Back a little sooner than normal, for very important reason…it's National Avocado Day!
Nowadays it may seem like there is a "national day" everyday…it's because there is. I mean last week we were celebrating National Tequila Day and today isn't just National Avocado Day. It's also National Mutt Day and National Raspberry Cake Day (weirdly specific, right?) But let me just tell you now…there is no National Cheese Dip Day (yet). Not bitter about that or anything. But you can check out all the other crazy national days we have here!
Okay but back to National Avocado Day! So we put together our five of our favorite avocado recipes, from guacamole to stuffed avocados. What's your favorite avocado recipe?!
INGREDIENTS:
8 eggs, hardboiled
1 ripe avocado
1/3 cup Gordo's Cheese Dip
1/2 cup bacon bits
2 teaspoons fresh lemon juice
salt and pepper
cayenne pepper to taste
HOW TO PREPARE:
Hard boil your eggs. Remove shells, cut each egg in half lengthwise, and scoop out yolks. Reserve yolks in a bowl to the side. Peel and pit your avocado and add it to your bowl of yolks. Use a handheld blender or a food processor to puree together until smooth and creamy if desired. Add cold Gordo's Cheese Dip, bacon bits, lemon, and salt and pepper to taste. Mix. Scoop into the middle of each egg white. Sprinkle with a bit of cayenne pepper, bacon bits and seasoned salt and enjoy! Keep them covered in the refrigerator until ready to serve.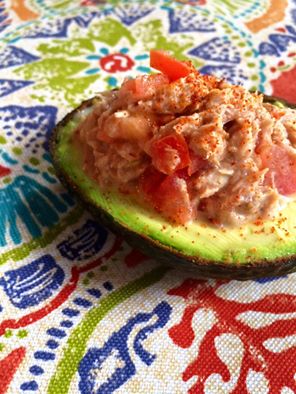 INGREDIENTS:
3 (5-ounce) cans tuna
½ cup melted Gordo's Cheese Dip (Original, Mild, or Hot)
½ cup tomatoes (diced)
½ teaspoon cayenne pepper
2 – 3 avocados, halved and pitted
salt and pepper, to taste
HOW TO PREPARE:
Combine tuna, Gordo's Cheese Dip, tomatoes, and cayenne pepper in a medium bowl until well combined. Spoon into avocado halves. Salt and pepper to taste.
*If you are feeling lazy, Chipotle is also giving away free guacamole today
INGREDIENTS:
2 ripe avocados
Kosher salt, to taste. (For best results, get Kosher salt. It's not iodized, so you won't have to deal with the metallic taste that table salt has. Really, don't use table salt for anything but natural weed killer. I'm getting off topic. Go for Kosher salt, is the point.)
1 tsp. cumin
3 tbsp. diced red onion
1-2 jalapeno or serrano chiles, minced, seeds and stems removed
1 tsp. fresh group black pepper
½ tomato, seeds and pulp removed, rough chopped
HOW TO PREPARE:
Put the avocado halves (seeded, natch) in the bowl. Do not mash yet. Add the other ingredients, then as you mix, mash. I like a chunkier guacamole, but you do you. Don't neglect tasting and making sure to salt appropriately. Salt bit by bit until the guac zings on your taste buds.
INGREDIENTS:
2-16 oz cans spicy refried beans
½ pound lean ground chuck scrambled, drained; add ½ pack taco seasoning mix
1 cup sour cream
1 cup guacamole
1 cup Gordo's Cheese Dip (any flavor)
1 cup shredded lettuce
1/2 cup tomatoes, chopped
1/2 cup scallions or green onions, sliced
1 bag tortilla chips
HOW TO PREPARE:
First layer refried beans, next layer seasoned ground chuck, add third layer of sour cream, add fourth layer of guacamole. Drizzle with your favorite flavor of Gordo's Cheese Dip. Top with lettuce, tomatoes and green onions. Dip with your favorite chip!
INGREDIENTS
2 large avocados sliced
Juice of 1/2 lime optional
Salt & Pepper
1/4 cup flour
1 egg lightly beaten
1 cup panko bread crumbs
2 tablespoons oil
HOW TO PREPARE:
Pre-heat oven to 400 Degrees F. In bowl, 

squeeze fresh lime juice on avocado slices to preserve their color while baking. Season with salt, pepper. Coat them in flour then dip in egg and coat in panko breadcrumbs. Pour 1 tablespoon oil in sheet tray or baking dish. Place slices on the greased sheet pan. Drizzle with the remaining oil or spray with cooking spray. Bake for 15 minutes or until the avocados are golden and crispy. 

Serve with Gordo's Cheese Dip, spicy ranch, ketchup, or your favorite dip!