Cold Weather Comfort Food
Thursday, January 10, 2019
It's the chilliest time of the year. It's cold, rainy, and sometimes snowy, depending on where you're from. I'm not a fan of the cold weather and I'm always looking for the best way to warm up. Multiple layers, fleece lined everything, and hand/ body warmers are staples in my life during January and February. Comfort food also helps warm your body and soul. It's amazing to come home to a nice, hot delicious meal after being outside in the cold. To help you out, I've gathered some great recipes for winter weather to help get you through!
Chili Mac
A combination of mac n cheese and chili, this chili mac is a great family meal for a cold evening and easy to make. Peep here for our slow cooker chili recipe.
INGREDIENTS:
10 oz of ground turkey (or ground beef if you'd prefer)
1 small white onion, chopped
1 tsp of minced garlic
4 cups of chicken broth
1 can of diced tomatoes
¾ cup of kidney beans, drained and rinsed
¾ cup of black beans, drained and rinsed
3 tsp chili powder
1 tsp of cumin
2 tsp salt
12 oz of elbow pasta
1 cup of shredded sharp cheddar cheese
Parsley for garnish
HOW TO PREPARE:
Start by browning the ground turkey in a tablespoon of olive oil in a large pot. Add in the onions and garlic and sauté for about 5-7 minutes. Drain excess liquid. Then add the broth, tomatoes, beans and seasoning. Bring to a boil and add the pasta, cooking for about 13 minutes until the pasta is cooked. Remove from stove and add the cheese, stirring until fully melted. Serve up in bowls and garnish with parsley if desired.
Pro Tip: Top with Gordo's Cheese Dip to bring that chili mac to the next level! 
This pasta bake is warm and hearty.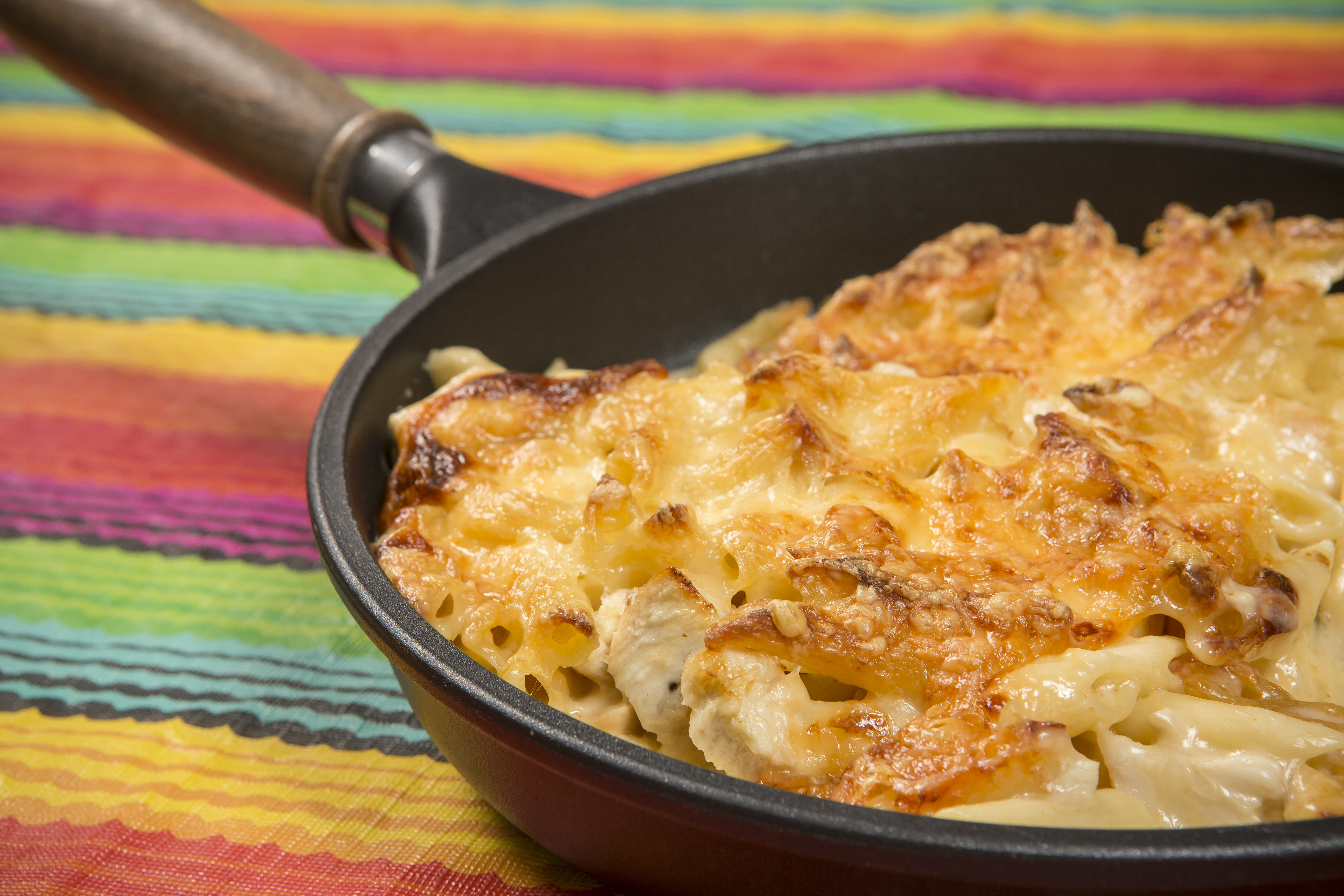 INGREDIENTS:
10 oz. chicken breast, cooked
1 lb. penne pasta
4 tablespoons butter
1/2 cup half and half
1 cup Gordo's Cheese Dip (Original, Mild or Hot)
1 cup Gouda cheese, grated
1 cup parmesan cheese grated
1 cup white cheddar cheese, grated
HOW TO PREPARE:
Boil pasta according to package and drain. Set aside. In microwave safe bowl, add butter, half and half, Gordo's cheese dip, parmesan cheese and white cheddar cheese. Microwave for 1 minute, stir and continue to microwave until cheese mixture is completely melted. Add the chicken and the pasta to the melted cheese mixture. Stir and pour into a greased 9 x 13 inch pan. Bake at 350 degrees for 25 – 30 minutes or until golden brown.
Twice Baked Potato Casserole
This casserole is a great savory dish that can either be the main part of your meal or a side dish for a bigger dinner.
INGREDIENTS:
7 medium potatoes
Olive oil for coating skin
1 lb of bacon, cooked and crumbled
1 ½ cups of shredded cheddar cheese
½ cup of Gordo's Original Cheese Dip
1 cup of sour cream
5 green onions sliced
Salt and Pepper
HOW TO PREPARE:
Preheat your oven to 400 degrees, clean potatoes and brush olive oil on the skin, season with salt. Cook the potatoes for 60 minutes. Crisp and crumble bacon while potatoes are cooking. When the potatoes are finished, cut the potatoes into bite sized pieces and put into a 9×13 baking dish. Reserve some of the bacon, shredded cheese and green onion to put on top of the casserole. Mix the Gordo's and the sour cream with the potatoes and incorporate the bacon, shredded cheese and green onions. Salt and pepper to taste. Put the reserved cheddar cheese and bacon on top. Lower oven temperature to 350 degrees, bake for 30 minutes. When the dish is done, remove from the oven and top with the remaining reserved green onions.
You are now prepared to fight the cold, at least with delicious, warm food. Outside the kitchen, there's not much I can do to help so check out our recipe page for more great, warm recipes! Stay warm, build a snowman or two and winter will be over before you know it! We got this!